Easy Guide to Get Your Non-Smart TV Connected to Wi-Fi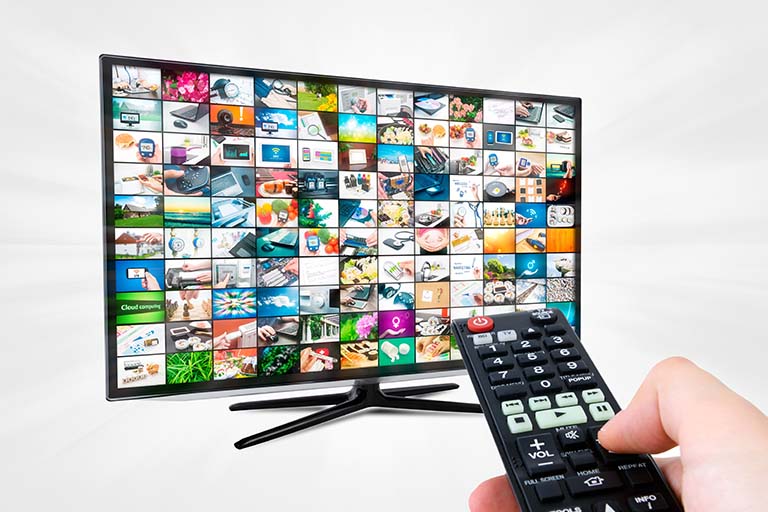 We live in the age of Smart TVs and online media services. But not everybody can afford a Smart TV, right? On top of that, no cable services in your area may pose an even bigger problem. If your web search of 'cable TV in my area' returns no results, how can you watch your favorite shows and movies on TV?
Don't feel bad just yet: You can convert your non-smart TV into a smart one and watch your favorite shows even without a cable connection.
Ways to Connect a Non-Smart TV to Wi-Fi
The most popular ways of doing this are using streaming devices or an HDMI cable. Let's walk you through the process of connecting with and using each option in detail.
Connecting via Streaming Devices
A streaming device is a gadget that lets you connect your TV with the Internet to access media from online services. Besides that, it also offers a range of apps like YouTube and Twitter. But the content being offered varies with the streaming devices.
Steps to Connect Your Device
Although the process of connecting your device to TV can vary a bit depending upon its kind, the general process can be summarized in these steps:
Look for your TV's HDMI port
Plugin the device's cable into the HDMI port
Connect the USB power cable with the device's unit and your TV's USB port
Turn on your TV and match the input on it with the input on the device
Install the app if it requires you to
Accept terms and conditions to get started.
Popular Streaming Devices
Here are a couple of devices discussed in detail to help you narrow down your options.
1: Roku
Roku is the winner among all the streaming devices in terms of the amount of content. It is also an answer to your Home wifi problem as it lets you access apps such as Plex with an Ethernet port. You just have to make sure that you have an initial connection. Here are its features:
| | | | |
| --- | --- | --- | --- |
| *Price | Content | HDR or 4K | Usability |
| $30 | Allows access to 3000 movie channels | | |
2: Google Chromecast
Google Chromecast is the best option if you are on a budget. It offers HD resolution and is user-friendly as well. Here are its features:
*Price
Content
HDR or 4K
Usability
$35

Allows access to most of the apps
Blocks non-Google apps

No

Google Assistant Voice Control
Difficult to operate with no remote
3: Apple TV
If you are an Apple lover, the price won't stop you from buying this streaming device. Although it is expensive, it offers better picture quality than the rest. Its key features are:
*Price
Content
HDR or 4K
Usability
$149

Fewer channels than on other devices

✅

Siri Voice Search option
Integrates well with Siri and Apple
4: Amazon Fire TV stick
It will connect wirelessly and through a wire as well. It is user-friendly as well. Few of its key features are:
*Price
Content
HDR or 4K
Usability
$25

Allows access to a lot of channels and apps without discrimination

✅

Easy to use
Better audio with Alexa Voice control
5: Nvidia TV Shield
This is a device for a serious game lover. It has its own USB and SD card ports. So, if you already have a service like Spectrum TV choice, you can use this device for causal streaming. Here are few of its features:
*Price
Content
HDR or 4K
Usability
$150

Allows access to most of the services

✅

Easy to Use
Impressive storage space
*Disclaimer: All prices mentioned in this blog are taken from official sites and are accurate at the time of publishing. The provider reserves the right to change prices at any time.
Connecting via an HDMI Cable
If you don't want to spend a significant amount of streaming devices, an HDMI cable will work fine for you. Due to the requirement of a wired connection, an HDMI cable can be inconvenient at times. However, if you plan on using the TV for streaming occasionally, you are good to go.
As most laptops and smartphones have HDMI cables or adaptors, you can directly link these cables to your TV. Once connected, apart from browsing, it can also allow you to view and share home videos and pictures through mirroring.
Other Ways to Connect Your TV with Wi-Fi
If you have a gaming console or a Blu-ray player lying around in your house, you don't need HDMI and streaming devices to get connected to Wi-Fi. Here's how to use these devices and get the most of them.
Blu-ray Player
Although it was originally meant to be a data storage format luckily it had the option to be connected to the Internet. Besides offering access to a variety of popular apps and social media sites, it also delivers better audio and picture quality than streaming devices.
To connect your TV to Blu-ray player, just use an HDMI cable. Match the input of TV with the input on Blu-ray device. You're all set.
Gaming Consoles
The Console models as old as of 2003 can connect to the Internet. Like a Blu-ray player, you just have to have an HDMI cable to get connected. It does not allow access to a lot of apps. But if you want to use your TV for surfing social media and watching Netflix, then gaming consoles will do the job.
Conclusion
Turning your dumb TV into a smart one is not as difficult as it seems. Just take your pick and get the browsing started. If you already have a service like Spectrum installed, it may be best if you seek Spectrum Customer Support to decide on the gadget to connect your TV to Wi-Fi. That will save you from a lot of hassle no doubt!
Disclaimer: To our knowledge, we have made all the required efforts towards obtaining owner/publisher approval for the use of images in VISIONECLICK.COM blog posts. However, if you find violations of any sorts regarding any image, please feel free to contact us. Prices and packages mentioned may vary with time and the specific locations.