A Detailed Comparison Between OLED vs QLED Televisions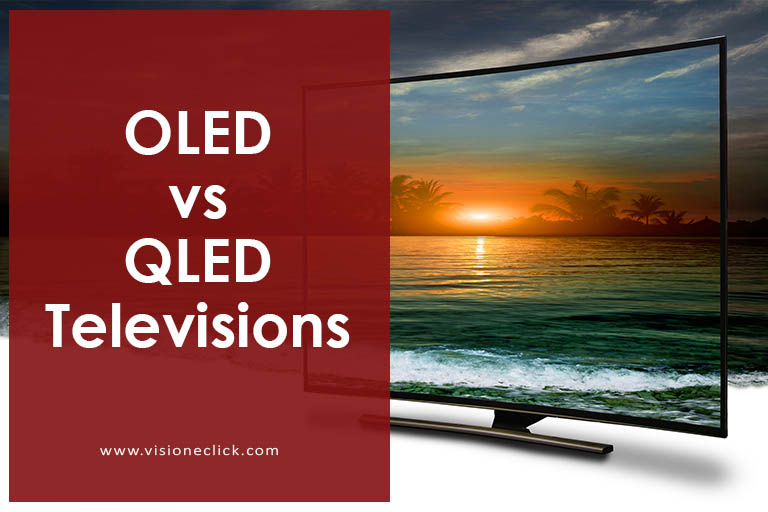 There are so many types of TV out there that it can get hard to make a comparison. You can compare Quantum vs Organic, or OLED vs QLED televisions. But if you don't know what they are, it is just a lot of information to absorb. So it is not surprising that many people are confused about what to purchase when it comes to buying a new TV. Luckily, this blog is here to help you make an informed comparison.
Comparing OLED vs QLED Televisions
When people are looking to buy a premium quality television set, they often turn to the two major types available. That's right! People ask for either and OLED or a QLED TV. But what are they, and how can you compare them? You can compare OLEDs to QLEDs. But you can't compare an OLED vs QLED vs LED TV. This is because QLED TVs are a natural successor to the older LED plasma ones. The technology has quickly evolved thanks to major brands like Sony, Panasonic, and LG jumping on board.
On the other hand, OLED is an entirely new form of TV tech. When it came out in 2017, many considered it a majorly rebranded version of Samsung's SUHD range. However, today, QLED TVs constitute more of the Samsung lineup than OLEDs. But which is better? This blog explores the following areas to help you decide for yourself:
What is OLED TV?
The Pros and Cons of an OLED TV
What is QLED TV?
The Pros and Cons of a QLED TV
How They Stack Up to Each Other
Let's dive right into the details and get a better understanding of both types of TV technology.
What is OLED TV?
Organic Light Emitting Diode or OLED TVs are completely different from standard LED TVs. They place a film made of a carbon-based material between two conductors. This film emits light whenever an electric current passes through the conductors. Since the pixels are self-emitting, OLED TVs make for less backlight than LED TVs. When the pixels have to display black, they simply switch themselves off. This makes for more realistic "darks" in an image. These TVs also have a more subtle image brightness, as well as a faster refresh rate than LEDs. That makes it easier to watch content using your streaming devices like Roku or Amazon Firestick.
The Pros and Cons of an OLED TV
There are several distinct advantages to using an OLED TV. They come with a variety of ports to hook up other entertainment devices, which you can check out in the TV ports guide.  In addition, they include the following:
Slimmer and lighter than QLED TVs.
Realistic black areas in the image.
No image blurs or judders.
Self-emitting pixels.
Lightning-fast refresh rates.
However, there are also several cons to owning an OLED TV which include:
Muted brightness compared to QLED.
Limited options in screen sizes.
Relatively expensive.
Let's move on to QLED TVs for a side-by-side comparison.
What is QLED TV?
QLED isn't as new a technology as OLED. However, it can still let you enjoy the best of what your Contour TV subscription offers. QLED is a massive rebranding of Samsung's SUHD television line. Quantum-dot Light Emitting Diode televisions work very differently from OLED sets. They put a quantum dot filter in front of a backlight you find in an LED TV. They are not exactly a quantum-based television set, but more like an LED/LCD hybrid. That's not to say you won't enjoy watching PhiloTV. Just don't expect a quantum machine in your living room.
The Pros and Cons of a QLED TV
There are many advantages to your entertainment experience with a QLED TV, which include the following:
A large range of screen size options.
Ultra-bright image displays.
Highly defined whites in the image.
Of course, you're bound to see a few cons when you're flipping through the Cox TV schedule on your QLED set. These may include:
Bulkier than OLED TVs.
Black areas in images look less realistic.
Too bright in some cases.
Relatively slow screen refresh rate.
How They Stack Up to Each Other
OLED TVs are still very expensive. However, that hasn't stopped a large number of major TV brands from adopting the technology and manufacturing their own OLED sets. TP Vision, Panasonic, LG, and Sony are just a few brands that back the OLED bandwagon. However, the cost factor makes these TVs a premium option as opposed to an everyday home appliance.
On the other hand, Samsung reintroduced QLEDs in 2017 after discontinuing them in 2014. The technology is only now becoming slowly popular with other brands. TCL and Hisense are working closely with Samsung to create more advanced versions of this technology. Now its time to take the SmartTV vs Non-Smart TV comparison to the next level!
Conclusion
So which one should you get? The answer largely depends on your specific needs. If you want a premium 55-inch screen, an OLED TV would work best. But if you want more flexibility in screen size on a smaller budget, a QLED TV might be the answer. Ultimately it all boils down to what brand you choose to go with and how much you are willing to spend on a TV. Be sure to get a screen with the right resolution. You don't want to call Cox or your cable provider with complaints on the display quality if your TV is limited in its resolution. It can be pointless, time-consuming, and embarrassing. Choose your TV wisely.
FAQs
Is QLED or OLED better?
OLED is a more sophisticated and recent technology than QLED.
What is the lifespan of OLED TV?
LG claims its OLED TV can last 30,000 hours or 10 years.
How likely is OLED to burn-in?
Image burn-in is possible but not likely with OLED TV if you use it properly.
Is the LG OLED better than the Samsung QLED?
LG OLED is a premium option compared to Samsungs rebranded QLED TVs.
Disclaimer: To our knowledge, we have made all the required efforts towards obtaining owner/publisher approval for the use of images in VISIONECLICK.COM blog posts. However, if you find violations of any sorts regarding any image, please feel free to contact us. Prices and packages mentioned may vary with time and the specific locations.