Paramount- a prominent name in the world of entertainment. The network brings to you some of the most famous and amazing shows. You would honestly want to tune into the channel after a tiresome day. Almost every cable service provider offers this channel. But if you get Paramount Network on Cox, then you will get access to affordable packages as well. However, you will have to be lucky enough to have Cox service in your area. In case, you do not know, you can always check through the 'Cox near me' option. But for now, let's delve into why one should opt for Paramount.
Paramount Network on Cox- Entertainment That Never Disappoints
Not only will you be able to take a trip to a fantasyland with all the seasons that the channel features, but you will also get to watch some reality shows. However, if you think you'll have sports as you have on NBC, then you are in for a big disappointment. The reality shows may make up for that though. It will give you a  peek into what's happening around you. And how people operate in various areas and under different circumstances. You will not get bored while watching the channel because it has a diverse range of shows to offer. All belonging to different genres too.
If you opt for Paramount Network on Cox, you can also get access to the app. Because signing in through the app requires you to have a login name and password. And that you will get through your cable service provider.
In case, you are planning to do so, the following table provides you with the Cox channel lineup for Paramount. This will help you to see what Cox channel number is Paramount on in your state.
| Channel Name | Orange, California | Benson, Arizona | Archer, Florida | Bolton, Connecticut |
| --- | --- | --- | --- | --- |
| Paramount Network | 52 | 48 | 32 | 27 |
You can also get to choose from a range of other channels like FOX if you subscribe to a Cox package.
Top TV Shows to Catch This Year
There is something for every taste palette on the channel. Some of the famous shows that you will get to watch on the channel include:
Yellowstone
Heathers
Bar Rescue
Wife Swap
Bellator
Cops
Friends
Here's what each of the most popular TV shows all about!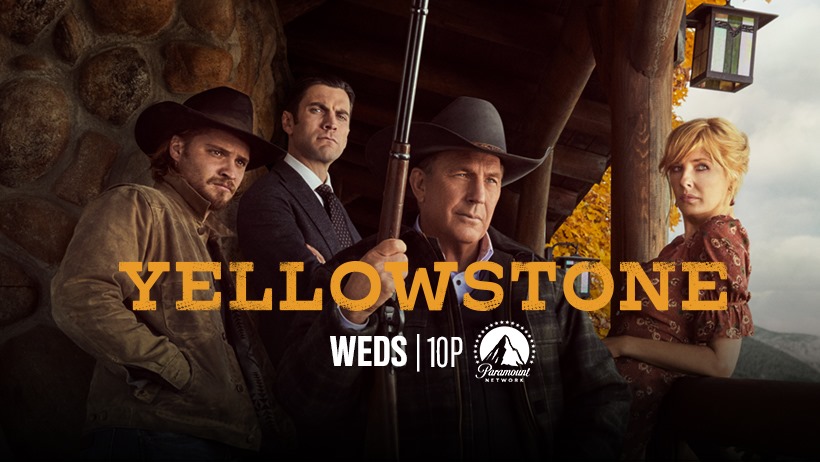 Yellowstone
With an IMDb rating of 8.3, Yellowstone is perhaps the most-watched show on Paramount Network. Apart from being the most anticipated one as well. The cast for the show includes the Emmy and Oscar winner Kevin Costner. Apart from him, you will also get to see Wes Bentley, Gil Birmingham, Kelly Reilly, Cole Hauser, and Luke Grimes.
The show revolves around a rather interesting story where the characters get involved in conflicts along the shared borders. These borders involve a large cattle ranch, land developers, an Indian reservation, and Yellowstone National park. Yellowstone is headed by John Dutton from the Dutton family. This family controls the largest ranch in the US. This ranch is under a constant attack by the ones it borders.
Currently, in its third season, it is a rather unique and attention-grabbing story. You will have to watch it to believe it. The show won't let you leave your couch and will leave you with a craving for more of it. You should add Yellowstone to your list to binge-watch you have not watched it already.

Heathers
Heathers is another show that is very popular among the people on Paramount Network. This shows is based on the 1988 cult movie of the same name. It is a satirical comedy that is set in the present-day world. The show includes all the Heathers that were a part of the movie. Only that these Heathers go to high-school.
This rather interesting series aims at being an anthology. This means that in each new episode you get to see a different setting. Way different from that in the movie.
You may have relished Season 1 that aired on Paramount Network last year. Although the show had 10 episodes that aired on International TV, the US version only aired 9. And that too after the cancellation of the show in the States. Now, the show is set to release its second episode. But paramount Network's president Kent Alterman that plans of continuing Heather after its first and only season are not underway. Well, one can only hope for the best.
Bar Rescue
Jon Taffer- the Gordon Ramsay of the bar and the nightclub business takes you through some of the most extraordinary experiences in this reality show. Taffer is a food and beverage consultant for a long time now. His expertise takes him through various bars, nightclubs, and pubs where he offers his knowledge in revamping the place. He also guides the management regarding the renovations so that he can save the place from closing.
The bars that feature on this reality show are already in a dire need for financial as well as operational rescue. It is rather interesting to watch Taffer rescue these bars from shutting down while he transforms them completely.
However, this does not guarantee that he rescues all the bars. In fact, throughout his series that aired in 2011 for the first time, he has walked out thrice without saving those bars. Sometimes he has to face disappointment as well. As one of his most expensive rescues resulted in the biggest failure as well. Losing is part of the game here. Bar Rescue is a rather intriguing show that will leave you astonished in many instances.
Wife Swap
If you are a sucker for reality shows, then you should tune into Wife Swap as well. This is a rather different show where two families that have different lifestyles and social status swap the wives/moms. Sometimes the husbands get swapped. Strange. The swap is for two weeks. The aim is to swap wives/husbands with different habits with each other.
This is how it goes. During the first week, the wife has to adhere to the living style and all the rules that the one she replaced followed. She does so by following the house manual left for her by the wife who lived in that house. During the second week, the new wives/mothers establish their own rules. The families have to adhere to those rules.
At the end of the two weeks, both families meet each other for the first time. And share how they felt about this swap. As simple as this may sound, this practice has resulted in violence twice as well. However, it is a complete entertainment for the ones watching.
What are Cox Packages?
Cox has a variety of different packages to offer. From low-priced ones to the high-priced options, you can select the one that you think is the best for you. You get the options for the following:
Bronze Duo: 140+ HD channels, 100 Mbps download, and 5 Mbps uploads speed.
Bronze Triple Play: 140+ HD channels, download speeds of up to 100 Mbps.
Gold Triple Play: More than 250 channels, up to 300 Mbps download, and unlimited local calling.
The above mentioned are bundled packages that combine 2-3 services that the company offers. These include Cox Internet and voice service as well.
However, if you wish to opt for a TV package alone, then you can choose the Contour TV package.
ContourTV – Is a Stand-Alone Service Sufficient?
If you do not wish to bundle any other service with your TV package, Contour TV is the best option for you. It offers you a choice of 140 channels. This includes channels like Starz. Not only this, but you also get access to the following features:
It shows you the programs that are on air at that time with On Demand options.
You can set DVR recordings and relish watching shows from other channels like CW whenever you please.
You, yourself are in charge of your TV service.
In case, this does not please you, there's more for you.
Tailor Your Cox Package
You can expect more from Cox TV than just the ContourTV option. The company gives you the chance to tailor the package according to your liking. The Cox Advanced TV provides you with an option that caters to everyone. The package includes over 250 channels. These include channels from all genres including sports, reality shows, movies as well as family TV. You also get access to channels like CBS or Lifetime.
You can choose the packs that best suit your taste when you are customizing the package. If you are a sports fanatic, then you can choose accordingly and so on.
You can even choose to download the Cox app and enjoy the TV watching experience even when on the go. You will only need access to Internet service for that purpose. And the rest is sorted for you.

Disclaimer: To our knowledge, we have made all the required efforts towards obtaining owner/publisher approval for the use of images in VISIONECLICK.COM blog posts. However, if you find violations of any sorts regarding any image, please feel free to contact us. Prices and packages mentioned may vary with time and the specific locations.