A Parental Guide to Navigating Screentime During Quarantine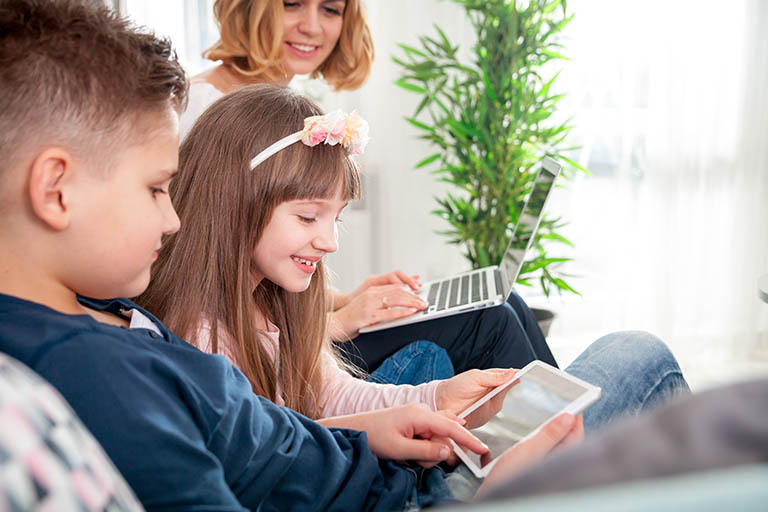 When the pandemic first broke out and states began imposing lockdowns and shelter-in-place orders, many parents took it as an opportunity for some extra family time. They played board games like Monopoly and Scrabble for the first week but then they got bored. So they tried their hand (pun intended) at card games like Go Fish and Uno but that too lasted another couple of weeks.
Many still play both board games and card games, but lately, it seems like technology has entrenched itself more firmly in their lives than before. That worries many parents.
Regulating Screentime During a Pandemic
Most families had a fairly straightforward set of rules before the coronavirus hit and people began to self quarantine. Only one TV set in the house could be turned on at any given time. But only after kids completed all their chores and homework. Weekends meant a little extra screentime, but you can make up for it with family movie night. But all of this seems like a distant memory now.
Ever since the pandemic began, kids have been among the first to feel its impact. Schools and universities shut down, but what was seen as an extended vacation quickly took on the form of permanence. With online classes, homework assignments, group FaceTimes with friends, and social media, kids are getting more screentime than ever. For parents who understand how bad unlimited screentime can be for children, the following set of rules can help navigate your family through the global health crisis with some normalcy:
Have Daily Family Rituals Together
Think Long-Term, Beyond Quarantine
Encourage a Love of Old-Fashioned Pasttimes
Don't Underestimate The Benefits of Walks
Think Carefully About How Much Tech You Allow
Discourage Tech During Family Time
Let's take a closer look at these below.
Have Daily Family Rituals Together
Families these days are spending time at home, but everyone is still just as busy. Especially kids. But before the days begins in earnest, and all the laptops, tablets, and phones are switched on, a small family ritual can help everyone stay grounded. Go into your back yard, or on to the balcony, every morning with your kids. Feel the grass under your feet, the wind in your hair, and early morning sun on your face. Remember, during this ritual, technology must remain indoors, out of the picture. You just want some quality moments with your family and help them appreciate the value of spending time together before the kids start their remote schooling. If you can, an evening ritual like a small picnic in the yard can be a second ritual for you to adopt.
Think Long-Term, Beyond Quarantine
It is easy to get used to what's happening and start considering it the new normal. But as parents, we don't have that luxury. Responsible parents know that every decision they make regarding their kids must have some thought towards the long-term. The actions you take today during COVID-19 will have some impact on the other side. The pandemic will inevitably die out at some point, but the consequences to your actions will remain.
For example, right now you could have a table designated for all your gadgets. This is where your kids sit and do their homework, attend Zoom sessions with teachers, and talk to friends. But just because you are in a pandemic, should you allow your kids to take their tech away from the table? Before you know it, you will have a child in each room using phones or tablets when they should be studying.
Also, consider all the new apps you have on your devices because of quarantine. Kids are going to varying lengths to entertain themselves, but they usually do this digitally. Ask yourself if you want to be the parent of kids who lack the ability to keep themselves entertained without technology. If the answer to that is no, then you should treat these apps and the whole situation as temporary, not permanent.
Encourage a Love of Old-Fashioned Pasttimes
Technology inevitably makes things easier for us. Many parents are thankful for kids apps that read children's stories out to toddlers and slightly older children. But there is nothing wrong with encouraging them to seek pleasure in a good old-fashioned paperback or hardcover. Kindle and similar Ereaders are a great piece of technology to own. But they should not be the only source where kids can do their reading. Even simple joys like teaching them how to jump rope, ride a bicycle, or fingerpainting are just as valid sources of entertainment as a PlayStation or a binge session on YouTube that is heavy on your internet plans.
Don't Underestimate The Benefits of Walks
Never underestimate the benefits of a quick walk around the block and a few moments in the fresh air. As adults, we go stir-crazy after being confined to one place for too long. It is even tougher for kids, who have a lot more energy and curiosity than we do. When they aren't allowed to exercise both of them, they start becoming distracted, jittery, and even cranky. If your child is going glassy-eyed looking at a tablet, computer, or any activities during quarantine, take them out for a quick walk right away. A little exercise and fresh air will be refreshing for both you and them.
Think Carefully About How Much Tech You Allow
If you have multiple kids of different ages, you want to consider how much tech access you allow very carefully. Remember, allowing your 10-year-old more screentime will inevitably trickle down to your 5-yea-old. Kids are very sensitive about being treated what they perceive as fairly. If one is getting to use the tablet to study, the other is going to want it to watch cartoons on streaming services. Before you know it, you could have a child throwing tantrums and forcing you to rescind screentime for everyone. Think very carefully about how much screentime you are willing to allow.
Discourage Tech During Family Time
If there's one good thing that has come out of this challenging time, it is more time to spend with family.
In the normal course of things, everybody is running around trying to get things done. Everyone is usually too busy to have a special time of the day dedicated to just family every day. But these days, nearly every family is sitting down together for meals, especially dinner. That means you have every right as a parent to insist that there are no screens present at the dinner table. Encourage your children to appreciate each other's company and bond together as a stronger family unit.
Disclaimer: To our knowledge, we have made all the required efforts towards obtaining owner/publisher approval for the use of images in VISIONECLICK.COM blog posts. However, if you find violations of any sorts regarding any image, please feel free to contact us. Prices and packages mentioned may vary with time and the specific locations.