How to Stay Healthy and Productive During Self Isolation?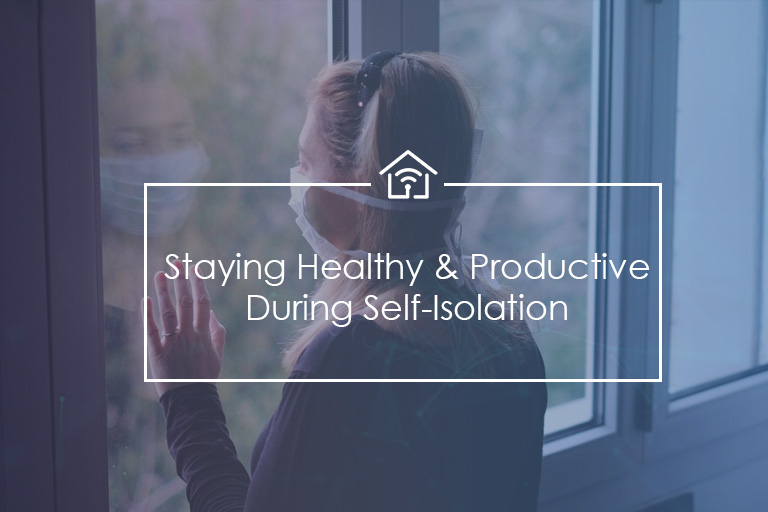 theglobeandmail
Call it self-isolation, solitary confinement or alone time. Whatever you choose, the idea of being shut off from the rest of the world is alarming regardless of your personality (introvert or extrovert).
Social distancing is the new normal amidst the coronavirus outbreak. We are most certainly aware it's for the greater good but it's natural to feel copped up in your own home. Remaining productive, optimist and mentally healthy seems a little far-fetched when the situation out there is getting worst and the spread of the pandemic doesn't seem to stop.
Whatever you are feeling, remember, this will all be over soon! If you are having a hard time, these tips will help stay productive and healthy:
1: Don't Feel Pressure to Be Productive
First of all, cut yourself some slack. Take it one day at a time. No one is rushing you. Find activities that may help you and your family feel safe and soothed at the same time.
Once you calm your anxiety, then switch to other things. Each individual might have their own sanctuary. It could be stretching, drawing, ready, watching a movie on Netflix or listening to music. Find yours and put yourself to ease.
2: Get Information from Reliable Sources
Don't forget there is so much misinformation about the virus out there. You don't want to be the one who causes a scene with the wrong information. Stay in touch with your local health authority for updates and of course, WHO.
3: Practice Physical Distance Not Social Distance
Physical contact may be illegal these days but that doesn't mean you cannot be social. We all need social support during this crisis. It's critical for good mental health.
FaceTime your friends and family to stay connected and exchange some laughs. Put your Internet service to use. Video call to see your loved ones. Learning they are safe and healthy will offer peace of mind. You can always have a chat with your neighbor from your deck or backyard when you are bored.
4: Start Working Out
Who isn't tempted to sit in front of the TV and continue ingesting entertainment? But in a day or two, you will start encountering health problems. This will also activate anxiety. Get off the couch and walk around the house to improve your blood sugar.
Exercising at home is not hard at all. So what if you don't have the equipment. There are plenty of full-body workouts that don't require equipment. Examples are jumping jacks, pushups, Pilates, squats.
Instead of wasting your time video streaming all day, watch exercise videos on YouTube. Take a pledge to spare 20 to 30 minutes from your day for exercise.
5: Eat Healthily
Takeout food may not be available but we all are guilty of snacking in quarantine. You must also have a stockpile of frozen and processed food in the freezer. Instead of unhealthy eating, take the time to overlook your food choices.
It's challenging to keep fruits and vegetables fresh for weeks. Freezing them is one option. Now that you have extra time at home, cook new recipes. This will keep you busy and savor everyone's taste buds.
6: Pick Up a Hobby
There is no better time than this to pick a new hobby or do what you love. So many people couldn't find time for their hobbies because of a busy schedule. Working from home has given us some extra time on hand now that there's no commute. Unwind yourself with a hobby. It will distract you and you will great at the same time.
7: Learn Something New
A pandemic may not be the best time for self-improvement but if you are in search of a distraction, challenging yourself to learn a new skill is not a bad idea at all. Udemy, Skillshare and similar other online learning sites have a huge catalog of resources.
Pick any category you like – writing, photography, painting, graphic design, or any other. Many sites are offering free courses during the COVID-19 hardship as well. Take advantage of such opportunities.
8: Foster a Pet
Some of us are living alone with friends and family spread far. Killing time is extremely difficult for such a population. You can't watch Cabletv, spend time on the Internet, cook and do other activities all day long.
Why not kill your loneliness by fostering a pet? Animal shelters across the country are looking for foster volunteers. Taking care of an animal would be a great use of your time. It can be expressed how much having an animal around helps when you are alone.
9: Spend Time in Different Spaces
It may seem convenient, sitting on the same spot on the couch all day long but isn't healthy. Make an effort to switch things up a bit. Otherwise, you will feel lethargic at all times.
Spend time in different spaces of your home. Move out from the bedroom to the couch, then the living room and more. Keep on moving inside the house.
10: Write Down Your Thoughts
Journaling is a great tool to channel your thoughts, fears, concerns, and emotions. Right now, our heads are in pretty dark places. It's not always easy to share what's on your mind especially when others around us are stressed as well.
An easy way out is scribbling down the words and the emotions without bothering your loved ones. And if you are not a journaling person, this is a good time to start.
Whether this lasts for several weeks or months, it is temporary. Tough times don't last tough people do. To become tough, practice these ways.
Disclaimer: To our knowledge, we have made all the required efforts towards obtaining owner/publisher approval for the use of images in VISIONECLICK.COM blog posts. However, if you find violations of any sorts regarding any image, please feel free to contact us. Prices and packages mentioned may vary with time and the specific locations.