10 Boredom Buster Activities at Home During COVID-19 Self Quarantine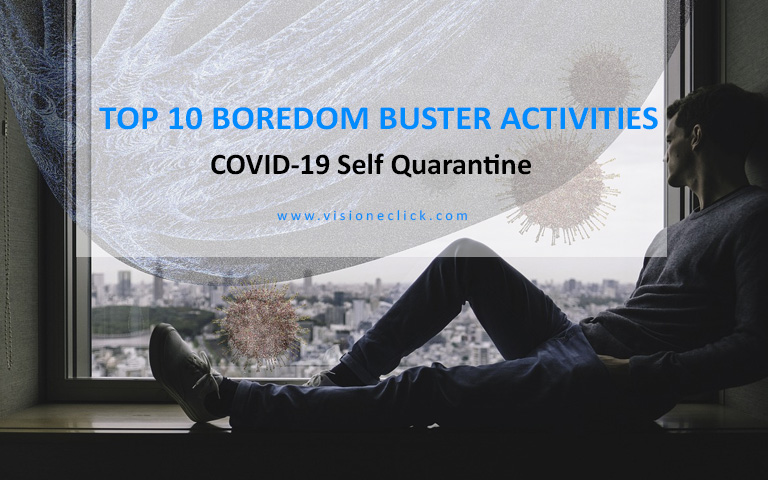 Families across the world are asked to go into self-quarantine during this global pandemic. Self-isolation and social distancing are proving to be effective in stopping the spread of the novel coronavirus. Schools have turned into online classes and workplaces have switched to the work-from-home format. Still, adults, children, and people from all age groups end up having a lot of leisure time on a daily basis. Let us help you fill up this time with some great, structured activities.
First things first, be optimistic! With the United States surpassing every other country in the number of affected individuals, it's relatable to have your panic levels escalating! Make yourself understand and register the fact that you can only outlive this crisis if you stay positive. It's okay to disconnect yourself with the news now and then and spend time with your family to connect and heal emotionally!
While Internet service providers are on their toes to provide smooth speeds and cutting-edge services, we would recommend investing more time in quality offline experiences. Now that it's just not possible to go out in fresh air and tire out our highly energetic children. Look at the bright side, unpredictable weather can no longer scupper your outdoor plans. And you can replace all those outdoor activities with fun indoor ones!
We have improvised some cool activities and suggestions for people of all age groups. Especially for children, as it is hard to explain to them why we can't go out anymore and how intense is Coronavirus outbreak. Tag along!
10 Boredom Busters for Your Quarantine Days during COVID-19 Pandemic
Meditate and Exercise.
Make Life Size Drawings with Your Kids.
Revisit Your Reading Bucket-List.
Indulge in DIY Projects.
Have an Indoor Scavenger Hunt.
Film A Few Newscasts.
Gardening/ Indoor Planting.
Get Creative With Indoor Games.
Plan a Karaoke Night.
Have a Themed Movie Night.
Meditate and Exercise
If you have invested in an indoor gym, you will be grateful for having done that! But even if you don't have a proper gym, you can benefit from hundreds of no-equipment exercise types. You can switch a yoga mat with a regular floor mat and can even make your own dumbbells. If you have tots at home, you can even lift them!
No-equipment exercises include Yoga, Pilates, Zumba, and so on. Since your internet is up and running, you can follow yoga gurus and Pilates experts on YouTube. Now is the time to take advantage of your broadband plans.
Even if you are a beginner, you can follow them and can have a great daily regimen. You can even involve children and teens at home and make it more fun.
For yoga, you only need stretchable trousers and a shirt. And the same goes for Pilates. Now is the time to slay your athleisure wear. Zumba also doesn't require any fancy equipment. Consider donning some colorful stretchy outfit and sneakers, which are thinly soled. Even comfortable workout shoes will do. If you have been procrastinating working out due to the shortage of time, now is the time to do it. take advantage of zillions of online exercise tutorials and get in shape!
Make Life-Size Paintings with Your Kids
If you have kids at home, this is a great idea! You can make life-size paintings or drawings with your kids on their room walls. You can paint something abstract or draw their favorite animals or cartoon characters and ask them to paint. Just grab a bunch of A4 sheets together or a big paper roll and place it right on the floor. Encourage your kids to actively participate. Give them stamps and stickers and old toys to add more fun.
You can use these pieces of original art to adorn their bedroom walls.
Revisit Your Reading Bucket-List
If you are a reader, you must have a waiting bucket-list of some great titles. Now is the time to get hooked to those gems. You can always E-read and find your favorite books online. Find a cozy corner in your house and indulge in this amazing hobby.
And if you are not a reader, now is the time to adapt and develop this valuable habit. Start off by reading 5-6 pages of your favorite genre at bedtime. As you develop interest, you will be able to read more with every passing day. Encourage your children to read books too.
Indulge in DIY Projects
We love DIY projects! Whether they are about efficient cleaning, creating a new décor piece, or some baking experiment, the whole process is quite rewarding. Plus, DIY projects make you feel highly productive and useful. And that's exactly how we need to feel in these isolation days!
Involve your kids and indulge in a DIY project.
Have an Indoor Scavenger Hunt
Who doesn't like hunting hidden things? For households with more than one kid, this is a great activity. Hide various items in different spots of your house and type a list of them. Hand that list to kids and also give them a time frame within which they have to locate all those articles. If you have your own lawn or yard, hide some things there too.
Don't forget to have a prize for the winner!
Film a Few Newscasts
Instead of getting sucked into binging on streaming services, why not get creative with producing some original content?
Even if you are not tech-savvy, you exactly know how to use your cutting-edge smartphone to film a video. You can make newscasts of the events occurring locally and within your family circle. You can ever share your activities for others to have some ideas. This would be an unusual way to enjoy and interact with your family. This activity can boost your kids' confidence in public speaking too.
For girls who are into makeup and skincare, they can share their skincare regimens and makeup hacks via video tutorials. Now that you have a lot of leisure time, consider starting a beauty blog. If you are into writing, you can write inspirational pieces and share them on a reading blog.
Gardening/ Indoor Planting
If you have a garden or a yard, dedicate some time for gardening. Ask your kids to join and spend some time with plants. Spend time in trimming plants, lawn mowing, watering, and other stuff. If you don't have a lawn, planting seedlings in indoor planters is a great idea. Watching them grow is not only rewarding but also educational. Do a bit on research online about how to plant plants indoors.
You will essentially need to be enlightened about the types of plants, which survive and thrive indoors. You will also need to know the time frame required by each type of plant to grow. The maturing time is between 3-15 weeks.
Witnessing plants growing is like witnessing life. Seeing them bloom is joyful.
Get Creative with Indoor Games
There's a plethora of fun indoor games, which you can play with your kids, spouse, or even parents. Board games are one instance. They are creative and fun. Some fun board games are Sequence, Catan, Risk, and Ticket to Ride. You must have some of these already in the house. Board games are great when it comes to interacting with everyone while playing.
Puzzle making is another great game to spend time together indoors. You can spend hours finding the right pieces. And seeing the finished product is the best part. Completing a big puzzle can sometimes take multiple days. Therefore, make sure you keep the half-done puzzle aside and undisturbed.
Last but not least, you must have some incredible Lego pieces of art. If your family is into huge Lego projects, get indulged and enjoy a team activity. Let the kid inside you unleash and enjoy building a piece of art.
Plan a Karaoke Night
Have you seen this trending video of Italy where people are connecting with singing and instruments from their apartment windows during COVID-19 lockdown? It's actually adorable!
We have a similar suggestion. And that's karaoke! It is always a fun activity. You must have done karaoke singing with your friends at a bar, but many of you wouldn't have don't it with your family. therefore, plan an evening full of karaoke. Make drinks and enjoy singing your favorite tracks. This activity will fill your house with joy and laughter. And that exactly what we need in these testing times!
Have a Themed Movie Night
Let's take some more advantage of your home WIFI. Pick an entertainment genre that interests your family members the most. And choose a series or a movie with many sequels. Enjoy a back-to-back binging session with your family with bowls full of your favorite flavors of popcorns and nachos! You can even make a dessert to steal some praise.
If you haven't binged on popular series, we have some binge-worthy suggestions. Money Heist, Breaking Bad, Game of Thrones, Ertugrul: Resurrection, Stranger Things, Narcos, Dark, Mindhunter, Friends, and so on!
Disclaimer: To our knowledge, we have made all the required efforts towards obtaining owner/publisher approval for the use of images in VISIONECLICK.COM blog posts. However, if you find violations of any sorts regarding any image, please feel free to contact us. Prices and packages mentioned may vary with time and the specific locations.