What is a Smart TV?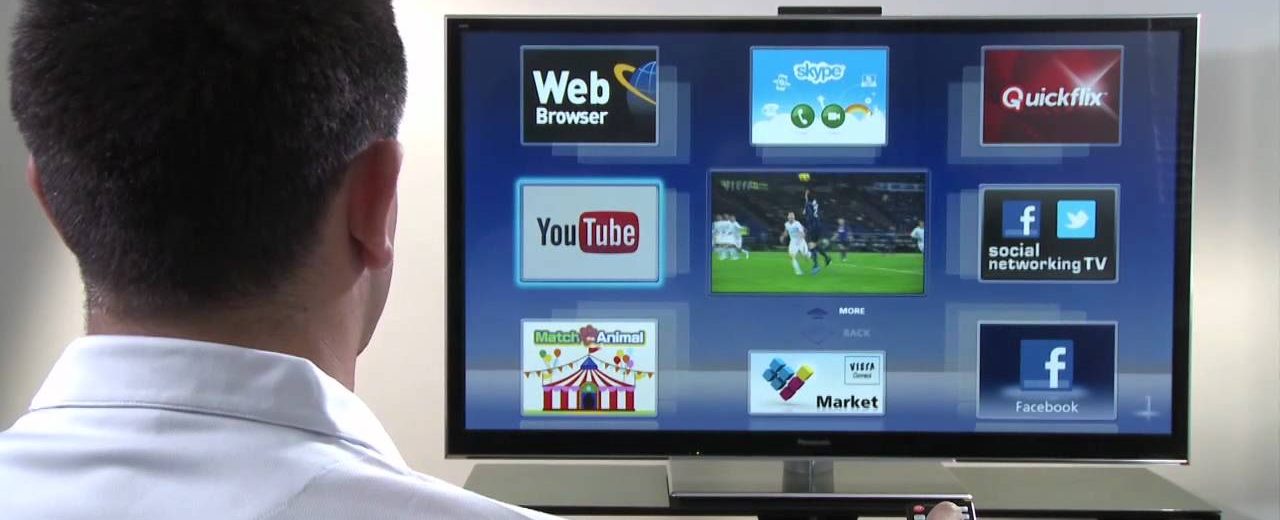 youtube.com
Are you planning to buy a new TV? If yes, you must have done a little research already. You must be familiar with the terms LCD, LED, OLED, QLED, and some other similar terms. They are all different types of Smart TVs. Smart TV broadly covers a wide range of these dynamic types of TVs.
You get a home screen with smooth access to Apps, websites, videos, and a lot more. With the advent of smartphones, the concept of an ever-connected device came into being. Smart television is just like a smartphone, except that it doesn't have a sim card and has a much bigger screen. That's a simpler definition. Now the Smart TVs have dynamic HDR and 4K Ultra HD resolution features in the market. Nowadays, Smart TVs are not only popular; they have also become the status quo. No wonder the market is full of Smart TVs in every price range.
Do you the first electronic TV was made in 1927. A tiny screen with a much bigger body than the screen was considered revolutionary back then. We have come a long way. Now we have roll-able, ultra-thin 4K LEDs in the market.
Let's discuss!
A Word About Smart TV
Smart Television, just like a smartphone, has a variety of internet-based services. It has many functions of a computer. These TVs usually have built-in Wi-Fi. You can get access to a gigantic number of Apps. You can enjoy amenities like web browsing, media streaming, games, IPTV, and more. IPTV is a particular type of video streaming via the internet. It shows live channels on your TV. It wouldn't be wrong to say that your Smart Television covers all your entertainment needs.
Why Do You Need One?
Smart TVs boast of a variety of whizz-bang features. They have revolutionized the way we watched TV and sought entertainment. They have shifted the focus on the users and viewers. This invention has prioritized their ease and convenience of what and when they want to watch something. And cable TV providers like Spectrum Cable have facilitated modern viewers with an extensive number of entertainment-rich channels. The modern cable TV providers cover all major entertainment genres to let you enjoy your Smart TV to the fullest.
Modern Cable TV plans like if you see a Comcast TV package provides facilities like DVR, On-Demand content, and a lot more. So, in addition to the internet-based entertainment, you can enjoy a lot of content with your cable TV provider. Moreover, you can easily connect your smartphone or laptop to your Smart TV.
How is Your TV Connected to the Internet?
Smart TVs come with built-in Wi-Fi or have the ability to connect to Wi-Fi. They also accept an Ethernet connection at TV's back. Most Smart TVs use a wireless connection. All you need to do is to set up manually a home network. The process is fairly simple. Wired connection also offers a stable connection. It's totally up to you which one do you prefer.
Is Smart Television just like a computer?
The straightforward answer is No. However, there are just a few things that your Smart Television can't really do. It only lacks functions such as word processing, emailing, and so on. The rest is almost like a computer. You can browse the web, your social media networks, watch YouTube, stream Netflix, and play games. Some Smart Television brands support Flash that ensures a better browsing experience. However, people don't really use Facebook and Twitter on a TV. It's more like a private activity.
The most exciting and the best thing about Smart Tv is the ability to watch the on-demand video. For music lovers, it can be music. The user-centered entertainment amenities make it a powerful and much-appreciated invention. If you look up 'TV providers in my area', you can easily find a provider that suits your entertainment preferences. You can even pick particular entertainment genres like music or sports. And you will only get the channels you want.
Companies like Panasonic are making a great deal of gaming on Smart TVs. You can experience excellent gaming on your Smart Tv. They have some game titles coming, which include games by Gameloft. For games, which allow physical movement or exercise, you can even pair up an optional wristband monitor. Sounds exciting!
As far as communication is concerned, you can use Skype to make audio calls. You and your family can make calls and talk together. For video calls, you only need to add a webcam
How do apps work on it?
All Smart TVs have a home page that shows the whole menu. You can change settings, access various functions, and go to various App stores. Once you log into an app store, you can download any app that you desire. For instance, you can download Netflix, enter your credentials, and binge-watch your favorite shows on the big TV screen. It is as simple as that.
Currently, most of the apps that are available on Smart TVs, phones are absolutely free. However, the manufacturers are hoping that just like paid apps that are available on smart TVs may also have all that. TVs can have their own App stores or you can use your Google play store and others on them. Apps include games, weather, video streaming, internet radio, music, and entertainment.
Smart Television Buying Guide
The market is literally flooded with Smart TVs of every size. They all look great and boast of many innovative features. If you are finding it difficult to choose the right TV for yourself, here is a little guide for you.
1. Built-in Wi-Fi Connectivity: –
Make sure that the TV you have chosen has built-in Wi-Fi connectivity. Check if the Apps are working smoothly so that when you bring it home it functions flawlessly as a media streamer
2. Quality Brand: –
Go for a proven brand when you buy your Smart TV. You already know the popular and high-quality brands. Some instances are Samsung, LG, Sony, and so on. It is always beneficial to skim through product reviews before you buy one
3. Operating Systems: –
If you are confused between two models, you should let the OS (TV's operating system) as the tiebreaker. The better OS a brand has, the more efficient your interaction with your TV's content is. The OS is unique for every brand
4. The Right Screen Size: –
Pick the right screen size. It should be suitable for the size of your bedroom or living room, wherever you plan to install it. also, keep in mind the safe distance that you should have from your TV screen
5. Your Budget: –
If you are opting for an OLED TV, be prepared to have your budget stretched a little more than you expect.
6. Home Theatre System: –
If your TV's speakers are built-in and they are not going to deliver very amazing sound. If you are particular about sound quality, and you have a budget, add a home theatre system.
7. Number of HDMI Ports: –
The more HDMI ports, the better. If you have various equipment types that you need to attach to your TV, only then you should care about other ports.
8. Easy to Use Remote Control: –
Take a look at the remote control. It should be easy to use and handle. Just like DIRECTV remote. You don't need to complicate your life with a difficult remote.
Disclaimer: To our knowledge, we have made all the required efforts towards obtaining owner/publisher approval for the use of images in VISIONECLICK.COM blog posts. However, if you find violations of any sorts regarding any image, please feel free to contact us. Prices and packages mentioned may vary with time and the specific locations.