Spectrum Back to School 2022 Promotions, Discounts & Deals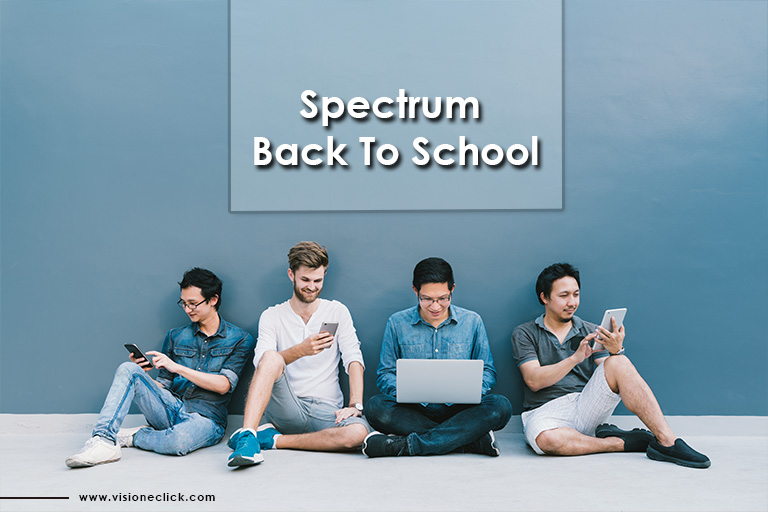 After a tumultuous time during the COVID-19 pandemic, it seems like the world is slowly getting back to normal. Offices, schools, and universities return to normalcy as students and employees come back on campus. The Spectrum Back to School 2022 offer is all set to help with the growing on-campus and at-home internet needs. The comprehensive plan is usually renewed every year and helps students get reliable internet speeds at truly affordable prices.
The campaign is set to remain active for two months and will be extended for some schools in the Northwest and West regions. The company has a number of schools and universities on board that has partnered to make their campuses internet-friendly. Targeted schools and their zip codes can offer a variety of Spectrum discounts for students. As a result, they can easily finish assignments and prepare for their exams.
Spectrum Back to School 2022 Double Play Plans
The Spectrum BTS Campaign 2022 is going to target 155 schools across the country and will cover over 390 ZIP codes. The company also plans to arrange school activation events that will improve customer engagement and enhance awareness regarding the new discounts. The BTS offer has two different kinds of plans for students that include Spectrum internet only and internet plus TV bundles.
Internet Only Student Discount
The internet-only plan offers a remarkable Spectrum student discount on the provider's flagship internet plan. Students can get this offer for $49.99 per month for the first year. Moreover, qualifying users can also add WiFi and upper-tier internet speeds for retail prices as add-ons to this plan.
Double Play Spectrum Internet Student Deals
The provider also offers three different double-play bundle options for students who want more than just reliable internet. The packages also include TV deals and here are the different options:
Package
Price
Validity 
SHOWTIME
How To Subscribe?
TV Select + Ultra Internet
$89.98
12 months
Yes
Order Now
Choice 15 + Ultra Internet
$79.98
12 months
Yes
TV Essentials + Flagship Internet
$69.98
12 months
Yes
All these Spectrum Back to School 2022 plans offer a complete waiver of Showtime programming along with the TV and internet bundle. Moreover, you can also add Voice to any plan for an additional $14.99. Optional cloud DVR is also available for all video offers for the first twelve months.
Users can also add single-DVR and multiple-DVR options for $4.99 and $9.99 respectively. An additional $20.00 on any plan mentioned above allows you to get even more exceptional internet speeds (Gig).
Spectrum Discounts for Students for Reliable Internet and TV Plans
College area residents can now always stay connected with the Spectrum BTS Campaign 2022. The offers are available for a limited time only and cover hundreds of zip codes. One of the most attractive deals is that students don't need to sign any contracts. So, if you move to another state or even change addresses to another zip code, you won't need to pay any cancellation fees.

The offer not only brings a surprising Spectrum student discount to the table, but it also offers reliable internet speeds and a variety of TV channels. So, no matter what plan you get, you can rest assured that the speed is good enough for you to complete all your assignments. And you can also enjoy watching your favorite sports and news channels. The different internet and Spectrum TV plans and their specifications that you can get are as follows:
Flagship Internet
Internet Ultra
TV Select
TV Choice 15
TV Essentials
200 Mbps
400 Mbps
84 available channels excluding Music Choice and RSNs
Pick any 15 out of 80 available channels
74 Available channels
No data caps
Speeds ideal for working and school from home
Spectrum Basic channels available
Choose 1 RSN channel
Basic channels and Music Choice not available
Connect to multiple devices
No data caps
Spectrum News availability (varies with location)
Spectrum News (where available)
Channel availability specific to market and location
Ideal for streaming, surfing, and online gaming.
Stream HD videos
Univision and Telemundo (where available)
Spectrum Basic channels available
Order Now
Participating Schools for Spectrum Internet Student Deals
There are a few schools that are collaborating with Spectrum to make reliable internet assist available for their student body. If you want to avail Spectrum discounts for students, you need to make sure that your school is on the list. Here are all the regions and schools that are eligible:
| | |
| --- | --- |
| Region | School |
| Carolinas | North Carolina State University at Raleigh |
| Carolinas | University of North Carolina at Chapel Hill |
| Carolinas | University of North Carolina at Greensboro |
| Carolinas | North Carolina Central University |
| Carolinas | University of South Carolina-Columbia |
| Central | University of Wisconsin-Madison |
| Central | Minnesota State University – Mankato |
| Florida | University of Central Florida |
| Florida | The University of Tampa |
| Florida | University of South Florida-Main Campus |
| Northwest | University of Idaho |
| Northwest | Washington State University |
| Northwest | Montana State University |
| South | University of Alabama at Birmingham |
| South | University of Georgia |
| South | University of South Carolina-Upstate |
| South | Auburn University |
| Southern Ohio | University of Cincinnati-Main Campus |
| Southern Ohio | University of Louisville |
| Southern Ohio | Ohio University-Main Campus |
| Texas | The University of Texas at Arlington |
| Texas | The University of Texas at Austin |
| Texas | The University of Texas at San Antonio |
| West | California State University-Long Beach |

Note: The schools in green in the above table are confirmed for campus activation while the ones in red are still undergoing the process and haven't been confirmed.
If you see your school in the above list, then you are likely to be eligible for Spectrum student plans. You can get in touch with the Spectrum customer service to get more information. If your school isn't on the list and you want to avail of the deals, you may want to get in touch with the school administrator for help.
Offer Extension for Specific Schools
The Spectrum Back to School 2022 offer is meant to last for two months and students can avail it during that time only. However, there are some schools in the West Region and Northwest where the provider plans to extend the deal. These schools are:
California Institute of Technology
Central Washington University
Eastern Oregon University
University of California-Los Angeles (UCLA)
University of California-Riverside
University of California-San Diego
Western Oregon University
So, you should keep an eye on the deadline if your school isn't part of the extension program.
FAQs
Is my school part of Spectrum BTS 2022?
You can refer to the table above and look for your school. If it is in green then you can avail the offer. However, schools listed in red are still TBD.
Can I get a student BTS offer for Spectrum Ultra?
Yes, the BTS 2022 double play plans offer Spectrum Ultra and Spectrum internet plans and speeds.
What is Spectrum Back to School?
Charter Spectrum offers special discounts and bundle deals to students from participating colleges and universities.
Do I have to pay the Spectrum installation fee for BTS?
Yes, standard equipment and installation fees apply for BTS bundles.
Disclaimer: To our knowledge, we have made all the required efforts towards obtaining owner/publisher approval for the use of images in VISIONECLICK.COM blog posts. However, if you find violations of any sorts regarding any image, please feel free to contact us. Prices and packages mentioned may vary with time and the specific locations.