You Can Get Spectrum Free Internet Service If You're a Student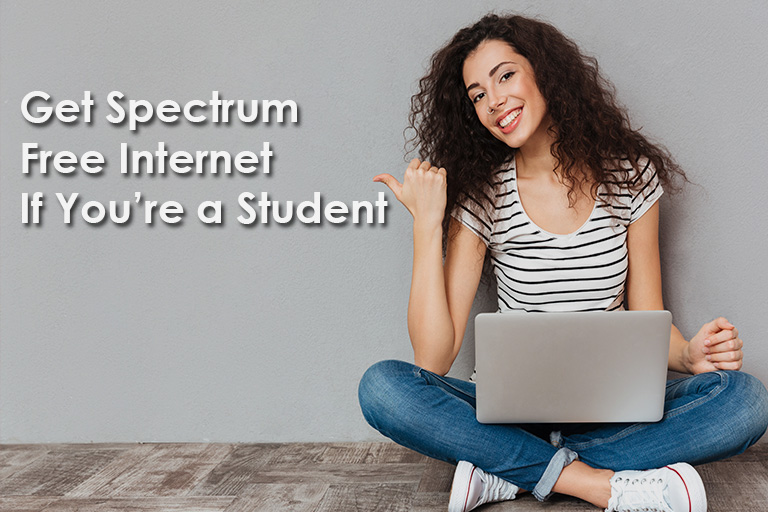 Due to the outbreak and rapid spread of COVID-19, schools and colleges around the world are closing down. Students can rely on Spectrum free Internet for quality online learning during this difficult time. On March 15, 2020, this company's spokesperson announced that the company will provide FREE Internet service to the students for up to 60 days.
Spectrum free Wi-Fi for Students is only for those who don't already have a subscription to this service. It is determined to ensure that students are able to access online resources with ease. Now households with K-12 school or college students will get this service installed FREE of cost and will be able to enjoy as high as 100Mbps Internet speeds.
The Crux of the Offer
This company committed to the following in the recent press release:
The Charter Spectrum free Internet is for those households that have K-12 school or college students.
It will provide any service level up to 100 Mbps. There's no installation fee for new customers in that category.
The company will continue to provide Spectrum free Internet to low-income households delivering a speed of 30 Mbps.
It will also open its Wi-Fi hotspots for public use.
There will not be any data limit or hidden fees for this service.
There are still thousands of Americans that don't have access to the Internet. Amid the Coronavirus outbreak, it can become really difficult for students to continue their studies. With this company's reliable service, millions of students will be able to access free Spectrum Internet at their homes and learn easily.
Tackling the Increase in Demand
Every industry has been impacted by the current crisis. But this company is determined to provide reliable connectivity to help its customers across 41 states. It is currently providing its services to almost 29 million customers from all areas of life. No matter which Spectrum Internet plans may have the users subscribed to, this company makes sure that there is no compromise on the speed during peak hours.
Its network is designed in such a way that it is easily able to sustain maximum capacity. Its workforce is continuously working towards catering to the demands of the customers and providing them with high-quality services.
While high demand is very difficult to handle, this provider is well equipped with all the tools needed to do so. It will mail the equipment to the customers and they can install it on their own. If that is not possible, customers can dial the Spectrum customer service number to get it installed by a technician.
What Would Happen After 2 Months?
After 60 days, the company will cease to provide Free services. You'll be charged on a monthly basis as it provides its services on a monthly basis. But you can switch to a cheaper plan or cancel your plan altogether.
The Internet Assist Plan
After these 2 months, you can sign up for this service if your household qualifies falls within the criteria. This plan will surely help you stay on budget whether you opt for the Spectrum Home Wi-Fi or the wireless option.
Some Perks of This Service
If you subscribe to this plan, you'll be able to enjoy the following benefits:
An Internet speed of 30 Mbps
A Free of cost Modem
Home-Wi-Fi Service at only $5/month
No Contracts
No Data usage limit
Who's Eligible for This Plan?
To avail of this special plan, you need to show that at least one member of your household is receiving one of these benefits:
Supplemental Security Income
National School Lunch Program
Community Eligibility Provision of the National School Lunch Program
This company is positive that it will provide reliable and high-speed Spectrum free Internet to the students for about 2 months. If you are a student or a parent with school or college going kids, dial 1-866-200-8303 to enroll for this offer now.
FAQs:
How do I get free Wi-Fi with Spectrum?
Select the provider's Wi-Fi from the list of available networks to get connected.
Is Spectrum offering free Internet?
Yes, it is offering it for 60 days to K-12 and college students.
What is the lowest price for Spectrum Internet?
It is $14.99 for households that qualify for Internet Assist Plan.
Disclaimer: To our knowledge, we have made all the required efforts towards obtaining owner/publisher approval for the use of images in VISIONECLICK.COM blog posts. However, if you find violations of any sorts regarding any image, please feel free to contact us. Prices and packages mentioned may vary with time and the specific locations.