Everything You Need to Know About Spectrum Home Wi-Fi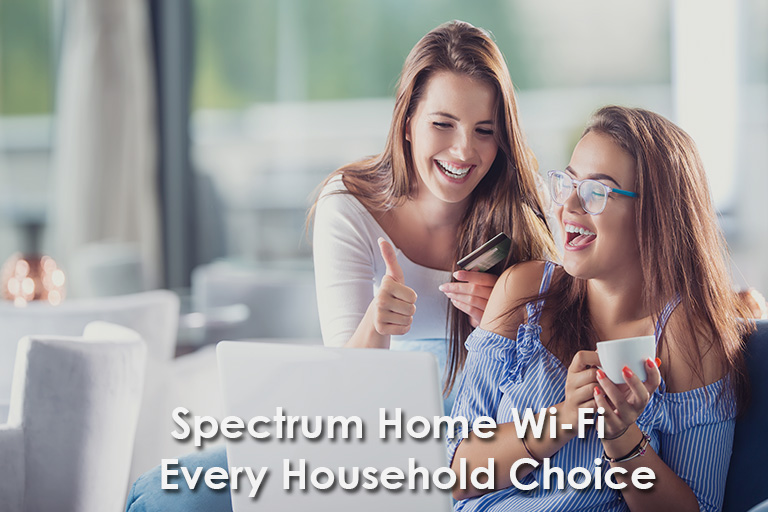 Wi-Fi has become as important as food and shelter for any household in today's age. Abraham Maslow, without any doubt, would have placed it at the top of his list of hierarchy of needs. So, what are some of the most desirable features of Wi-Fi? Great speed, coverage, and high-performing router. Spectrum Home WiFi is offering all that. Affordability and reliability are the topmost perks of choosing this service.
Among all digital service providers in the market, it has secured a unique position through years of quality service provision. Its services cover as many as 41 states. Among the largest cable providers in the country, it has secured 4th place. So, Spectrum TV streaming is quite popular among the audience. These stats are proof of its reliability and authenticity.
Why Choose Spectrum Home Wi-Fi?
It is one of the top priorities of the company to provide the user with a hassle-free experience. Randomly purchased routers can be costly and hard to set-up and manage. They can be unpredictable at times too. Charter can give you the best in-home Wi-Fi experience through the coupling of high-speed Internet and the latest Wi-Fi technology.
You get the same perks whether you are an old subscriber or a new one. Often, a standard Wi-Fi connection can underperform if multiple devices are connected at the same time. This Wi-Fi connection makes sure that performance and speed never get compromised in such a scenario. If your husband is watching 'Game of Thrones' on his tablet whilst you are busy streaming 'The Crown' on your laptop, you don't have to worry about slow speed anymore.
Wi-Fi vs Wired Connection
Before purchasing a service, it is best to double-check your plans for it. If you need an Internet connection to play games on your PC or to watch your favorite shows on a smart TV, it is better to opt for a wired connection. Why? Because these stationary devices need physical proximity for accessing the Internet. You can also connect Wi-Fi on your smartphone with Spectrum multi-line mobile plans.
However, if you have multiple devices at your home, you need a Wi-Fi connection because its signals cover a wide area.
Spectrum Wi-Fi Pricing
Before estimating the standard Spectrum Home WiFi cost, one must know about the terms under which this service can be availed. You have to fulfill the terms listed below before subscribing to this home Wi-Fi:
Subscribe to one of its Internet plans
Pay one-time activation fee
Pay the standard installation charges
Here's a breakdown of Wi-Fi installation and monthly costs:
Speeds offered by this service can range from 200 Mbps to 940 Mbps. In most of its covered states, speeds are as high as 940 Mbps. While in some of the states, only 400 Mbps is the maximum attainable speed limit. Find below the speeds offered by its various Internet plans
These plans are sure to provide you with a smooth home Wi-Fi experience.
Range and Other Attributes
Some cool facts about this Wi-Fi are:
Spectrum Customer Support is free and available 24/7
The device set up and testing is fast and free of cost
Up to 5 devices can be connected through a Wire
Unlimited devices can be connected to Wi-Fi
It is compatible with UNIX, Windows, and Macintosh
Free Modem and An Affordable Router
If you have a subscription to one of the Internet plans or packages like Spectrum Triple Play that offers a free modem, then there is no need for you to buy another one. You may not need a router if you are using an Internet connection for your stationary devices. But if you want to set up in-home Wi-Fi, you'll need your modem to be connected with a router.
The company offers affordable monthly installments for its routers. You can also purchase your own routers but they have to be compatible with the modems. Make sure that you purchase the latest version of these routers as outdated routers cannot function properly.
Why Prefer Spectrum Approved Equipment?
Choosing this company's equipment is a smart choice for the user. Here are a few characteristics that make its equipment stand out:
Better range provision through fast-track radios
Operation of networks on 5.0 GHz frequency band
Operation of a network on 2.4 GHz band to ensure connection by old devices
The sole provider of dual-band concurrent Wi-Fi
120 feet distant covering range of the equipment
Home Wi-Fi and Its Perks
A home Wi-Fi offers much more convenience and reliability as compared to a wired connection. So, what are some of the perks of Spectrum Home WiFi that make it so desirable?
Convenience
Perhaps the biggest perk of a home Wi-Fi is the ease that it offers. Whether you choose to sit in the living room or the lawn, you can watch your favorite programs without any disruption.
Compatibility
With a wired connection, you can only use the Internet on a PC, Laptop or TV. You also have to sit close to a modem to stay connected. With home Wi-Fi, you can use the Internet on tablets and mobiles as well. You also don't have to worry about staying close to the router with an in-home Wi-Fi.
Coverage
A home Wi-Fi connection can cover as much as 2500 square feet area. If you find this range limited, you can use a Wi-Fi extender to cover a larger area without compromising on speed.  Just make sure that the extender is compatible with your router before purchasing it.
Final Words
If you are looking for a hassle-free and top-notch wireless experience, Spectrum Home Wi-Fi is a smart choice for you. It certainly offers exceptional services without being a strain on your wallet.
Disclaimer: To our knowledge, we have made all the required efforts towards obtaining owner/publisher approval for the use of images in VISIONECLICK.COM blog posts. However, if you find violations of any sorts regarding any image, please feel free to contact us. Prices and packages mentioned may vary with time and the specific locations.