An Easy Guide to Fix the Spectrum Internal Server Error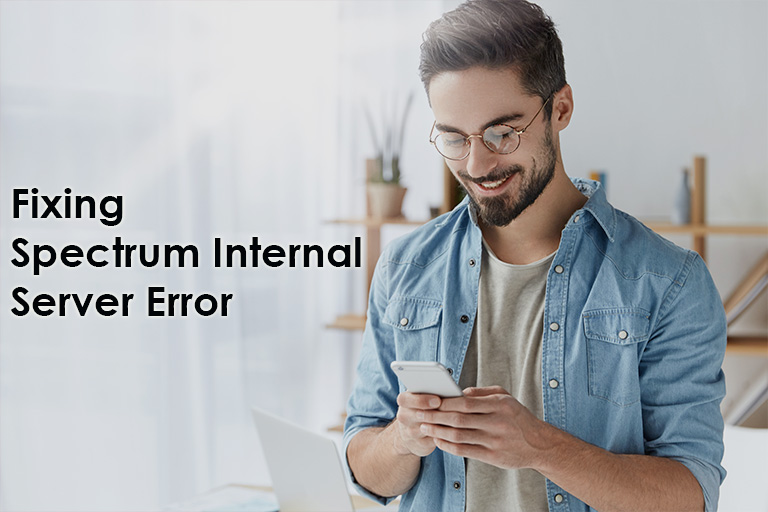 If you have subscribed to any of the Charter's amazing Internet or TV packages, you might be able to enjoy amazing download speeds and hundreds of HD channels. With this provider's services, outage issues are few and far between. But no service is completely perfect. Occasionally, you might encounter several issues like Spectrum internal server error. Besides seeking Spectrum customer support, there are several ways you can fix this error. This guide will discuss this issue and its solutions in detail.
What is Spectrum Internal Server Error?
You might have been trying to log in to the official charter website. But you might be unable to do so because of the Internal server error. The main reason behind this error might be a problem at the end of the ISP. The DNS of the ISP can get misconfigured.  Therefore, you might not be able to access the website. If you are not able to access the website on several devices/ browsers, the problem is definitely on their end. But sometimes, it can be on your end as well.
Top Tips to Fix This Error
There are many ways to fix this problem. After fixing this issue, you'll be able to access the website easily. Here are some easy ways to fix this issue:
Try Restarting Your Router
The easiest way to fix this issue is to restart your router. You might have set up your router in the best possible way by closely following the self-installation guide. But your modem/router might still need restarting from time to time.
This can improve the Internet functioning and can allow you to enjoy better speeds. So, push the button on the back of the router twice. The problem might have resolved. If it hasn't, then you can try other methods.
Log-In With a Different System
Sometimes the issue can be with your device. Your devices might require the installation of updates. You might fail to install the updates on time. And this can cause this issue to occur. So, check if you are facing the same issue on a different device.
If you are, then the problem might be with your Internet connection. So, in this case, you can seek customer support. But if you don't face the same issue on a different device, then your device might be in need of an upgrade.
Change the Settings on Your Device
If you are facing this issue only on one device, this means that there is a problem with your device. You can fix this issue in any easy way. Check if there are any updates that need installation. If there are, then install them and check if the problem persists.
If it does, then check for any application that might be slowing your Internet connection. Delete this application/ program immediately. Check if the problem gets solved. If it still doesn't, you should check with a specialist.
Try Different Web Browsers
You might also face a problem related to your web browser. The browser's DNS settings might have been misconfigured. So, it can become difficult for you to access certain websites with this browser. You can delete this browser and reinstall it to see if the problem persists.
Another way to solve this problem is to try a different browser. See if the problem is fixed or not. If there's no problem anymore, then you might want to get rid of that browser. Install a reliable and compatible browser like Chrome and Firefox extra.
Turn Off the Proxy Server
If you are a subscriber of reliable packages like Internet Assist, you should be able to access all the websites easily. But sometime, a VPN service might prevent you from enjoying access to several websites. This is because your IP address might not be detectable.
So, a secure Internet connection might prevent you from accessing several websites. An easy way to fix this issue is to disable the VPN service while browsing. This should easily fix the issue. Check if the problem persists even after that.
Clear Cache
If the problem still persists, the next thing you can try is to clear the cache. Too many apps running in the background can slow down your Internet connection. So, the best thing that you can do is clear the cache.
After the data and the background apps get cleared, see if the internal server error has gotten fixed. If it has, then you should clear the cache now and then. This would prevent the problem from arising again and again.
Dial the Customer Service Number
If none of the above-mentioned solutions have worked for you, this means that the problem might be on your ISP's end. So, dial the customer support number and talk to their representative. Explain the problem in detail. You might be able to get rid of this problem in a few hours.
Disclaimer: To our knowledge, we have made all the required efforts towards obtaining owner/publisher approval for the use of images in VISIONECLICK.COM blog posts. However, if you find violations of any sorts regarding any image, please feel free to contact us. Prices and packages mentioned may vary with time and the specific locations.