Spectrum Sports Channels – What's In It for Sports Fans?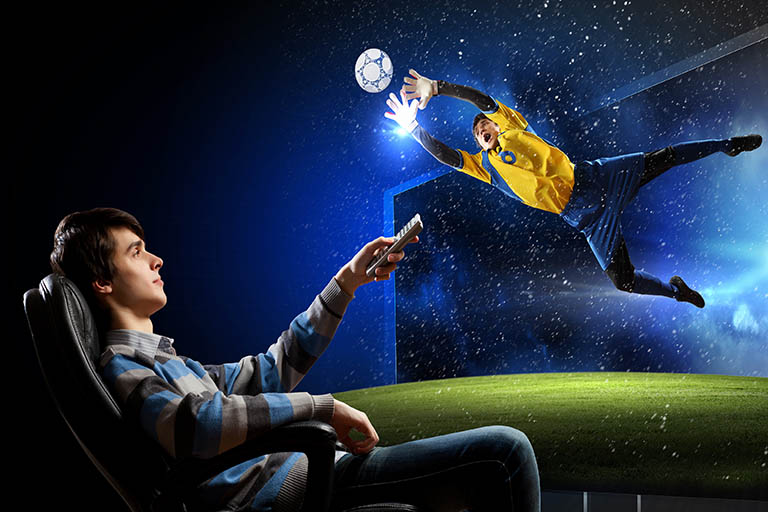 Spectrum is known for offering 200+ channels. This is more channels than any other provider in the United States. Because of this, the sports are enthusiasts wondering if the provider has something for them. Yes, it does! From Big Ten Network, Fox Sports, NBC Sports Network, to MLB Network, and more, you will never want to watch anything else but sports.
Want more details about sports packages? Then let's dive into Spectrum sports channel options.
An Extensive Spectrum Sports Channel Lineup
The provider offers three TV packages (TV Select, Silver, and Gold) and all of these include different sports channels.
| | | | |
| --- | --- | --- | --- |
| Channel Names | TV Select | Silver | Gold |
| beIN Sports | | | ✔ |
| beIN Sports Espanol | | | ✔ |
| CBS Sports Network | | ✔ | ✔ |
| ESPN | ✔ | ✔ | ✔ |
| ESPN2 | ✔ | ✔ | ✔ |
| ESPN Classic | | | ✔ |
| ESPN Deportes | | ✔ | ✔ |
| ESPN Goal Line / Buzzer Beater | | | ✔ |
| ESPNews | | ✔ | ✔ |
| ESPNU | | ✔ | ✔ |
| Fox College Sports Atlantic | | | ✔ |
| Fox College Sports Central | | | ✔ |
| Fox College Sports Pacific | | | ✔ |
| FOX Deportes | | ✔ | ✔ |
| Fox Soccer Plus | | | ✔ |
| FOX Sports 1 | ✔ | ✔ | ✔ |
| FOX Sports 2 | | ✔ | ✔ |
| Golf Channel | ✔ | ✔ | ✔ |
| MLB Network | | ✔ | ✔ |
| MLB Strike Zone | | | ✔ |
| NBA TV | | ✔ | ✔ |
| NFL Network | | ✔ | ✔ |
| NFL Redzone | | | ✔ |
| NHL Network | | | ✔ |
| Outdoor Channel | | | ✔ |
| PAC-12 Arizona | | | ✔ |
| PAC-12 Bay Area | | | ✔ |
| PAC-12 Los Angeles | | | ✔ |
| PAC-12 Mountain | | | ✔ |
| PAC-12 National | | | ✔ |
| PAC-12 Oregon | | | ✔ |
| PAC-12 Washington | | | ✔ |
| SEC Network | ✔ | ✔ | ✔ |
| Spectrum Sports | ✔ | ✔ | ✔ |
| Tennis Channel | | ✔ | ✔ |
| Univision Deportes | | ✔ | ✔ |
Watch Live Games in HD
Nothing beats the experience of watching a game in the stadium, right? But let's be honest, not all of us are privileged to get tickets to a game. If that's you, not to worry because Spectrum sports channels allow enjoying sports in HD glory. Invite your friends over to create a cheerful crowd and savor the experience.
The beauty of the Spectrum sports package is that that you can even watch live games on your smartphone. For that, you will need the Spectrum TV app. It lets you watch live TV on-the-go no matter where you are. You will never have to complain about missing the beginning of the most-awaited games. Just sign in to your app on your phone, and start streaming! However, you must be connected to the Internet.
Specialized Sports Channels at Your Service
Some of the popular names in the Spectrum sports channel lineup include ESPN, Big Ten Network, Fox Sports, NBC Sports Network, MLB Network, and more.
The silver package includes a better sports channel lineup than the basic Select plan. You will get ESPNU, CBS Sports Network, ESPN2, etc. If you want more, the Gold package comes with all-inclusive sports channels. Wait, there's more. You will get premium options too such as NFL RedZone, NHL Network, Outdoor Channel, and more. In other words, the Spectrum channel lineup will never disappoint you if you are a sports fan.
What Comes In Spectrum's Sport Packages?
So are you excited to learn what's special out there for you? If it's a yes, then let's have a closer look at these sports offerings.
Catch the Best of NFL Football
For all the football fandom, Spectrum brings NFL Network and NFL RedZone. NFL Network brings all the latest football news and home to up to 200 live NFL games, Super bowls, NFL classics, and game replays. NFL RedZone is one of the all-time favorite premium channels of football fans. It brings cuts from the stadium to stadium for each game in the NFL. So get ready to treasure some great football moments.
NBA Games in Crystal Clear HD
In case you are wondering if there are any Spectrum Sports Pass channels, the answer's yes. Now you can watch NBA games in action on NBA TV live or NBA league Pass (bringing you access to 40 out of market games per week). Also, catch all the ins and outs of NBA games and interviews of your favorite players.
The Best Baseball Coverage at Home
From live major league baseball to the highlights, there's everything for a baseball fan. Spectrum sports plans include the MLB Strike Zone, MLB Network, ESPN Bases loaded, and MLB extra innings. So basically, just have to know the right Spectrum sports channels number to start enjoying a crisp HD experience in a live baseball sport.
Root for Your Favorite Hockey Team
Charter's NHL coverage is great as well. Watch live NHL games on the NHL network including some coverage of the on-site events or tune in to NHL Center Ice and watch up to 40 match-ups outside the local viewing area per week.
Catch-All the Big Golf Tours
If you are a fan of golf, you will love to watch the elite players perform on the golf court giving their best shots on NBCSN. It all most major golf cups. Or tune in to the Golf channel and catch all the latest golf news to tour updates from all around the world. You might even happen to catch some informational golfing tips.
Don't Miss the Action with Pay Per View
It's like a mini Spectrum TV Stream service that lets you pay for exclusive shows or episodes on various channels including WWE and PPV Events. In case you want to watch live-events without paying a heavy fee, this one for you.
International Soccer Coverage Brought To Your Home
Fox Soccer Plus, BeIN Sports, and MLS Direct Kick bring you the best soccer coverage from around the world. This kind of action-packed entertainment will keep you glued on the couch all day long.
College Sports Madness
The Sports Channel Lineup also covers college sports. So, if you are a fan, you will be delighted. For your college football basketball fix, the options include SEC network, ESPN Goal Line, ACCN, ESPNU, BTN, Pac-12 Network, and FS1.
Pulse-Pounding Motorsports Entertainment
Experience the adrenaline rush brought by motorsports with MAVTV, NASCAR on NBC, NBCSN, and Velocity. Invite your buddies over and watch those heart-pounding races together.
Tennis Entertainment at Its Best  
Not to forget, the provider's tennis coverage is commendable too. Your options include ESPN, Tennis Channel, and NBCSN. You will never have to miss out on the best tennis players in action.
Conclusion
The action-packed Spectrum sports channel entertainment can be everything you need. All you have to decide is which cable TV plan you want to settle on to experience your favorite sports channels. One thing is for sure, Charter will never be heavy on your pocket. Plus, the convenience of their pay Spectrum bill online option will make you love their service even more.
So, are you ready for some action? If yes, then get in touch with customer support to learn about the availability of channels in your local area and sign up with a plan that suits your sporting needs.
Frequently Asked Questions
Have a look at some of the frequently asked questions about the sports channels and packages offered by Charter:
Does Spectrum offer a sports package?
The provider doesn't offer a dedicated sports package but a wide range of sports channels are included in its Select, Silver, and Gold plans.
Can you watch NFL games on Spectrum?
Yes, you can watch these games. If you are a subscriber of the Gold plan, you can watch them without commercials.
What does Spectrum Sports Pass include?
The sports pass plan is also known as NBA League Pass. It includes 12 channels. These include Golf Channel, the Tennis Channel, NFL Network, NHL Network, Outdoor Channel, NFL RedZone, and more.
Disclaimer: To our knowledge, we have made all the required efforts towards obtaining owner/publisher approval for the use of images in VISIONECLICK.COM blog posts. However, if you find violations of any sorts regarding any image, please feel free to contact us. Prices and packages mentioned may vary with time and the specific locations.