Spectrum Vs AT&T U-Verse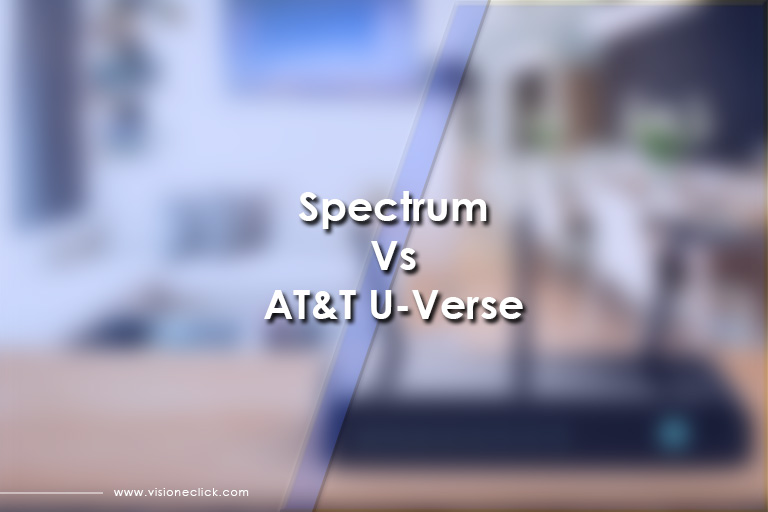 When comparing service providers, like Spectrum vs. AT&T U-verse, you have to analyze both the micro and macro aspects. Micro aspects include the specifics of the offerings by the two providers like prices, speeds, channel lineups etc. Macro aspects refer to the bigger, long-term picture like coverage, term commitments, customer service, and reliability. After all, you will be using the provider of your choice for the foreseeable future. Knowing exactly what to expect from a provider can really help speed up that informed decision.
Spectrum vs AT&T U-verse
Both providers are undoubtedly huge players in the market. Both offer internet, TV and home phone services and target roughly the same market.
The former serves more than 100 million Americans while the Texas-based rival is the largest DSL provider serving around 365 million people.
But to make a detailed comparison between the two, we have short-listed a few key areas to compare. These areas are:
Installation Costs
Billing
Channel Lineup
Customer Support
Internet Coverage
Equipment Costs
Reliability
Apps
While there are many other areas that both providers differ in, these are the most crucial from a customer's perspective. Let's dive right into them.
1. Installation Costs
In terms of money, Spectrum's installation costs are among the lowest in the country. The installation process is relatively similar for both providers. Cable TV installation is fairly simple and mostly involves programming the DVR and checking if everything is working properly.
AT&T, on the other hand, is known for making the setup and installation process very simple for its customers. Unlike rivals, it doesn't charge an installation free.
Instead, it charges an activation fee. This activation fee is around the same price as its rival's installation fee. Since both providers are more or less on par in terms of setup and installation costs, the winner here will depend on your personal preference.
2. Billing
Monthly billing is one of the most important factors to consider when looking for any long-term service. When comparing Spectrum vs AT&T U-verse, this holds true. Both providers have different plans and specifics, but their premium plans roughly come with the same price tag. The former's basic plans start at a slightly higher cost but the real comparison comes with the top-level plans. While priced similarly, the latter's plans actually offer a bigger channel lineup and include equipment with the prices. On the other hand, the former offers fewer channels at the same cost. You can go with the latter's top-tier plan to get the most channels. Or you can opt for the former's cheaper plan with fewer channels and lower cost.
3. Channel Lineup
When looking for a good TV service, one of the biggest things to focus on is how many channels you get. Spectrum offers a decent basic channel coverage, with most of the essential entertainment options covered. However, there are some channels, like Adult Swim, that are wildly popular but can't be found on.
On the other hand, the Texas-based giant offers a bigger channel selection than any other provider in the market.
However, this channel count is inflated substantially by music channels. Conversely, the rival offers a lot of on-demand content to make up for its limited lineup. It offers 200+ channels compared to AT&T's 500+ channels.
4. Customer Support
The level of customer support a provider offers greatly influences the perception of its users. AT&T has made a reputation for itself in offering a great support service. In addition to FAQs for common troubles, there's also the option to get support on the phone or on live chat. If you compare it to the rival under examination, there are some issues with Spectrum customer support. There are different sites to address your issues based on if you originally had Charter, Bright House or TWC. This can cause some significant confusion. However, the company is working hard to create one portal to address the complaints of all its customers.
5. Internet Coverage
Spectrum plans offer a very simplified internet package. It offers just one plan with speeds that reach up to 100Mbps.
Its internet services a huge chunk of the American population and has a correspondingly huge coverage area.
Its rivals in Texas also offer high-speed internet, but the coverage area is different. Within the coverage area, you get speeds reaching up to 75Mbps but you can also opt for better AT&T packages. In areas covered, there are plans that reach up to 1000Mbps! But if you're a gamer or streamer located outside a coverage area, you may not be as pleased.
6. Equipment Costs
If saving money and staying on budget is a priority for you, then you should definitely look at equipment costs. The Texas-based provider offers the U-verse Total Home DVR as a part of its package, meaning there is no extra cost. It's a really good piece of equipment with up to 4 simultaneous recording capabilities and 165 hours of HD storage. Compared to that, it's rival's TV DVR offers 2 simultaneous recordings and a maximum of 21 hours of HD storage. That's not to mention that the DVR comes with extra cost and is not included in the price of your plan. One quirk, however, is that it lets you manage your recordings and watch TV on-the-go with the Spectrum app.
7. Reliability
The Texas-based provider offers a very high standard of service reliability. Since the provider uses fiber-optic lines, the service delivery is crisp, sharp and interference-free. The frequency of technical hiccups is also quite low when compared to its rivals. Spectrum, on the contrary, has experienced a dip in reliability, even though it's not any less reliable than other providers. There are only occasional hiccups in the cable internet service but usually, they are resolved with all possible speed. Still, on the whole, a fiber-optic based infrastructure seems more reliable.
8. Apps
It's the age of smartphones and everyone wants to manage everything on their mobile devices. Both providers offer mobile applications on Android and iOS. Apps from both providers allow the user to manage their respective DVR. Both apps can make your phone function as a remote control as well. The real point of distinction between the two is that the U-verse Mobile App gives you personalized recommendations. These recommendations are based on the shows you add to your homepage. Conversely, the Spectrum TV App features a powerful search function that lets you discover new entertainment options. This app is also better optimized for tablets and iPads.
Our recommendation
To wind up our AT&T vs Spectrum debate, we have distilled all our research into these two actionable points.
If you are looking for affordability and no term commitment, then the former should be the best option for you.
It works best when TV and the internet are bundled, so make sure you're choosing the right bundle for your needs.
However, if you want value for money and a larger channel selection, then the latter is right for you.
The company offers the largest channel selection in the country and is a great TV service to have. While there's limited availability in some areas, if you can get it, there are few better options. It is also somewhat bottlenecked by variable internet speeds, whereas the rival's internet is more consistent across a wider area. Still, both are comparable competitors that focus on providing a high level of service that we have come to expect. Hopefully, this blog will have given you a clearer picture of both providers and made the choice somewhat easier.
Disclaimer: To our knowledge, we have made all the required efforts towards obtaining owner/publisher approval for the use of images in VISIONECLICK.COM blog posts. However, if you find violations of any sorts regarding any image, please feel free to contact us. Prices and packages mentioned may vary with time and the specific locations.