Comparison of Streaming Services, On-Demand TV, and CableTV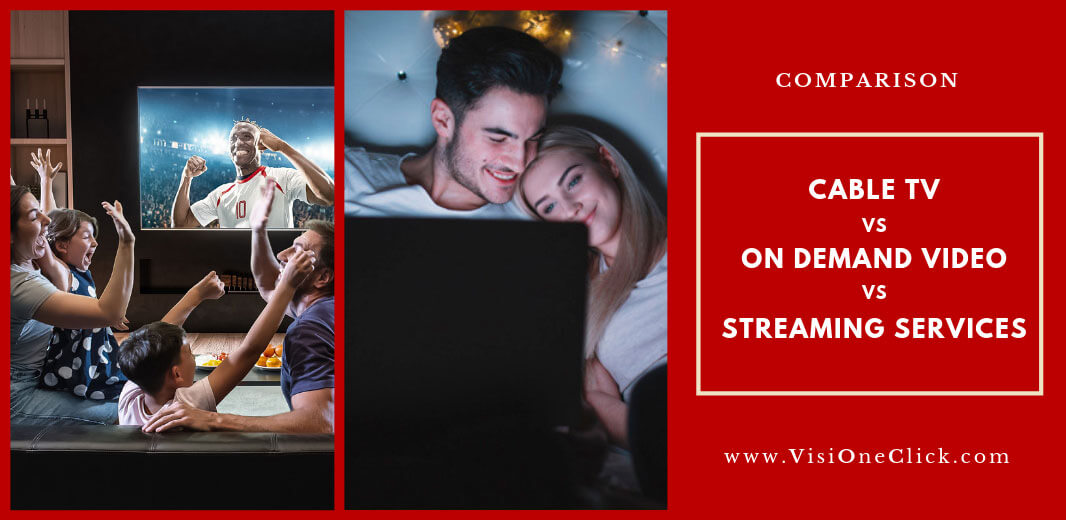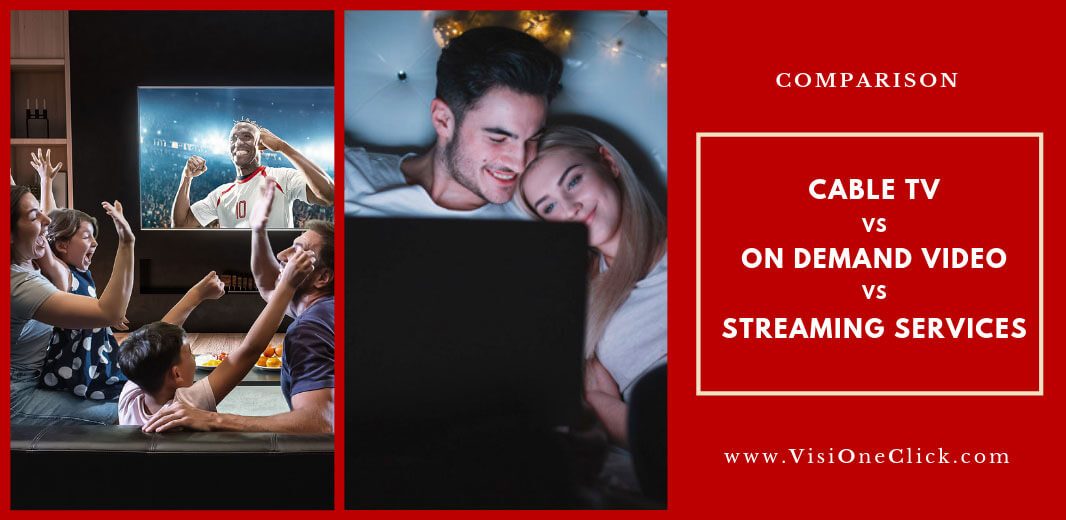 Ever since streaming services have been introduced, the modern, entertainment-obsessed generation has been skeptical about conventional cable TV. And the battle didn't stop at that, On-Demand TV was also introduced. No, we are not talking about the On-Demand feature offered by TV providers here. It's On-Demand TV. This gives the prestigious entertainment lovers plenty of options to choose from these 3 categories of entrainment providers.
However, with more choices and more options, sifting through the offered services and features becomes overwhelming. To help you out of your Decidophobia and over choice, we are going to give you the pros and cons of all these services. this way, you can choose the one that suits your entertainment preferences and needs the best.
But before we dive into that, have a look at some interesting stats
Some Interesting Stats
Bundlers are now breaking up.
60% of satellite/cable as well as streaming users are likely to get rid of satellite/cable in a year.
40% of people have stopped using streaming services.
If you read more stats regarding streaming services and TV, it will be easier for you to decide what you want.
Some of the Popular Cable Television Providers
Pros and Cons of Cable Television
Let's begin with what traditional cable has to offer.
Pros
Service Stability
With cable TV, you will get a consistent service. Only when the cable is broken or there's a big problem with their overall system, will the service go out.
Option of Bundling
Cable TV service gives you the option of bundling with other services. That way you have one single package. The biggest advantage of that is saving a lot of money. Not to mention the ease of having one single bill.
More Variety of Shows
Do you love channel surfing? Do you follow different shows on different channels? If the answer is yes, then perhaps cable is your best choice. If you regularly watch 15 shows aired on 15 various channels, you need to have all of them. And the only way possible is to have a subscription to one of cable TV providers.
That's because most of them offer hundreds of channels in all their packages. And that's not the case with streaming services. For instance, the minimum number of channels offered in Cox cable bundles are 75. And the maximum goes up to many hundreds.
Sports
If you are a sports enthusiast, cable providers have an edge over streaming services. the reason is that most of the cable Television providers offer the top-notch sports channels and networks like ESPN. On the other hand, streaming services only focus on airing popular sports events.
If they offer live broadcast, they also add a costly fee to let you watch it. Stick with cable if you can't imagine Monday nights without Football!
Cons
Since we promised you a complete picture, here are the cons of cable.
Fickle Cables
When it comes to reliability, the internet is far more reliable than conventional TV. The reason is that most of the providers have upgraded and expanded their internet cables/fibers even. But they haven't paid the same attention to the cable. Hence, when the weather is not good, the internet still works well while the cable becomes a mess.
Thanks to the fickle outdoor cables. In a hailstorm, you are likely to miss your favorite show aired on Fox on Cox. If the place you are living is prone to extreme weather conditions, streaming is perhaps a more reliable option for you.
Notoriously High Prices
Another con is their crazy pricing. Once you are lured into subscribing to a nice sparkly promotional deal for a year, the prices will skyrocket when your first contract ends. Those price hikes will be added in your monthly billing schedule and there's a possibility of paying an increased price even before the contract ends.
Poor Customer Service
Certain areas have only one cable provider that crats a monopoly. This results in poor customer service. This is because they know that you are stuck with them due to the unavailability of any other competition.
Pros and Cons of On-Demand TV and Streaming Services
Pros
Every new service offers something new and valuable. And that's why people are willing to switch. The features offered by streaming and On-Demand TV have become popular. Cord-cutters are switching to because of the following are the benefits of streaming services.
Affordability
Streaming and On Demand TV clearly win here. If you compare the monthly prices of popular cable providers with these internet-based services, you will see that the latter are very less expensive. The average TV package is priced above $100. While you can get Netflix or Hulu Plus for as low as $10 a month. Streaming services subscriptions are priced between $8 – $20.
Even with Cox bill pay options, the price remains to be more expensive than the streaming services. Prices only differ with the number of devices or screens and resolution. But still, they end being less-priced than the cable packages.
So, if you are worried about your escalating cable bills, and you are considering cord-cutting, go for streaming services.
Flexibility
Streaming services are way more flexible than conventional TV.
Cable packages bind you in strict yearly contracts.
You can terminate the streaming service subscription anytime.
Unlike Cable Television, no termination fees needed with streaming services.
Log in to the account and resume your streaming service whenever you want.
Customized Viewing
The modern viewers are all about customization. Streaming services allow you to customize your viewing experiences to the fullest.
With a streaming service
You get alerts about new episodes.
Streaming service recommends shows based on your watching history.
Binge – Watching is Possible with Streaming Services
Want to watch the season finale with your friends? You can only do it with streaming services. They have complete seasons stocked, which TV channels are not airing. It's really hard to quit watching a good show and leave it in the middle. All these binge-watching adventures are only possible with streaming services.
Imagine watching all 8 seasons of Game of Thrones together! Only possible with a streaming service. No channel is ever going to air them at your preferred time, even if you have HBO on Cox!
Cons
Nothing is without drawbacks. There are some of the streaming services too.
Need to Have High-Speed Internet
Streaming services are strictly based on the internet. If you want to have a smooth, uninterrupted streaming session with great picture quality, you will have to subscribe to high-speed internet. On standard and regular internet speeds, you will have not have uninterrupted streaming. You will also not have HD picture quality.
Because the better the internet speed, the better will be the picture quality and broadcast. This means you will have to invest in high-speed internet and that is very expensive. For instance, with Cox internet speeds, you can manage to get the ultimate picture quality but the pricing will be a burden on your already-stretched budget.
But, the internet has become an essential amenity to every house, and people will still have it even if they are subscribing to streaming services or not. The 5G revolution is finally here. Streaming services are likely to trend more with this latest generation of internet connectivity. With 5G, that offers lower latency and faster speeds, people would switch to streaming services for their favorite content.
No Internet, No Streaming
Streaming services are totally dependent on a working, high-speed internet connection. Whenever the internet is dropped, the streaming is dropped too. People living in rural areas will find it difficult to find internet service with fast enough internet speeds.
Know What You Want to Watch
With a cable Television connection, you can figure out what you want to see amidst channel surfing. For instance, with Cox channel lineup, you are most likely to end up on a news channel if you are unable to find anything else. With streaming services, you need to look up the show that you want to see.
Yes, they give suggestions but you will have to flick through them. If you are unable to decide what to watch, it is not going to automatically play anything, unlike cable TV. It can be frustrating and tiring if you don't already know what you want to watch. Over choice can become overwhelming.
Live TV Streaming

Options

On-Demand TV | Streaming Services

Hulu Live TV
Netflix
Sling TV
Hulu
YouTube TV
Amazon Prime Instant Video
DirecTV Now
ESPN+
Fubo TV
Shudder
PlayStation Vue
Kanopy
Pluto
HBO Now
Philo
Popcorn Flix
–
Sony Crackle
 –
Showtime
The Best Shows on these Streaming Services
The original shows by streaming services have no comparison with the content aired on cable channels. They are simply amazing and people are in love with them. These shows are the biggest reason for this prevalent switch to streaming services. Some of the famous shows on Netflix as well as HBO and Showtime are as follows:
Narcos
Breaking Bad
Suits
You
The Crown
Stranger Things
Big Little Lies
Curb Your Enthusiasm
Oz
True Detective
Riverdale
The Affair
Disclaimer: To our knowledge, we have made all the required efforts towards obtaining owner/publisher approval for the use of images in VISIONECLICK.COM blog posts. However, if you find violations of any sorts regarding any image, please feel free to contact us. Prices and packages mentioned may vary with time and the specific locations.