Top Streaming TV Providers 2022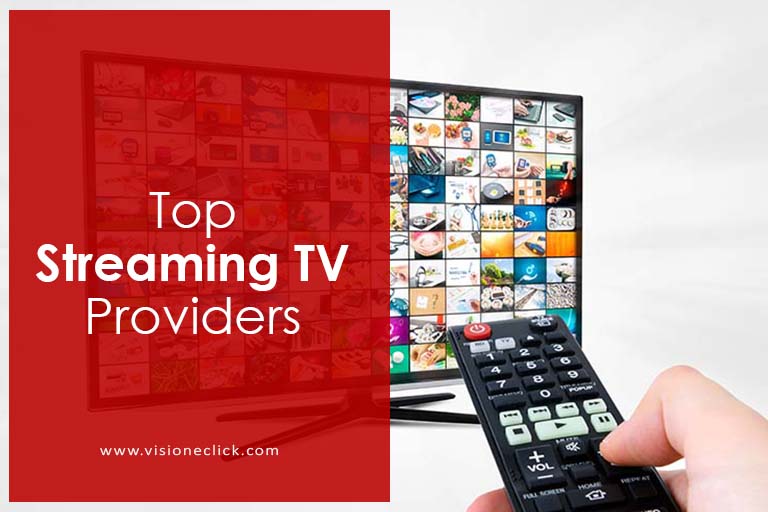 Apart from the traditional cable TV satellite or antenna connections, there are also TV watching services available over the Internet. Numerous streaming TV providers are now available other than the top three (Netflix, Prime Video and Hulu). This is a great option for customers as it offers value for money.
Here are the trending streaming TV platforms in 2022.
Top Streaming TV Providers
Netflix
Netflix continues to top the list by providing the subscribers with Netflix originals as well as movies and shows borrowed from other platforms. The wide range of genres and the multiple titles available, make Netflix a favorite among many. Apart from that, the affordable price and the multi-device support offered by the service, make for an easy and fun streaming experience. The only drawback is that one needs a high-speed Internet for this TV streaming platform to function properly.
Amazon Prime Video
Amazon originals are no less than the Netflix ones. Many people ditched Netflix to subscribe to Amazon Prime Video. This platform is giving Netflix a run for its money. The brilliant selection of movies and the huge variety of shows make Amazon Prime Video a favorite. It is also a better option for kids when compared to Netflix as it offers more titles for them.
Hulu
Low base price, good Hulu originals shows, and an amazing selection of TV shows is what describes this platform the best. Features that are not so appealing though include the commercials and the limitation of one stream at a time.
Disney Plus
It is a newfound home for everything Disney. Everyone who wishes to rejoice the childhood days will find all Disney shows and movies on this streaming service. It has an excellent content base, comes at a competitive price and includes 4K as a standard. However, you might only want to subscribe to this streaming service if you are looking for family-friendly content. Because it won't offer you anything apart from Disney shows and films.
YouTube TV
Some of the pros for YouTube TV include the ability to watch on the go, the original series powered by YouTube Red, and easily live TV. What once was a video-blogging site, is now a prominent TV streaming service. It offers a 7-30 days free trial. And is compatible with a wide range of streaming devices including Apple, Google Chromecast, Android, Xbox, and Windows.
HBO Now and HBO Go
Both platforms offer the same content. The only difference is that HBO Go comes free with the paid cable subscription and you do not need a cable TV connection for HBO Now. The platforms feature all the episodes for every HBO series. They also offer the subscribers an easy-to-use interface.
Sling TV
Although Sling TV comes at a more affordable price than YouTube TV, the quality of the former is not as good as the latter. However, the positives of Sling TV include the ability to stream it anywhere and the wide range of on-demand shows. You might face occasional performance issues though. Apart from this, the search engine may pose a couple of problems as well.
Having mentioned the top streaming services, let's see what are the pros and cons of subscribing to one.
Pros and Cons of Streaming TV
Pros
One major benefit is the cheap price when compared to satellite or cable TV packages. For example, those offered by AT&T or the like. Other advantages that a streaming service provides you include:
Free trial period
No contracts involved
More on-demand options
No rental of equipment or installation charges
Cons
Inconsistent channel lineups
Limited options for sports lovers. You won't find ESPN on these streaming services.
No variety of local channels
Inability to stream simultaneously
Having established that streaming TV services have certain advantages over cable TV, here is another comparison.
Live TV Streaming vs. On-Demand Streaming
Both of these options are often confused with one another. Live TV streaming is what you do when you are watching your favorite show or movie on cable TV. You follow the schedule that the network offers.
On the other hand, on-demand streaming refers to requesting the cable service provider or the streaming service platform to watch a show or movie available on the list. You do not have to follow any schedule in this scenario. Watching at your ease is what you relish with on-demand streaming.
However, on-demand streaming asks you to have an efficient Internet connection at all times. You should choose a good wireless Internet provider for this. As a downtime will cost you your entertainment. So, if you think that your household has a heavy demand for the Internet, consider upgrading your plan before opting for any of the streaming TV services.
Disclaimer: To our knowledge, we have made all the required efforts towards obtaining owner/publisher approval for the use of images in VISIONECLICK.COM blog posts. However, if you find violations of any sorts regarding any image, please feel free to contact us. Prices and packages mentioned may vary with time and the specific locations.