Stay Connected by Turning Your Smartphone into a Wi-Fi Hotspot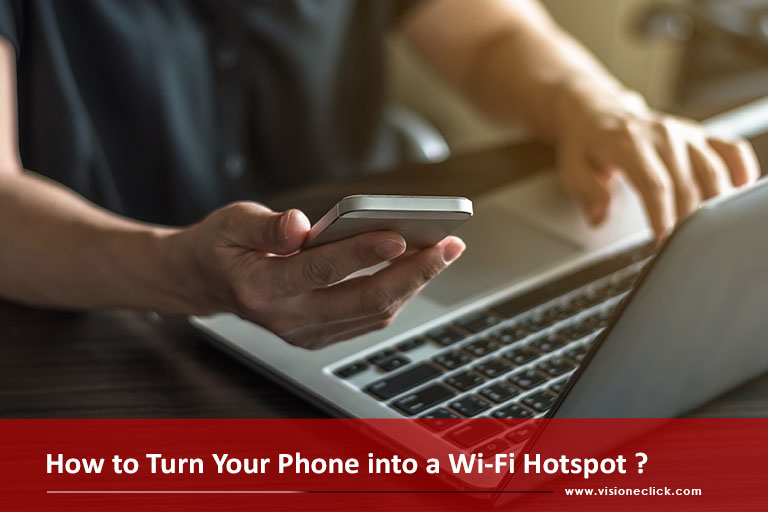 Stuck in a situation where you urgently need an internet connection? That happens quite often as we rely on the internet quite a lot. And sometimes, we are unable to find a Wi-Fi hotspot nearby. Your smartphone can be your savior in times like that!
Your smartphone can turn into a hotspot effortlessly. And you can connect any gadget such as tablets, laptops, other smartphones, and so on. Sounds complicated? Let's ease it up for you with just a few taps!
Why Do You Need to Know How to Use Mobile Hotspot?
The internet sounds like an amenity universally available. You may have access to the best internet packages at home but many times, you will end up somewhere where you can't find a wireless hotspot. So, guess what! You have your connectivity solution right in your pocket. Your cell phone! Almost all modern cell phones allow you to turn them into Wi-Fi hotspots for other devices to use. This phenomenon is called creating a hotspot. Once you do it successfully, your phone will display as a Wi-Fi network, and other devices can detect it and join it.
Tethering refers to connecting your devices such as computers and tablets to your mobile hotspot. You need to enlighten yourself with this particular functionality for times when you urgently need internet connectivity and there's no Wi-Fi around.
Moreover, perhaps you have a Wi-Fi network available but you are not sure about how secure the connection is. Or, your home or office has a sudden power outage but you need to use the internet. Or, you are on a family trip and you don't want to pay for an additional cellular plan for your kid's tablet. So, you connect it with your cellular hotspot. In times like that, you need to know how to use phone as Wi-Fi!
Things to Consider
Major carriers offer efficient tethering services. However, your ability to tether your internet for other gadgets to use depends on two things. Your service plan and your data allowance.
As mentioned already, your mobile hotspot is not like your home Wi-Fi. Therefore, here are some things to consider:
It doesn't offer unlimited data, unlike your home Wi-Fi.
Moreover, tethering eats up your phone's battery life pretty fast.
So, if you are a frequent traveler and plan to use your phone hotspot mode often, we recommend investing in a battery case.
How to Turn On Wi-Fi Hotspot on Various Devices
We will be enlightening you briefly about using your hotspot mode on various types of devices.
On iOS
Want to set up your personal hotspot on iPad or iPhone? It's fairly easy.
Simply go to settings.
Go to Personal Hotspot.
Toggle on 'Allow others to join.'
You can change the default password for better security.
Now you can open the Wi-Fi menu of the device you intend to connect to your Apple device. Your iOS device should display in the available Wi-Fi networks just like reliable wireless internet providers appear. Tap it and simply enter the password that you set earlier.
You can use the internet and surf the web on your secondary device by consuming mobile data of your iOS device. Your iOS device will show a tiny icon on the top indicating a connected hotspot. Moreover, to disconnect, you simply have to toggle off the Personal Hotspot on the iOS device.
On Android Devices
Unlike iOS, Android OS is offered by a number of phone manufacturing companies. Therefore, turning on the hotspot in your Android device depends on the cellphone type and the Android version it is running.
However, navigating the settings to find the hotspot shouldn't be difficult. Go to Settings and look for 'tether'. We'll try to cover some of the top phone brands with the Android operating system.
Samsung
Finding your hotspot on Samsung mobile is not difficult.
Navigate to Connections.
Go to Mobile Hotspot and Tethering.
There you will find a mobile hotspot.
Simply toggle it on.
A pop-up window will be displayed.
You can find Wi-Fi passwords on it for the devices you want to connect.
Motorola
For Motorola phones, follow these steps:
Go to Settings.
Go to Network and Internet.
Tap Hotspot and tethering.
You can choose to share a connection here using USB, Wi-Fi, or Bluetooth.
For a wireless connection, toggle in the Wi-Fi hotspot.
The name of the hotspot will appear on the screen.
LG
Simply pull the top of the screen down and tap Settings. Then tap Tethering and toggle on the Wi-Fi hotspot switch.
Google Pixel
On Google Pixel phones, follow the following steps:
Pull the top of the screen down and tap Settings.
Navigate to Network and Internet.
Then go to Hotspot and Tethering.
Toggle on the Wi-Fi Hotspot switch there.
The name and password of the hotspot will be visible.
OnePlus
Go to Settings by swiping up from the bottom of the screen. Then tap Wi-Fi and the internet. Go to Hotspot and Tethering next. Toggle on the switch and you are good to go. You will be able to enjoy the internet just like you enjoy Spectrum free internet!
Huawei
Go to Settings and then tap Wireless and Networks.
Navigate to Tethering and portable hotspot.
There you will find a portable Wi-Fi hotspot.
Configure your hotspot and set up a name, security settings, and a password for your hotspot.
Tap Save.
In order to deactivate your hotspot mode for any of the aforementioned phones with Android OS, simply deactivate hotspot mode and navigate back to the settings to toggle them off.
Now that you figured out the hotspot settings of all different types of cellphones, you can take advantage of your phone Wi-Fi just like you enjoy Cox bundles. You can thank us later!
Disclaimer: To our knowledge, we have made all the required efforts towards obtaining owner/publisher approval for the use of images in VISIONECLICK.COM blog posts. However, if you find violations of any sorts regarding any image, please feel free to contact us. Prices and packages mentioned may vary with time and the specific locations.