Ultimate Guide to Parental Controls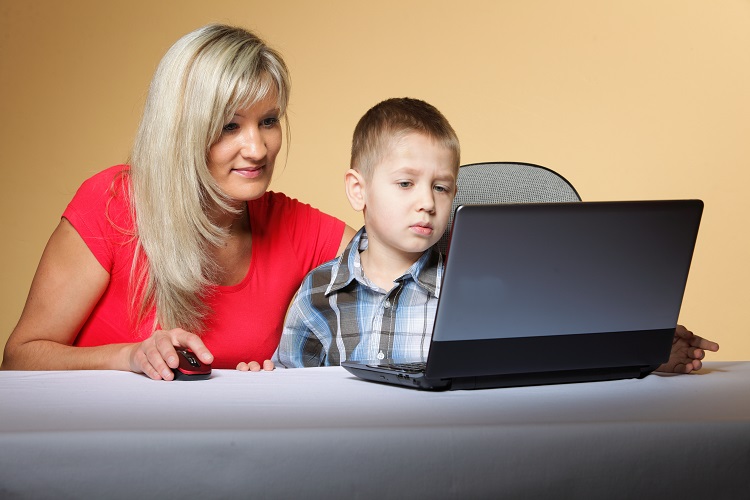 3 out of 5 parents worry that their child might be exposed to inappropriate content. On the other hand, 40% fear that strangers might contact their kids online.
The American Academy of Pediatrics recommends that parents must select and view online content with their children. Unfortunately, along with the explosion of Internet-connected devices, the number of Internet service providers has increased, too. This has made it challenging to monitor and limit screen time habits.
If you haven't yet set up parental controls, you will be glad to know it is there already. Online streaming services, devices, game consoles, etc. our kids use all have built-in parental controls. All you need to do is learn and implement.
Android and iOS
Starting from the basics, these are some of the parental controls available on Android and iOS.
iOS Parental Controls
Apple's parental controls let you put screen-time to restrict the use of built-in apps, app store purchases and even block iTunes. You can also restrict your child's ability to browse certain sites.
Here's how it's done:
Go to the Settings of the device
Choose General >> Accessibility
Go to the Learning Tab >> Guided Access >> Time Limits
This lets you set a time limit on an app. You just have to click the home button 3 times when the app is opened.
To set screen time, go to the Settings, then select Screen Time and choose Content & Privacy Restrictions. You can block content depending on its maturity rating and limit the usage of apps (music, news, and podcasts).
Android Parental Controls
In Android devices, you can restrict games, apps, and movies your child tries downloading from the Google Play Store.
This is how you can apply parental controls on the Google Play store
Open the Play Store App
Go to Settings from the top left menu
Turn on Parental Control
You will be asked to choose a PIN. This will ensure that the setting is changed by only those who know the PIN. After this, select the type of content you want to filter and the content you want to restrict.
Game Consoles
Who doesn't have a game console at home? You might have upgraded your Cox Internet bundle to enjoy an uninterrupted gaming experience if you are a fan of yourself. But are you sure you have set up the right parental blocks on these devices as well? Here's how you can ensure your kids' safety:
PlayStation
You will first have to create a master account for yourself and then sub-accounts for your children. This is usually done at the time of setting up the console.
Once you have created a master account, then follow these steps to create sub-accounts and apply parental controls:
Go to Settings and choose Parental Controls
Then choose sub-accounts management. From there, you will be asked to enter your PSN username and password
Choose create a sub-account to apply parental controls on each account
The parental controls allow you to restrict non-registered log-ins, set limits on the spending at the PlayStation store, block content on the PlayStation store, restrict games, apps, Blue rays and DVDs by age, enable or disable using PS4 web browser
Xbox
You might have multiple accounts on the Xbox (each belonging to one of your kids because they want to keep separate accounts).
Xbox family profile allows you to create different types of accounts starting from adults, teens, to children each having their own set of restrictions and permissions. Let's see each of these accounts:
Adult: This account has no restrictions. Adults can play any movie or game they like. They are free to access online features as well. They can make changes to the settings of the system as well as the other two types of accounts.
Teen: A teen account does not have many restrictions. They can access movies, games, and online features. However, the one operating the adult account can change these permissions.
Children: This account is for 8-year-olds and under. It has pre-set restrictions. The kids are allowed to use content by rating and only limited online functions are available.
Search Engines
Chrome
Chrome lacks built-in parental controls. However, some features can be used to filter what your child browses online. For that:
To go Google's search Settings and choose SafeSearch filters
Check the SafeSearch Box and then Save the settings
You will have to put parental blocks on each device separately because Google does not transfer the settings.
Apart from this, you can use chrome-based parental control extensions to block URLs, blacklist sites and even set time limits on various sites.
Firefox
Firefox doesn't have built-in parental controls either. It only allows you to change if any password is remembered and you can uncheck that for ensuring your kids never have a password-protected online hiding place.
Here's what you can do:
Go to the Settings
Choose Options and then Security
The best thing about Firefox is that it meshes any security settings you have set up in Windows such as blocking certain sites, applying web filters or stopping unwanted downloads.
Yahoo
You don't have the option of creating profiles for sub-users (your children) but Yahoo allows you to filter content from the search results. For that, you will have to set up a Yahoo ID for a user under 18 and add parental blocks.
Just like Google, Yahoo has SafeSearch feature. To access it, follow these steps:
Sign into Yahoo and to go its Search Preferences
Choose Strict >> Lock
Once you have done that, Save those restrictions.
Streaming Services
Netflix, YouTube, Hulu, and Amazon Prime have a huge library of movies and TV shows that are available at your fingertips. It's really entertaining to stream your favorite shows on your Frontier Internet service but the young audience can easily stumble upon inappropriate content.
Here is how you can establish protection on each of these streaming platforms:
Netflix
With Netflix's parental controls, you can help your kids learn how to make appropriate streaming decisions and manage their screen-time. When you sign up with Netflix, you have 2 options – create a new and limited user profile or set up password protection to ensure your kids don't stream mature content.
Set new profile: If you set up a decided user profile, it lets you keep their viewing separate from yours. Therefore, the shows or movies you have watched will not appear in the recommendations of your child.
Create a Pin: If you don't have to create separate profiles, there is a way to prevent them from viewing mature content. This can be done by creating a 4-digit Pin. For this, log in to your Netflix account, click on Account and choose Parental Controls. Then create a PIN. You are free to block movies and shows based on a certain maturity level or individual titles. You can choose from the following groups:
Little Kids (6 and Under)
Older Kids (12 and Under)
Teens (14 and Under)
Adults (15+)
Hulu
You can set parental controls on your Hulu account. It's similar to Netflix i.e. create individual profiles for young users. To add a new profile:
Go to Hulu's website
Access your Account page and click Profiles
Enter the new account name and turn on the kid's toggle switch
Enter the date of birth of your child to set an age level
You are free to set up appropriate restrictions on your child's profile as and when you want. Make sure your kids don't have access to your profile otherwise they will be able to view mature content.
Amazon Prime Videos
Amazon Fire TV, tablets, and phones have their own parental control settings. With prime video restrictions, you can set a limit on playing back content on Prime device devices.
Go to the Settings of Prime Video app
Choose Parental Controls from the menu
Then select Viewing Restrictions
Another way to make Amazon FIRE safe for kids is by using FreeTime. It's built into every fire device. It restricts ban ads, purchases, and allows access to only the content that a user approves. It's best for 8-year-olds and under. You can also use the same device for regular streaming and browsing by switching to adult settings on FreeTime profile.
YouTube Kids
I am sure your child loves watching cartoons such as Peppa Pig or Dora the Explorer. Hence, you have to ensure they are don't accidentally view something inappropriate. A great thing is that YouTube for Kids comes with amazing parental features. You can:
Block content
Turn search off
Access parent settings by creating custom passcode
Choose content according to your child's age
Social Media Accounts/Apps
Internet deals with popular Internet service providers such as Optimum Internet have made it easier for us to browse social media on the go using our mobile devices. Your children must be hooked to social media.
You can use third-party apps to put screen-time restrictions but that's not enough. Your supervision will be required to ensure they use these accounts safely. Learn how you can do that on some of the popular social media networks:
Facebook
According to Facebook's TOS, no child under 13 can make their own Facebook account. The social media giant does not offer built-in parental controls.
When your child is ready for their Facebook profile, make sure you walk through the General settings of their account to be sure their privacy and security are in check. Here's what you can do:
Apply 2-factor authentication to authorize the devices that don't require a password for logging into your child's account.
Check the privacy setting to determine if your child's profile is public or friends only.
With the blocking feature, along with blocking certain people, you can block entire pages
You can also limit who can tag your child's account to prevent bullying and trolling
Snapchat
Kids these days are in love with Snapchat. This social media platform doesn't have built-in parental controls either. But there are a few ways parents can ensure their kids use it safety; such as:
Make sure the See Me In Quick Add toggle is off (this prevents your child's profile from showing up to in other people's suggestions)
Keep the location sharing feature set to Ghost Mode or My Friends
Instagram
Instagram has a whole parent's guide to help them understand what Instagram is and how they can monitor their child's Instagram usage. Keep in mind users of ages 13 and above are considered authorized account holders.
These tips will help parents ensure the content their kids share on Instagram is safe:
Make sure their account is private. This way, no stranger will be able to view their photos and videos.
Set the photos and videos to private so that only approved followers can see them
The reporting feature allows users to report a person on the basis of abusive behavior or posts
Conclusion
The way your child navigates the web uses the WOW Internet service for entertainment, or plays games, depends on how much you keep them restricted. With the kind of information available out there, if you can't monitor them all the time, make use of the parental controls to keep them safe.
Disclaimer: To our knowledge, we have made all the required efforts towards obtaining owner/publisher approval for the use of images in VISIONECLICK.COM blog posts. However, if you find violations of any sorts regarding any image, please feel free to contact us. Prices and packages mentioned may vary with time and the specific locations.