What Channel is UP TV on Spectrum?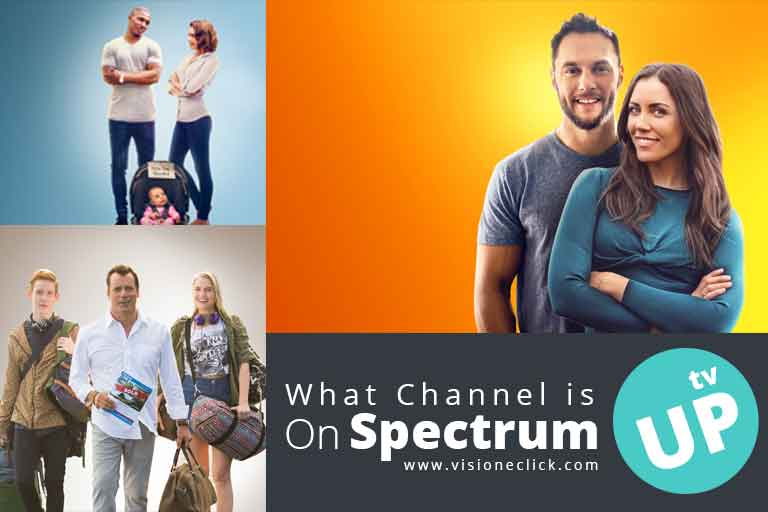 Not a lot of TV channels come with offerings that cater to the needs of all age groups. Most of the channels only focus on a particular genre and age category. However, there are still some channels that bring TV shows of such a nature to audiences that cater to all ages. They make the family time worthwhile and provide shows that youngsters and the elders can enjoy equally! You can enjoy this type of content easily on UP TV on Spectrum.
The channel captivates its audiences by providing something for each family member. You won't see shows here that are too "adult" or too "childish" in nature. Instead, you will find family shows and family-oriented educational programs.
This guide is for those interested in watching content over UP TV. Users of Spectrum cable TV get over 200 channels in the lineup and this includes UP TV as well! Other packages also contain top-notch TVs such as A&E and TLC! Continue reading the guide to know more about UP TV and its channel number on Spectrum.
 About UP TV on Spectrum
Spectrum is renowned as one of the best service providers in the United States of America. With several offerings for internet, voice, and cable TV, the brand caters to the diverse needs of millions of Americans across the country. With three main TV plans that include the Spectrum TV Select, Silver, and Gold packages, Spectrum provides hundreds of premium and basic channels in over 44 states! Therefore, it is the most reliable ISP for your cable TV needs!
UP TV was founded by Charles Humbard in 2004. Initially, the channel was launched with the name Gospel Music Channel (GMC). At the time, it aired soundtracks pertaining to Christianity – everything from contemporary to southern gospel found itself playing on GMC. Christian metal and rock music also found acceptance on UP TV.
Another major offering from the show was 'America Sings' which was a Christian singing competition. 'Front Row Live' was another popular show which featured live concerts. GMC also dedicated on-air time to rejoice lives of artists who promoted Christian music in the US.
Rebranding of Channel
On September 1, 2013, the channel officially rebranded itself to UP TV. Now, the channel operates with a slightly different vision. Today, it is all about family-oriented comedies, TV shows, holiday celebration shows, music shows, and movies! During Christmas, Halloween, and Thanksgiving, it airs quality content that is second to none.
UP TV on Spectrum Cable just like NASA also has a presence on YouTube. You can also follow the channel on Facebook to get updates about any upcoming shows. Do note that you can subscribe to this channel only if you're a subscriber of Spectrum TV Silver or Spectrum TV Gold.
For more channel offerings, make sure to check out Spectrum TV essentials as well!
Find Your Channel Number of UP TV on Spectrum Cable
Subscribers of Spectrum can watch a plethora of TV channels with offerings from every type of channel genre. However, for different states, channel numbers are also different. So, if you are looking up where to find the channel number of UP TV on Spectrum, then you're at the right place. Because the table for UP TV on Spectrum Cable will help you find the respective channel numbers in all states.
| | | | |
| --- | --- | --- | --- |
| State/City | Channel Number | State/City | Channel Number |
| Albertville, AL | 107/754 | Hayden, ID | 124 |
| Austin, TX | 124 | Harvard, MA | 165/817 |
| Athens, GA | 101/764 | Jacksonville, NC | 124 |
| Avon, IN | 255 | Knoxville, TN | 177/735 |
| Alexandria, KY | 820 | Kansas City, KS | 124 |
| Auburn, ME | 124 | Lincoln, NH | 124 |
| Allendale, MI | 174/876 | Lincoln, NE | 124 |
| Albany, MN | 141/710 | Los Angeles, CA | 124 |
| Belleville, IL | 241/740 | Los Angeles, CA | 178/807 |
| Baton Rouge, LA | 177/735 | New York City, NY | 124 |
| Bakersfield, CA | 216 | Orlando, FL | 168 |
| Baker City, OR | 171/712 | Ridgefield-Park, NJ | 124 |
| Bristol, VA | 177 | Reno, NV | 171/827 |
| Charlotte, NC | 124 | Rochester, NY | 124 |
| Cincinnati, OH | 257/1259 | Saint-Louis, MO | 241/740 |
| Cleveland, OH | 257 | San Antonio, TX | 124 |
| Concord, VT | 165/817 | Sheboygan, WI | 102/773 |
| Cheyenne, WY | 270/598 | Staten-Island, NY | 124 |
| Bridgeport, WV | 160 | Tampa, FL | 145 |
| Dallas, TX | 124 | Wapato, WA | 171/712 |
| Dayton, OH | 257/1259 | Waterford, PA | 257 |
| Grand-Junction, CO | 270/598 | Winsted, CT | 160/821 |
| Greenville, SC | 141/737 | Yuma, AZ | 124 |
| Great-Falls, MT | 270/598 | – | – |
Top Shows to Catch
Let's have a look at some of the offerings from UP TV below. These shows and movies are high in demand and enjoy a major following across the country.
800 Words
800 Words is one of the most popular comedy-dramas that you are ever likely to see. It has been able to capture quite a big audience due to its masterful direction and top-notch production which takes storytelling to the very next level. In it, you will see a husband who has just been widowed and has started working for a newspaper where his column features stories based on 800 words. So, to find peace among his miseries, he buys a house near the seaside in New Zealand.
From this, things start to get interesting. His children, Arlo and Shay move on together with him. And well, the rest you can imagine as these teenagers give him quite the hard time. But with time, the family, in this happy-sad series, will learn to live without the female head of their family! 
Little House: New Beginnings
This show kicked off with the name "Little House on the Prairie". This is a rendition of the books by Laura Ingalls Wilder. You will particularly appreciate the drama that revolves around the lives of the Ingalls and brings the book to life! It is set in the 19th century so get ready to witness how things happened back then! Note that this show is one of the pioneers that brought UP TV on Spectrum Cable to fame!
There was a change of name of this show later on and also of the storyline. The executive producer, namely Michael Landon, even appeared on the show during the new storyline. Now, the story focuses on two characters only. They are Laura and Almanzo.
The Librarians
The Librarians is another popular series from UP TV that revolves around the lives of several librarians who deal with magical threats and much more. Each episode comes with more suspense and mystery and you will definitely fall in love with this one. There are many historical artifacts set out in this key offering from UP TV. You will enjoy watching it as they solve mysteries to save the world from dangers hitherto unknown and unheard of!
Gilmore Girls
Watch UP TV on Spectrum and get to view Gilmore Girls that finds itself amongst the most critically acclaimed TV series. It has been able to amass millions of followers from all over the world as well. Chances are that you've already heard this show's name before. The story is about a mother in her thirties and her daughter who is in her teen years. Their stressful relationship depicts the real-life struggles of single parents. The movie focuses on many real-life issues in a lighthearted and comic way! You will definitely fall in love with the Gilmore Girls! Time Magazine rated the show in the best 100 shows of all time as well!
Conclusion
Make sure to get quality packages from Spectrum such as Spectrum TV Choice to get access to quality TV channels. Call them up at 1-866-200-8303 for various other packages and their details. Have a great time watching your favorite TV channel!
Disclaimer: To our knowledge, we have made all the required efforts towards obtaining owner/publisher approval for the use of images in VISIONECLICK.COM blog posts. However, if you find violations of any sorts regarding any image, please feel free to contact us. Prices and packages mentioned may vary with time and the specific locations.