Verizon Bill Pay Made Easy! Pay by Phone, Online, or via Other Ways!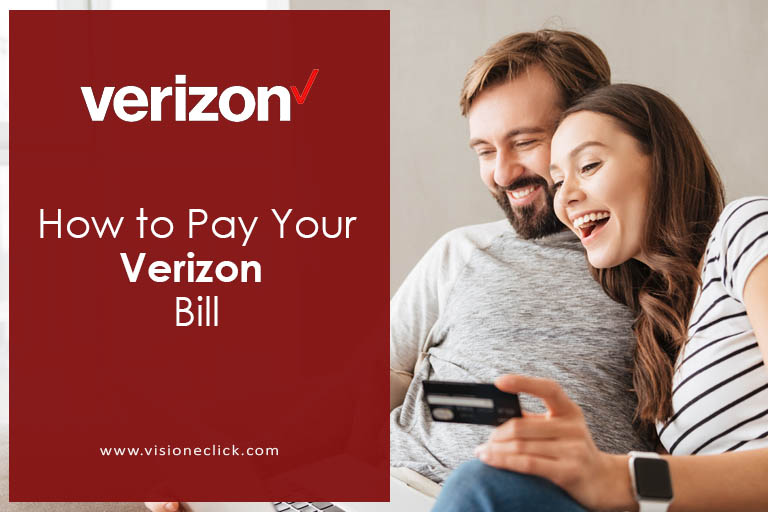 Verizon has made bill payments easy by offering its customers a variety of ways to pay their bills. The good news is you don't have to call and wait in a queue! The company offers the Verizon bill pay online option.
Let's review the options, shall we….
Verizon Bill Pay by Phone
It's the old-fashioned yet highly used way of paying the bill. There are two ways to pay your bill over the phone:
Option 1: Call #PMT
This is an automated phone system designed to let you pay your bill without any hassle. Just call the Verizon bill pay phone number i.e. 1-855-850-5977  from your landline or mobile phone and follow the prompts to make the payment. The company accepts payments via check and credit/ATM/debit card.
Option 2: Call Customer Service
When you are calling customer service to pay your bill, you will be charged with $7 Agent Assistance Fee. The assistant will guide you throughout the process of making payment. This method is recommended for new customers who don't have much experience paying the bill via phone.
The payment methods accepted include debit cards, credit cards, and electronic checks.
Note: If the payment is returned or canceled, the agent assistance fee still applies.
Other Options For Verizon Bill Pay
Don't want to pay your bill through the phone? No worries, you'll still find a number of options. Such as:
My Verizon App
If you already have the app and your account is up and running, why not use it to your advantage?
Follow these steps to pay your bill with a tap of a finger:
Open the App
Find the Menu icon at the top left and tap Bill
Choose Payment options and pick the Payment Method you'd like to use.
Add the payment method and follow the next prompt.
If you've already saved a payment method, click continue.
Enter your bill amount
Enter the date you'd like to make the payment
Tap Make Payment
That's it, you've how successfully paid your bill through the app.
Pay My Bill Website (if App Is Not Working)
Sometimes, you are unable to sign in to your account through the app. Is it the last date to pay the bill and you just cannot wait? In such a situation, use the pay my bill Website. It's another way to pay your bill online.
Here's what you have to do:
Visit Pay My Bill page using your PC or smartphone.
Choose the type of account
(Note: You will be selecting "Access a Disconnected" if your account is inactive).
Type your account number
Enter your ZIP code
Tap login and enter your payment amount
Choose the payment method and add the information you required.
Complete the process by tapping send payment
There you go, you have successfully paid your bill.
My Verizon Website
It's ok if you don't have the app. You can still pay the Verizon bill online using the website. For that, you must sign in to my Verizon website first. If don't have an account, you can always register.
Follow these steps to get started:
Sign in to your account from your PC or mobile
Go to Bill Pay
Select the payment amount from the drop-down menu. You can also click on Other Amount if needed.
Select the payment method.
Re-enter the payment amount & the date of the payment.
Click Continue and review the Terms and Conditions of the payment.
Select Send Payment.
Once your payment is processed, you have paid the bill successfully.
Disconnected Account Website
You cannot sign into My Verizon Website using your phone number when your account is disconnected. But, you can still sign in through your User ID (if you have one).
To pay your will through the Disconnected Account website, follow these steps:
Sign in to the disconnected accounts page: secure.verizon.com/accessmanager/public/c/fu/loginDisconnectedStart?goto=
Enter your mobile number
Last name on your account
Area ZIP Code
You can now pay your bill through the options provided.
Note: The option to sign in to the Disconnected Account website is only available for 6 months after your account has been disconnected. If it has been more than 6 months, use the pay My bill website for Verizon bill pay FiOS.
Go to the Verizon Wireless Store
If you prefer to pay your bill by visiting the store, that's possible too. Simply find a wireless store near your location and walk there to make the payment. You can either take the help of representation or use automated Bill Pay Kiosks for paying your bill.
Snail Mail
Don't want to pay your bill by phone or online? Then snail mail has got you covered. You will be sending the payment through check or money order (obviously). Go to the contact us page on the official website to find the nearest payment address.
Use Your Remote
If you have FiOS TV, you can also use it for paying your bill. This is what you have to do:
Press Menu from your remote
Choose Customer Support
Go to My Account >> Bill & Payment >> Pay My bill
Setting up Autopay
The autopay feature is available in the app as well as my Verizon website. It allows you to set up recurring automatic monthly payments for your bill. Payment is deducted from your checking account, credit card, or debit card each month.
For the Website
If you are using the website to set up Verizon Autopay, follow these steps:
Sign in through your phone or PC
Go to the Set up Auto Pay page
Follow the prompts. (You might have to enter a payment method and choose the monthly payment date).
For the App
These steps will let you set up auto-pay in your app:
Sign in to the app and open it
Tap on the menu icon
Choose Bill and follow the prompts
If you need further assistance in setting up autopay, feel free to contact customer service.
Payment Methods Accepted
The company accepts the following payment methods:
Check or money order
Credit, debit, or ATM card
(Visa, Star, PULSE, Discover, American Expression, MasterCard, and NYCE)
If you need assistance, you can always talk to an agent by calling customer support. They entertain all sorts of questions that are about service outage, bill pay, and even queries like "Is Verizon FiOS available in my area?".
---
FAQs
Can I pay my Verizon bills by phone?
Yes, you can pay them by phone.
How do I check my Verizon bills online?
Bills are available in the app and online.
Online
Log into your account
Go to View Bill Page to see your bill
App
Log into the app
Tap on the menu icon
Go to Bill >> View Bill Details
How late can you pay your bill to Verizon?
Bill payment is due 22 days after your bill period ends.
What happens if you pay your bill late?
You will be charged a late fee. Whichever is greater from the following is charged:
1.5 percent late fee per month on the unpaid balance
A flat fee of $5 per month
Can I pay Verizon with PayPal?
No, bill payment through PayPal is not supported.
Is there a fee to pay the Verizon bill with a credit card?
No, there is no fee.
How to pay my Verizon bill online?
You can pay your bill through one of the following methods:
Website
Log into your account through your PC or phone
Go to Bill pay
Follow the prompts to pay your bill
App
Sign in to the app
Tap on the menu icon at the top
Click bill and follow the prompts
Disclaimer: To our knowledge, we have made all the required efforts towards obtaining owner/publisher approval for the use of images in VISIONECLICK.COM blog posts. However, if you find violations of any sorts regarding any image, please feel free to contact us. Prices and packages mentioned may vary with time and the specific locations.