Get the Best Deal and Value with Verizon Fios Internet Plans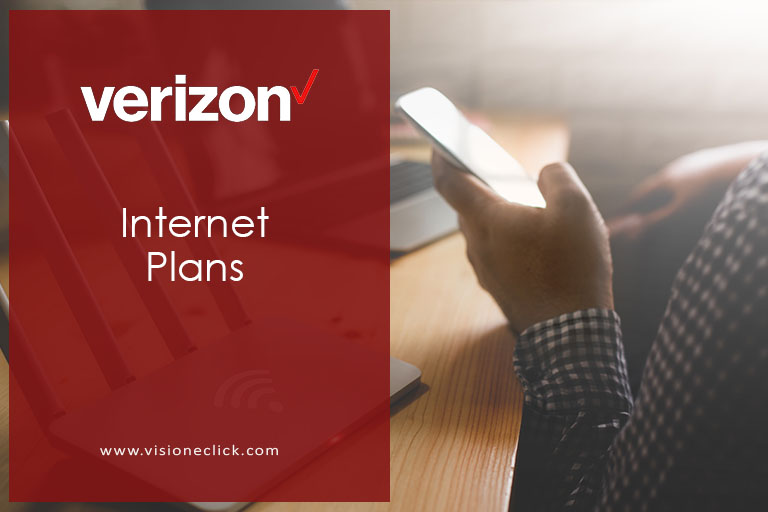 In these times of robust connectivity solutions, the competition has become fierce. Verizon has made sure that it stays on top of the competition with its 100 percent fiber-optic network and highly reliable Verizon Internet plans. With upload speeds being a close match to the download speeds, the provider has earned an esteemed name among all the ISPs.
Whether you are into casual browsing, frequent streaming, or intense gaming, Verizon FiOS Internet has got you covered. Let's know all the useful details!
Take Advantage of 100% Fiber-Optic Verizon Internet Plans
Here are some quick facts about these plans:
Experience streaming without having to wait for buffering.
Have lag-free gaming sessions with Verizon FiOS Internet.
Experience downloading and uploading in a flash.
You can do all the aforementioned online activities simultaneously with blazing bandwidth.
Home Router can make everything faster.
You can experience the extremely fast next-generation Wi-Fi 6 technology.
You can have a guest network along with your personal network.
Unique to their fiber Internet, you get to experience symmetrical upload and download speeds.
These symmetrical speeds are great for photographers/videographers to upload heavy multimedia files.
Verizon FiOS Internet Plans and Features
| | | | |
| --- | --- | --- | --- |
| Package Name | Pricing | Upload Speed | Download Speed |
| FiOS Internet 100/100 | $39.99 a month | 100 Mbps | 100 Mbps |
| FiOS Internet 300/300 | $59.99 a month | 300 Mbps | 300 Mbps |
| FiOS Gigabit Connection | $79.99 a month | Up to 880 Mbps | Up to 940 Mbps |
Let's discuss the features of Verizon Internet Plans in detail.
FiOS Internet 100/100
Verizon offers symmetrical upload and download speeds in this package for you to stream and binge-watch your favorite shows. You can also download shows, movies, photos, and all that you love. With monthly charges of as low as $39.99 a month, you get an all-inclusive package with equipment charges and taxes.
You also get to enjoy free Disney+ for a year and then have to pay only $6.99 a month. This plan suits the online needs of solo web surfers who are trying to stick to a budget. Multiple users can do their regular online work with this package. The package is best suited for small households with a few devices.
FiOS Internet 300/300
Verizon Internet Plans cater to the connectivity needs of all types of Internet users. 300/300 is great for households with multiple users who are into sharing huge multimedia files and binge streaming. With a reasonable monthly rate of $59.99, that's inclusive of taxes and equipment charges, you get to enjoy blazing speeds.
Among all Verizon plans, this one is for the one that offers a competitive rate and decent Internet speeds. You get to have free Disney+ for a year.
FiOS Gigabit Connection
This plan is ideal for a seamless entertainment experience. With an affordable monthly rate of $79.99 a month, Gigabit Connections offers a whopping Internet speed of 940/880 Mbps. If you a house full of entertainment lovers, you need to check Verizon FiOS availability and go for this plan.
Whether you have family members who are into intense gaming, series-binge on Netflix or downloading and sharing heavy multimedia, this plan will suit the needs of the entire family. You also get to have:
Free Disney+ for a year.
Included router rental.
Visa Prepaid Card worth $100.
The package is a great pick for big families with several devices. It is also suitable for roommates, who work remotely and stream movies. And it is especially great for gamers who take gaming seriously but highly dislike lags and buffering.
The pricing is better than most of the competitors offering near gig speeds. Even if you don't have many family members, if you are into quality and speed, go for this amazing package. You are guaranteed to enjoy your online time!
You can pair any of these plans with TV packages to enjoy watching your favorite TV networks like FOX in pristine HD. With this decision, you will get more value for your money spent.
Check Verizon FiOS Availability
You can browse and compare FiOS plans with other ISPs and you will find that the service offers more lucrative features than many others do. You can add TV plans to these to enjoy popular networks like CBS. We will discuss other prominent features of the Internet plans below.
Data Caps
FiOS plans don't come with a data limit policy. They have taken a different approach from all the other ISPs and it is in favor of the users. This is essentially a big plus for users who are into downloading high definition movies, intense online gaming, and file sharing.
They don't de-prioritize your service like other providers. This means that your download speeds will not be decreased which is a great advantage. All you need to figure out now is Verizon FiOS available in my area! And you will get to enjoy this incredible no data cap feature.
Contract Agreements, Equipment, and Fees
Since the prices of Verizon Internet plans are inclusive of taxes and equipment fees, you must be wondering about what fees! Here is what you need to know:
There are no frustrating annual contracts.
Your installation and other charges will be baked automatically into the advertised price.
You can get your installation fee waived by ordering the Internet online.
With the Gigabit Connection plan, your router is also included.
Verizon has truly done an excellent job of keeping things fairly simple. At the very least, this has to be one of the least-complicated and facilitating contract and fees review you have ever read!
Other Service Charges
As mentioned earlier, Verizon FiOS offers all-inclusive prices. Believe it or not but the prices you see advertised are the only ones you have to actually pay. The only separate fee you will have to pay would be if you rent a router that is different or more than the 940 Mbps plan. And that's is highly unlikely!
For your convenience, here is a roundup of all the fees you should expect:
Type of Fees
Details
Installation fee

If you ordered online, None!
If not, then $99 for set-up

Equipment rental charges

Not applicable to FiOS Gigabit Connection plan.
For other plans, a monthly router rental charges of $15.

Early termination fee
       None! Since there are no annual contracts.
Also, Verizon bill pay options are easy and convenient. You have the facility to pay your bill and charges online to avoid the hassle of going for bill payment in person.
Customer Care Service
Verizon boasts of securing the highest score in customer satisfaction in the entire ISP industry! This means that you can enjoy an easy ride with the said provider. According to ACSI's 2018–2019 rating, Verizon has secured 70/100 and that's number one!
The Internet industry isn't known for great rankings in customer satisfaction, Verizon's ranking is still a better bet among all others. Also, fiber-optic service is more reliable than its cable and satellite counterparts. Therefore, if you are a Verizon FiOS subscriber, chances are that their customer care department will not leave you high and dry.
The FCC (Federal Communications Commission) has reported that the provider has achieved an actual over advertised speed score on average and that's 107.9%. This means that the provider was actually able to deliver 107.9% faster download speeds than the advertised speeds. That is amazing!
All you need to check is Verizon FiOS availability in your area to enjoy these lucrative features.
Disney+
You can access the said streaming service free for a year with any of the FiOS Internet plans. Disney+ has all of the favorite stories in one place. You get to access your favorite series and movies from Pixar, Disney, Star Wars, Marvel, Nat Geo, and so on. owned by The Walt Disney Company, this streaming service is an entertainment lover's dream come true!
After the first free year, you only get to have $6.99 added to your monthly bill. Compared to the entertainment value it provides, these charges are just a peanut!
YouTube TV
Switching to a FiOS Internet plan also gives you a free and amazing streaming experience with YouTube TV. Along with Disney+, you also get free YouTube TV for a month. This means you get to watch:
More than 70 entertainment, news, and sports channels.
This includes local networks and popular networks like ABC.
No cable box required.
Unlimited and free DVR storage space.
You get to have 3 accounts for simultaneous streams and 6 for your household.
To enjoy these amazing benefits, dial Verizon FiOS customer service number, 1-855-850-5977 and subscribe to the package you prefer. Enjoy blazing and uninterrupted speeds, great customer service, and unlimited entertainment.
FAQs:
How fast is Verizon Internet?
Verizon Internet offers a variety of speed tiers. You can choose from 100 Mbps, 300 Mbps, and a whopping 940 Mbps.
What is the cheapest Verizon FiOS package?
The cheapest package is FiOS Internet 100/100 in which you get to have 100 Mbps of download speeds at a very economical rate of $39.99.
—————————————————DISCLAIMER—————————————————
Prices and availability depend upon your location. These packages were taken from the official site and last reviewed on 4th Feb-2020.
Disclaimer: To our knowledge, we have made all the required efforts towards obtaining owner/publisher approval for the use of images in VISIONECLICK.COM blog posts. However, if you find violations of any sorts regarding any image, please feel free to contact us. Prices and packages mentioned may vary with time and the specific locations.