Verizon's Smart Family App – A Perfect Tool for Parents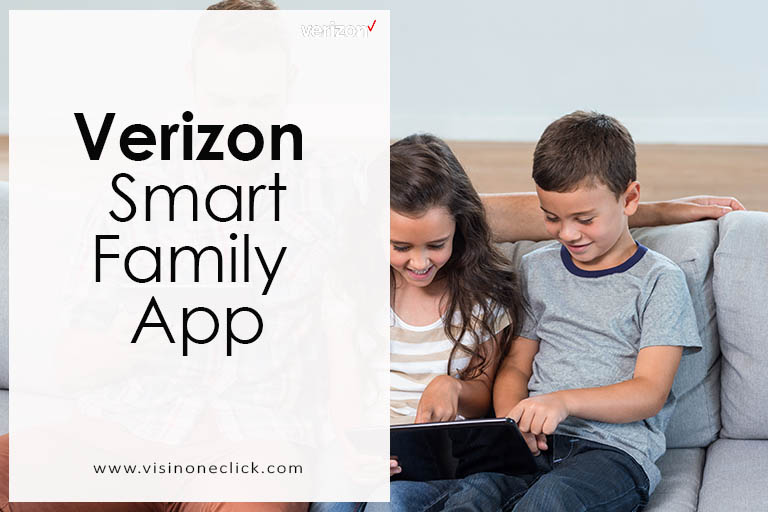 Parents secretly wish to be with their kids all the time but it's not possible in the real world. Does that mean you leave them unsupervised especially with a smartphone in hand? No, right? How do you know they are safe? Where they are? How do you protect them from harmful content available online? Verizon Smart Family App can give you all the answers.
Follow this post to find out what this app is, what it does, and how it can protect your kids.
About Verizon Smart Family App
It's one of the most comprehensive mobile parenting tools out there. Formerly known as Verizon FamilyBase, this app gives you complete control over your child's smartphone. You will have all the information about whatever they do on their phone. The cool thing is you don't have to take away their phone. All is done remotely.
With this tool, parents can track the location of their child, control how they use the internet, game apps they use, block social media access, and do a lot more. It's like having complete control and access to their phone without touch it.
The perfect time to use this app is when getting your child their first smartphone. Thanks to the smart family app, you won't be leaving them unsupervised.
How to Use It?
Now that you are clear what is Verizon Smart Family App and its purpose, let's understand how to use this app. You must be a Verizon customer to use this app. Follow these steps to get started:
Download the app from Google Play or App Store
Open the app on your device
Enter your mobile number and My Verizon password
The app asks permission to collect information from your child's phone.
Tap "Agree" and choose the line you want to add
Choose "Sign Up" and tap "Ok"
You are now signed into the app
The first screen you would see when you sign into the app is the dashboard. It gives you access to the following:
Pause the Internet use of your child
Check the call and text message history
Manage the controls
Locate their phone
What are the Features of the App?
Let's move onto the Verizon Smart Family features. Here's what you can do:
Manage Contacts
Not all contacts on your child's contact list are friendly. Not to worry, you can block those contacts remotely. This would restrict calls and text messages. This blocking feature prevents private and restricted numbers from contacting your child. You may block up to 20 numbers.
The provider also lets you set trusted contacts. This is how it's done:
Open the app
Go to the "Manage Controls" section
Tap contacts and then trusted contacts
Tap "Trust a Number"
Enter the phone number
Click save
Your child will be able to communicate with trusted contacts even during time restrictions. Therefore, be careful whom you add on the list.
Pause Internet
All parents wish they could put their kids to sleep on time. Some are also struggling to ensure their kids do homework without getting distracted by the Internet. If you are a subscriber of Verizon FiOS Internet plans you would agree the struggle is real. High-speed Internet distracts not just kids but adults. The good news is this app provides complete control to parents to schedule the Internet usage of their kids. You may pause the Internet for a few hours up to a few days.
Location Tracking
Parents want to know where their kids are at all times. With the location tracking feature, will not just be in control of their activities but ensure their safety at all times. You will be aware of their movements and locations. From a single app, you can track the locations of all your kids.
Apart from knowing their whereabouts, you can also see the check-ins of your child. Let's say your kids use Uber sometimes and you want to ensure their safety. Or you want to know if they are really at a friend's place. This app has you covered. It lets you set locations (such as school, best friend's place, salon, home, etc.). Every time your child reaches the destination, you receive a notification.
Apply Content Filters
You never know what kind of information or content your child is exposed to on the Internet. It's hard to supervise their mobile and Internet usage when you are not around 24/7. This problem has been solved by the smart family app too.
It lets you apply content filters. The content category inside the app provides a range of content you may block. You can also block unhealthy websites manually. When your child becomes mature, keep on unblocking the sites.
Time Restrictions
This is one of the favorite features of most parents. Don't want your child to use their smartphone all the time? Your wish has been granted. With the time restriction feature, you can prevent your child from using Wi-Fi, mobile data, call, or text message past bedtime or during school. They will be able to call and text the trusted contacts only.
Usage Limitations
Kids are often careless about using mobile data. Then they come to you complaining they have consumed all the data. Why not help them out by applying data usage limitations? Simply enter the amount of data you want your kid to use each month. This will make sure your child stays within the data limitation.
They will receive an alert whenever they are consuming extra data. This way, they won't end up consuming all the data before the end of the month. Even your kids will thank you for setting the usage limitation.
Block Purchases
Are you teaching money management to your child? Just because you are teaching them financial independence doesn't mean you shouldn't monitor them. If you have given your child the responsibility of Verizon bill pay, you will find the block purchases feature useful.
Go to the "purchase limit" section of the app and enter the maximum dollar amount your child to bill to Verizon each month.
How Much Does It Cost?
Verizon Smart Family app is not free. Don't fret, all these cool features are available at a nominal monthly fee of $4.99 per month. This price includes all features except location tracking. If you want to add location tracking in your plan, it will cost $9.99 per month.
Conclusion
Make all your worries go away with this amazing app. It's easy to use for all non-tech-savvy users. This app has been around for a while helping parents keep track of their kids. Make the most of it.
The company has been at the forefront of taking care of its customers' needs in good times and bad times. Heard of that news that Verizon triples data for students during the COVID-19 crisis? Although experts say not to worry about screen time during these trying times, if you are a customer, keep on using the smart family app to monitor your child's Internet usage especially now your kids have more time and mobile data on their hands.
---
Learn More About
Disclaimer: To our knowledge, we have made all the required efforts towards obtaining owner/publisher approval for the use of images in VISIONECLICK.COM blog posts. However, if you find violations of any sorts regarding any image, please feel free to contact us. Prices and packages mentioned may vary with time and the specific locations.