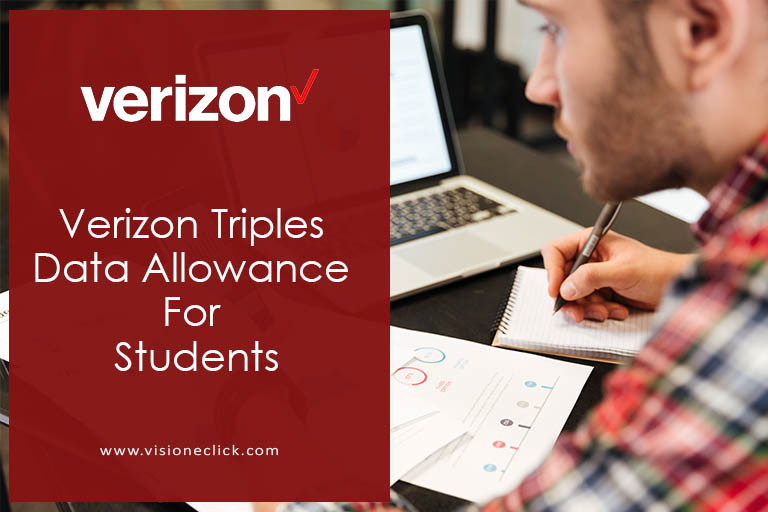 Verizon Triples Data Allowance for Students amid COVID-19 Crisis
Many Internet service providers are lifting data caps, offering free Internet to students and waiving late fees. They want to accommodate consumers struggling during the coronavirus pandemic. Verizon 5G and Fiber Internet provider is also on this relief bandwagon. It has recently announced to offer relief during the ongoing COVID-19 outbreak. The provider is tripling the monthly speed for its school program for students.
The provider has dedicated $10 million to offer support to its students and healthcare workers assisting the patients.
More than 30,000 K-12 schools have shut down in the country. This has affected at least 20 million students most of whom have shifted to remote learning. Educators with experience in remote learning gave their suggestions too. They say closures could be a serious threat to the academic progress of students. The ones most affected will be students from low-income families. Verizon has come forward with a solution. To support the students and teachers alike, it's helping Title 1 middle schools by tripling the data allowances.
Tipple Data Allowance Details
This relief is effective since March 16.  Apart from Internet access, the program offers tablets and laptops to the students as well. The data plan has upgraded from 10 GB to 30 GB every month for the next 60 days. This news may not get the attention of the subscribers of Verizon FiOS Internet plans. Why? Because so far, the provider hasn't offered much relief to regular customers.
Verizon launched its Innovative Learning program in 2014. The program addresses digital learning barriers. It offers free devices, quality Internet speed and a curriculum driven by technology. It is for students who don't have enough resources. The current speed increase will effect 90k students and teachers who are a part of the school. This initiative will provide increased remote access to students. Verizon free Internet for students may not be available right now. However, this relief is still good enough to continue education.
Relief for Healthcare Workers
Verizon has donated $5 million to support the "No Kid Hungry Responds: Coronavirus" campaign run by the healthcare communities. This donation will also support the "Share Our Strength's No Kid Hungary campaign. This campaign feeds school children belonging to low-income households.
The provider is also giving $5 million contributions to CDP COVID-19 Response Fund and Direct Relief. Both of these programs support healthcare workers. The funds go to local non-profit and social organizations. This is to provide help in areas with a high number of COVID-19 victims. These organizations are working actively to provide support to everyone including healthcare workers who are quarantined. The grant also supports readiness, containment and response activities for first responders and the victims.
The funds are being used for arranging personal proactive and critical care equipment for the healthcare workers attending the affected patients. And, to give masks, gloves and isolation gowns to the affected people as well.
Verizon to Dismiss Late Fees for Regular Customers
Amid the Coronavirus outbreak, there is one good news for regular Verizon subscribers. It would also waive the late fees of its residential and small business customers. And, will not stop the service for them if they cant pay Verizon bill. COVID-19 has shaken the economic circumstances of many households. All these steps are for 60 days.
For more information, you can dial 1-855-850-5977 and have your queries addressed.
FAQs
To further your knowledge on Verizon Internet, take a look at these frequently asked questions:
How Do You Qualify For Free Internet?
To qualify for free Internet, you must be a recipient of one of the following programs:
Medicaid
Supplemental Security Income
Federal Public Housing Assistance
Supplemental Nutrition Assistance Program
Veterans Pension & Survivors Benefits
How Much Is Verizon Internet Monthly?
For 200 Mbps speed, the monthly Internet price is $39.99 per month. This speed is enough for 4 to 7 devices.
Does Verizon Offer Low-Income Internet?
Yes, the name is Lifeline – a federal program offering a monthly discount to qualified low-income households.
Disclaimer: To our knowledge, we have made all the required efforts towards obtaining owner/publisher approval for the use of images in VISIONECLICK.COM blog posts. However, if you find violations of any sorts regarding any image, please feel free to contact us. Prices and packages mentioned may vary with time and the specific locations.