Viasat Unlimited Bronze 12 Mbps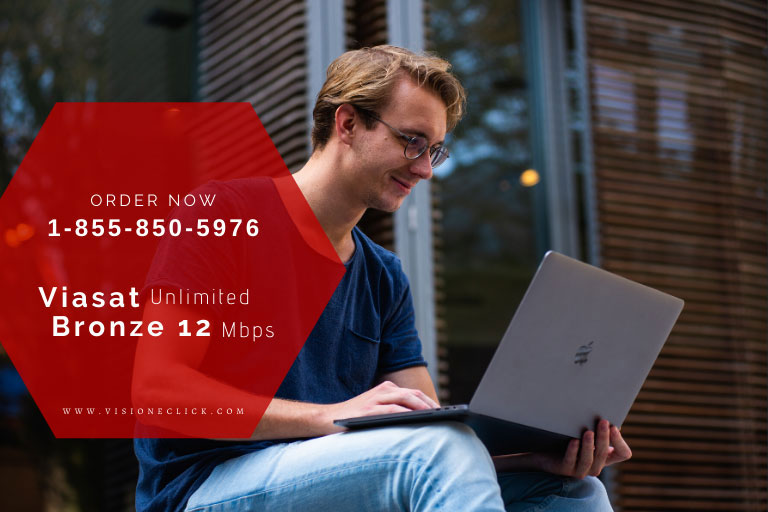 Do you live in an area away from the city and Internet services are mostly out of your reach? Viasat Internet would save you the trouble. It offers satellite Internet to people in remote areas. If you are in search of a fast Internet connection, you might find Viasat Unlimited Bronze 12 plan to be just right for you.
Viasat Unlimited Bronze 12
Unlimited Bronze 12 plan offers 12 Mbps Internet via Satellite that connects to your home directly. Exede has been providing satellite Internet since 2012. It is backed by ViaSat, one of the largest global communication companies. Exede is covering 8 out of every ten households. There are good chances it's available in your area right now.
This is what you can expect from this Viasat Internet plan:
| | |
| --- | --- |
| Price | $50 per month  for 3 months and then $70 per month |
| Type of connection | Satellite |
| Download Speed | Up to 12 Mbps |
| Upload Speed | Up to 3 Mbps |
| Contract | 24 Months Contract |
| Data Cap | No limitation |
| Suitable for | 3-4 light users at once |
Features of Viasat Bronze 12
With the Viasat Bronze package, feel free to watch movies, browse the web, play games and even run your online business. Viasat Bronze 12 is an unlimited plan so you will enjoy high-speed internet without worrying about data caps. Read here to learn more about their data cap policy.
Data Caps
Viasat Bronze 12 plan has unlimited data but that doesn't mean you will receive high-speed unlimited data. Their unlimited plans give you a certain amount of priority data. After that, you might experience some slow down until your next billing cycle.
Contracts, Equipment, and Fees
You won't have to call additional services for installation. This satellite Internet provider will do the work for you. Therefore, put the duct tape and ladder away.
Contract
When you subscribe to Viasat plans, you sign up a contract for 2 years. You must stick to the contract. Early termination might cost you up to $300. If you cancel your service early, you will be charged a fee every month that is left on your agreement.
Equipment
Viasat uses a satellite dish and modem to provide the Internet. They will send a professional technician to install both. The installation will take 2 to 3 hours. They will install the satellite dish on your roof or wall (wherever you require). Then, they will set up the modem for you. You will be ready to use their Internet plans in no time.
You can bring your own modem or lease a modem from Viasat. Here are your options:
| Modem Options | Price |
| --- | --- |
| BYO Modem/Router | $0 |
| Wi-Fi Modem/Router | $9.99 per month |
| Wi-Fi Modem/Router | $299.99 upfront |
Depending on your budget, either lease it monthly or buy the modem upfront if you don't have one already.
24/7 Technical Support
Exede offers 24 hours of technical support. They are available via chat and phone. They are great at offering step by step troubleshooting. You can also call them to inquire about Internet speed but make sure you perform an Internet speed test before that.
Viasat Bronze Package and Other Plans
Apart from the Viasat Unlimited Bronze 12 plan, other unlimited plans offered by Viasat include:
| Internet Plan | Download Speed | Upload Speed |
| --- | --- | --- |
| Basic 24 | Up to 25 Mbps | Up to 3 Mbps |
| Unlimited Bronze 25 | Up to 25 Mbps | Up to 3 Mbps |
| Unlimited Silver 25 | Up to 25 Mbps | Up to 3 Mbps |
| Unlimited Gold 50 | Up to 50 Mbps | Up to 10 Mbps |
| Unlimited Platinum 100 | Up to 100 Mbps | Up to 10 Mbps |
Check out other Viasat Packages:
Viasat Unlimited Silver 25 Mbps
Viasat Unlimited Gold 30 Mbps
Apart from these unlimited plans, Viasat offers Liberty Internet plans as well. They are ideal for those users who need the Internet during the daytime. Click here to learn more about it.
Do You have to Worry About Latency?
Latency is the time your Internet data takes to travel from Point A to Point B. Unfortunately, with satellite Internet, you have to deal with latency. This doesn't have anything to do with the Viasat Unlimited Bronze 12.
Satellite Internet has lots of stops in between before the data actually reaches your device. That's why latency is unavoidable so far. However, the speed at which tech is evolving, the issue of latency with Viasat Internet plans and other satellite plans might go away soon.
Frequently Asked Questions
Where is Viasat Internet available?
It's available in 49 states except for Alaska. States like New York, California and Texas will find the highest Internet speed.
Can I play games with Viasat?
Yes and no. Satellite Internet, in general, has latency issues. Therefore, it does not work well for live-action games. It will work fine for other games though.
Can you stream movies or TV shows with Viasat?
Yes. The minimum download speed for streaming services like Netflix is 1.5 Mbps. Viasat's minimum download is 3 Mbps. It's enough for SD streaming.
How much does Viasat cost per month?
Viasat offers different Internet plans with varying prices starting from $50 to $150.
—————————————————DISCLAIMER—————————————————
Prices and availability depend upon your location. These packages were taken from the official site and last reviewed on 23rd Dec-2019.
Disclaimer: To our knowledge, we have made all the required efforts towards obtaining owner/publisher approval for the use of images in VISIONECLICK.COM blog posts. However, if you find violations of any sorts regarding any image, please feel free to contact us. Prices and packages mentioned may vary with time and the specific locations.