Viasat Unlimited Silver 25 Mbps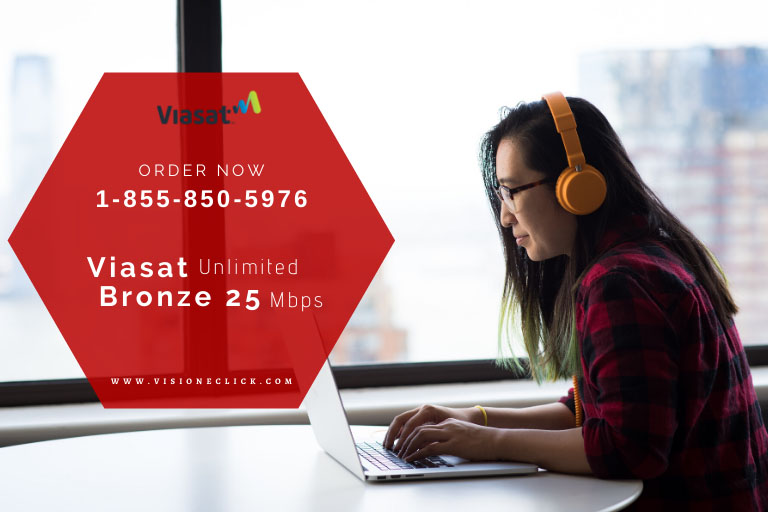 If you are tired of Internet downtime every other day, you should probably consider switching to Viasat Unlimited plans. The company has a lot to offer. Not only will you get to choose from a variety of Internet plans but you will also get an option to bundle the Internet with other services.
From Liberty 12 to Viasat Unlimited Silver 25, there is a package for every pocket size. More on the company and its offerings in the blog.
Why Should I Consider Viasat?
It is often hard to convince an individual to ditch the service he is currently using for a relatively new one. However, the following features that Viasat offers will make you think about trying it:
Available in 50 US states. Areas where other companies fail to provide their services, Viasat satellite Internet provider does.
Blazing speed Internet even in rural areas. Viasat offers 12 Mbps download speeds. Thus making it faster than your 4G and LTE Internet connections.
It comes at an affordable price. Also, you do not have to worry about service charges hiking for at least two years after you subscribe to the service.
The installation of equipment won't take more than 2-3 hours. The certified technicians will get your work done at a time that is convenient for you.
Is Viasat Unlimited Silver 25 the Best Package Available?
Although the unlimited Silver 25 package is the one with the most amount of features, that does not imply that other packages that the company offers do not hold value. The packages offered by Viasat come at a cheaper rate when compared to other Internet providers. You can find more about the prices and features of each package in the table below:
Package
Price
Features
Liberty 12
$50/month

Download speeds of up to 12 Mbps
12 GB priority data
Video data extender
Free zone from 3 a.m. to 6 a.m. every day

Liberty 25
$75/month

Download speeds of up to 12 Mbps
25 GB priority data
Video data extender
Free zone from 3 a.m. to 6 a.m. every day
Built-in Wi-Fi

Liberty 50
$100/month

Download speeds of up to 12 Mbps
50 GB priority data
Video data extender
Free zone from 3 a.m. to 6 a.m. every day
Built-in Wi-Fi

Unlimited Silver 25
$150/month

Download speeds of up to 25 Mbps
Unlimited data
Built-in Wi-Fi
Ability to stream DVD quality video (480p)
An added benefit of priority data after 100 GB in case of network congestion
Check out other Viasat Packages:
Viasat Unlimited Bronze 12 Mbps
Viasat Internet hardly has a downtime. You can take the Internet speed test at any given time and you can see for yourself.
Extras, Bundles and Unlimited Internet Plans
Apart from the packages/plans mentioned in the table above, you can select from an array of Viasat unlimited Internet plans. Call a rep or visit the website to see what all is there that the company has to offer. There is a wide range of packages that you can select from. These include the Viasat bronze package, gold package, and platinum package. The story does not end here. Each package has subcategories as well.
And if you do not want to stick to the Internet service alone, then you can add extras or bundle the Internet with other services. The available options include:
Internet and DIRECTV
Viasat and voice service
Viasat Silver 25 Review from the Users
Since the focus of this blog is Viasat's Silver packages, here are a couple of reviews that will make it easy for you to make a well-informed decision:
"Probably within a couple of hours, I went from Stone Age to the satellite."
Chris M. – Morristown, AZ 
"I've had nothing but great experiences. The speed is phenomenal."
Shea M.- Red Bluff, CA
Viasat Flex for Faster Internet
If you want access to the faster Internet than what Viasat Unlimited Silver 25 offers, then you can opt for Viasat flex. This is the latest offering by Viasat tat combines both Satellite Internet and DSL. Thus, offering the users a better online surfing experience.
How to Place Order?
Choose from Viasat Silver 25 or any other plan that you think will suit your needs the best. You can choose from any of the three options:
Order online
Find a local retailer
Call the customer service helpline
FAQs
– How Much Does Viasat Unlimited Silver 25 Plan Cost?
$150/month.
– Can I use a VPN on the Viasat service?
Yes, it is possible.
– Can I play video games on Viasat?
Yes, you can.
– Will my Viasat Internet service work with a wireless router?
Yes, you can use your own router or place an order with Viasat.
—————————————————DISCLAIMER—————————————————
Prices and availability depend upon your location. These packages were taken from the official site and last reviewed on 24th Dec-2019.
Disclaimer: To our knowledge, we have made all the required efforts towards obtaining owner/publisher approval for the use of images in VISIONECLICK.COM blog posts. However, if you find violations of any sorts regarding any image, please feel free to contact us. Prices and packages mentioned may vary with time and the specific locations.