Viasat Vs Hughesnet: Find the Best Satellite Internet Provider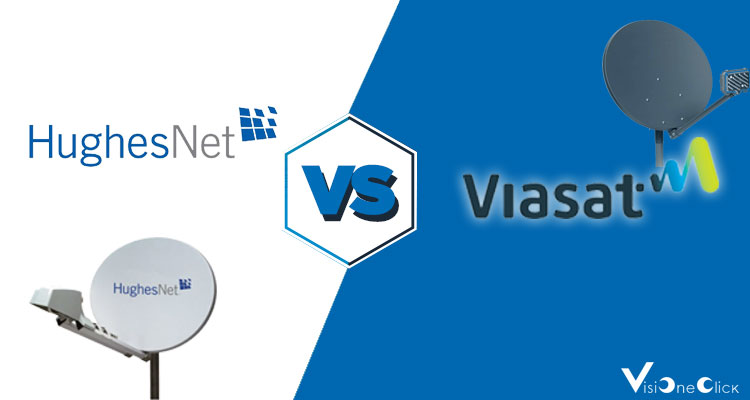 Viasat and HughesNet use satellite technology for delivering broadband services and have a massive service coverage area. On the surface, they may look the same, but in this Viasat Vs Hughesnet comparison, you will figure out that they are quite different. And these differences can have a significant impact on your online experiences.
We have made it easy for you to pick the right choice for yourself by breaking down all the features and differences of these internet providers.
Viasat Vs Hughesnet – Differences at a Glance
| Provider Name | Introductory Price | Data Caps | Offered Speeds | TV Options |
| --- | --- | --- | --- | --- |
| HughesNet | $59.99 to $149.99/month | Unlimited | Up to 25 Mbps | DirecTV, Dish |
| Viasat | $50 to $150/month | Unlimited | Up to 12 Mbps – 100 Mbps | DirecTV, Dish |
*Availability and offers are subject to change and vary by location.
Packages and Pricing of Viasat
With this Hughesnet vs Viasat comparison, you will be able to figure out which data options and speeds suit you better. You will notice that HN has kept things a little simpler. While Viasat offers a good variety of data options and speeds. Check out different features of their plans.
| Package | Introductory Prices | Data Limits | Offered Speeds | Price Goes Up to |
| --- | --- | --- | --- | --- |
| Platinum 100 | $150/month | Unlimited (slows down after 150 GB) | Up to 100 Mbps | $200/month after 3 months |
| Gold 50 | $100/mo. | Unlimited (slows down after 100 GB) | Up to 50 Mbps | $150/month after 3 months |
| Gold 30 | $100/mo. | Unlimited (slows down after 100 GB) | Up to 30 Mbps | $150/month after 3 months |
| Silver 25 | $95/mo. | Unlimited (slows down  after 60 GB) | Up to 25 Mbps | $100/month after 3 months |
| Unlimited Gold 12 | $95/mo. | Unlimited (slows down after 100 GB) | Up to 12 Mbps | $145/month after 3 months |
| Unlimited Silver 12 | $70/mo. | Unlimited (slows down after 60 GB) | Up to 12 Mbps | $95/month after 3 months |
| Unlimited Bronze 12 | $50/mo. | Unlimited (slows down after 40 GB) | Up to 12 Mbps | $70/month after 3 months |
*Availability and offers are subject to change and may vary by location.
Speed Tiers
Formerly known as Exede Internet, this provider allows you to pick a plan with data threshold and speeds to suit your online needs. Before you choose your package, consider the fact, the price is going to increase after 3 months. All internet packages mentioned here offer unlimited data. But you may experience a lag in speeds once you have reached the data threshold of your plan.
Also, in order to save data, all their plans tiers limit the quality of your streaming videos. The following table will make it clearer to you.
| Package Name | Streaming Quality |
| --- | --- |
| Platinum | 1080p (HD) |
| Silver | 720p (HD) |
| Gold | 720p (HD) |
| Bronze | 360p (SD) |
The only way to get better streaming quality is to switch to a better package.
Packages by HughesNet
Let's breakdown all the details of HughesNet plans and the features they offer. Also, they don't have any package names and they offer the same speeds. However, with every speed tier, the data cap is different. Once you reach that limit, you may begin to experience lagging speeds.
| Introductory Prices | Data Limit | Offered Speeds | Prices Increase to |
| --- | --- | --- | --- |
| $149.99/month | 50 GB | 25 Mbps | Not Scheduled |
| $99.99/month | 30 GB | 25 Mbps | Not Scheduled |
| $69.99/month | 20 GB | 25 Mbps | Not Scheduled |
| $59.99/month | 10 GB | 25 Mbps | Not Scheduled |
*Availability and offers are subject to change and may vary by location.
The biggest advantage that you can enjoy is that you will end up saving bucks in the long haul. All their plans come with a contract agreement of 2 years.
Pros/Cons
Viasat:
Pros

Cons

Built-in Wi-Fi
Faster speeds
Newer equipment
No throttling
Unlimited data
Free installation

Restricted streaming quality
2-year contract required
HughesNet:
Pros

Cons

Built-in Wi-Fi
More affordable
Newer equipment
Video Data Saver
Additional data does not expire
Unlimited data

2-year contract required
Speeds throttle after data allowance ends
If you consider the main differences between other types of internet and satellite internet, data restriction has to be the biggest. All types of connection have data limits. But satellite internet particularly offers smaller data limits. And these smaller limits have a greater impact on the overall services.
With Viasat, you have to the liberty to buy additional data. The purchased data does not roll over into the billing cycle of the next month. That means you are losing unused data. Moreover, if you have HughesNet Mobile App, you can monitor your data usage too. While with HughesNet, the data tokens do not expire.
Speed
Both ISPs in discussion offer good broadband speeds. Viasat uses more advanced technology and newer satellites as compared to the other. In select areas, you can get better speeds with them. They plan to launch a new satellite. Therefore, in this Viasat Vs Hughesnet comparison, they are going to remain on top of the speed game!
Other Differences
Packages offered by Viasat have data thresholds instead of data limits. Upon reaching your data threshold, your internet speed doesn't slow down. However, it de-prioritizes your internet usage. This means that other subscribers who haven't hit their thresholds yet will be given priority to enjoy better speeds.
On the other hand, upon reaching your data limit, HughesNet subscribers only experience a slowdown of 1-3 Mbps. And you will have to bear with this slow down until your billing cycle ends. It also has the edge of providing Data Tokens to accommodate the data limits. You have the freedom to add an incremental amount of data to your subscribed plan. This purchased data doesn't expire and you are free to use it whenever you want. You can pick from their following offers:
25 GB data for $75.
10 GB data for $30.
5GB data for $15.
3GB for $9.
Data Saving
Data saving is an option with both these providers. Viasat offers Free Zone and HughesNet offers Bonus Zone.
Bonus Zone by HughesNet
The Bonus Zone is offered between 2 a.m. – 8 a.m. The data used during these hours don't add up to your regular monthly allowance. You can enjoy up to 50GB of data with bonus zone. You can download heavy multimedia and movies in these hours to save your regular data. And You can also have your online gaming sessions during these hours.
Free Zone by Viasat
Their former plans offered a nightly free zone. But the new packages currently do not have a free zone. HughesNet takes the lead here.
Video Data Saver Feature by HughesNet
It offers a lucrative Video Data Saver feature. It saves your data by automatically adjusting the video streaming quality. This feature limits your video quality to 480p. Although it is DVD quality still, it is not HD. For people who do a lot of streaming, this is a great option to prevent reaching the data limit. Whenever you want to watch something in HD, you can simply turn off this feature by changing the settings. Viasat doesn't offer any impressive substitute to match this feature.
Availability & Coverage
Since both these ISPs are operated via satellite, the coverage is impressive. You can find them almost everywhere across the United States. However, the packages may vary according to the location. The orbiting satellite emits its beams and they hit various places at different angles. So, speeds can vary based on the signal strength.
Reliability
Satellite internet is generally more susceptible to lag than any other type of internet. It is understandable, considering the distance between the satellite emitting signals and the place where it is used. The signals become more susceptible to interference because of the distance. Both the providers in discussion face these limitations. However, from the perspective of reliability, Viasat has newer satellites and advanced equipment. Here again, they win in the Viasat Vs HughesNet comparison.
The Verdict
If you looking for better speeds, go with Viasat. Because it is the fastest among all satellite internet providers. And if you plan to save and not stretch your budget, along with decent speeds, go for HughesNet. With a clear picture of all the essential information, you are now in a better position to decide. However, don't rush yet! We recommend you get in touch with Hughesnet customer service as well for more detailed information about their add ons and stuff. Good luck!
FAQs
Who is the best satellite Internet provider?
It depends on the needs of the customer. Different satellite internet providers are best in one feature but not as much in another. Therefore, according to the particular needs of the users, HughesNet and Viasat are reliable options.
Is Viasat faster than HughesNet?
Yes, Viasat has an edge over HughesNet in terms of speeds. That's because they have advanced equipment and newer satellites.
Is HughesNet unlimited Internet?
No, it is not unlimited. It offers different data caps to choose from.
Is Satellite Internet better than cable?
No, the satellite is perhaps the slowest of all different types of internet. That's because of the distance between satellites and Earth that makes the signals vulnerable to various interruptions.
How much is HughesNet unlimited data?
It doesn't offer unlimited data. It offers data caps of 10, 20, 30, and 50GB.
Who has the cheapest Internet service?
In satellite internet providers, HughesNet is the cheapest.
How fast is the HughesNet Internet?
HN offers the same speed for all its packages and that's 25Mbps.
Can I use my own router with HughesNet?
Yes, you can. But it has to be compatible.
What is the best router for HughesNet?
You can search online about the best router for it. There are many options.
Disclaimer: To our knowledge, we have made all the required efforts towards obtaining owner/publisher approval for the use of images in VISIONECLICK.COM blog posts. However, if you find violations of any sorts regarding any image, please feel free to contact us. Prices and packages mentioned may vary with time and the specific locations.