What are the 23 Channels Charter Spectrum is Dropping?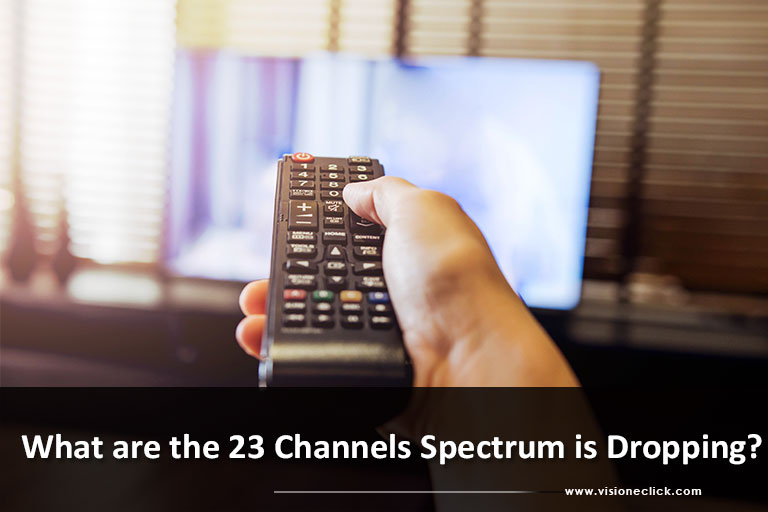 Although there are many decent providers, however, Charter Spectrum is among the top providers for a reason. The company understands how important it is to keep its subscribers happy. This is why they make sure to offer excellent customer service. Also, they offer the best deals in town. Speaking of deals, they offer amazing TV packages. The company is currently offering three different TV deals, Select, Silver, and Gold. However, recently, the subscribers may have noticed something. And it's the news that the provider is dropping channels.  
This news may have gotten a lot of subscribers concerned. This is because their favorite channel may be getting dropped. And hence, they can't stop questioning; What are the 23 channels Spectrum is dropping? Well, you will find the answer to that in this article. So, read on!
Why Is Charter Spectrum Dropping Channels?
When the news of Spectrum canceling some channels picked up traction, people got worried, and each came with their own theory. People were also unclear about how many channels would be getting dropped. One common misconception was that Spectrum is dropping 14 channels. But that's untrue. The number is actually a little high. There are 23 channels that will be getting dropped. Yes, that many! But what led to the provider making that decision? Well, it all started because of a little tussle between Spectrum and Viacom Network.
Suggested Post: Spectrum Back To School
Charter Spectrum's TV service has gotten very popular in the United States. And since millions of people are subscribed to this service, the provider would have to find a way to manage the growing programming cost along with keeping the TV deals as affordable as possible. So, the company decided to move Viacom's 23 channels to its high-tier plans, Silver, and Gold. However, Viacom did not approve of this change.
Viacom contacted Spectrum and urged them to keep their 23 channels in their basic TV package called Select so that more people could view them. After all, there are not many people who can afford the provider's Silver or Gold deals which are a bit expensive compared to Select. Spectrum thought it to become a stalemate. Therefore, the provider decided to let go of all 23 channels owned by Viacom. So, if you don't have access to some particular channels any longer, it will not be because of Spectrum cable box error codes.
What Are the 23 Channels Spectrum Is Dropping?
When the subscribers saw the message on their TV screens that Spectrum would be discontinuing networks that are powered by Viacom, they became worried. Well, here is the list of channels that the provider will be expelled from its channel lineup.
#1. MTV
Yes, everyone's favorite channel, MTV is sadly on the list. This channel is popular for airing shows like Jersey Shore, Double Shot at Love, and The Challenge.
#2. Nickelodeon
This channel is very popular among kids. Unfortunately, this channel will be dropped by the provider soon. The channel is famous for shows like The Loud House, Danger Force, and Spongebob Squarepants.
#3. Comedy Central
Comedy Central is the ultimate channel where you can enjoy all things comedy. But this channel will no longer be included in Spectrum's lineup. It is known for shows like Broad City, and South Park.
#4. VH1
This channel is also powered by Viacom. It airs many popular shows like Love & Hip Hop: New York and Girls Cruise.
#5. BET
BET is a must-have channel for all music fans. But Spectrum is going to drop it. This channel is known for shows like Being Mary Jane and America Soul.
#6. Nick Jr.
This is a channel for young children. This too won't be a part of Spectrum's channel lineup anymore. This channel is popular for shows like Paw Patrol, Rusty Rivets, and Bubble Guppies.
#7. MTV2
MTV2 is one of the best entertainment channels that many people tune into to enjoy shows like Wild n' Out and Guy Code. Unfortunately, Spectrum plans to drop it as well.
#8. Nicktoons
This is another channel that is meant for children. Many kids love to watch this channel because of shows like Kung Fu Panda: Legends of Awesomeness, The Fairly OddParents, and Rise of the Teenage Mutant Ninja Turtles.
#9. CMT Music
Country music fans would not like for Spectrum to drop this channel, but it is owned by Viacom. The channel is famous for shows like Nashville Squares and CMT Hot Twenty.
#10. MTVU
MTVU is also a channel that many people love to watch for entertainment. It is known for programs like VMA Performers and MTVU Music Block. This channel is powered by Viacom and will be dropped by Spectrum.
Apart from these channels, there are 15 more that will be getting expelled. Some of them include Nick 2, CMT-Musik, Spike, MTV Leben, BET Her, Tr3s, Nick Music, Teen Nick, Nick Toons, Logo, TV-Land, and BET Jams. However, the good news is that if you are subscribed to one of the Spectrum internet deals, you can easily stream these channels online.
What Does This Mean for Spectrum & Viacom?
After getting this news, many became quite frustrated with the provider and there was a huge backlash. This is because these are some of the channels which Americans love to watch. And to let them go is something they were not ready for. Due to this backlash, the provider thought to have a talk with Viacom. The company welcomed Spectrum, and the two worked their way to finding a mutually beneficial way out of the situation.
So, Is Spectrum Dropping the Channels?
The provider is not really dropping the channels. In a meeting, it was decided that Spectrum would include Viacom's channels in its basic deal. However, in return, the two decided to collaborate on advertising opportunities. In addition, Spectrum announced that they would be creating its original shows together with Paramount Television, and Viacom will be distributing them both domestically and internationally. This is exciting news for the subscribers. After all, they will be to enjoy exclusive content on the provider's app by using the Spectrum login credentials.
Conclusion
Charter Spectrum has reached a deal with Viacom. Hence, you should stop worrying as the provider won't be doing that anymore. This means you will still have access to the aforementioned channels that the provider planned to drop. So, sit back, continue to be mindful about Spectrum bill pay and keep enjoying your favorite shows on the Viacom channels.
Disclaimer: To our knowledge, we have made all the required efforts towards obtaining owner/publisher approval for the use of images in VISIONECLICK.COM blog posts. However, if you find violations of any sorts regarding any image, please feel free to contact us. Prices and packages mentioned may vary with time and the specific locations.