What Is Basic Cable and What Channels Does It Include?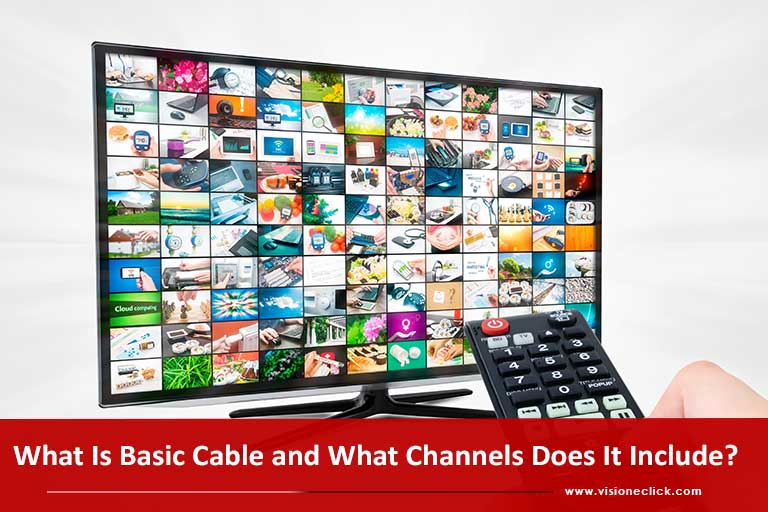 Have you heard of the term "basic cable" but always failed to understand what it was? If that's you and you also have a burning desire to get affordable cable, this blog unravels everything you need to know.
What is Basic Cable?
It's the cheap cable TV package consisting of a local channel lineup. As per the US government regulations, all cable companies are obligated to provide local broadcast channels at a lower rate but are allowed to charge a higher rate for premium channels like Showtime and HBO.
What Channels are Included in Basic Cable?
Ok, now that you know what basic tv cable is, you must be wondering what are the cable channels? These include all local affiliate stations of big networks like PBS, CBS, ABC, and The CW. The locally owned channels are also included in basic tv cable. In other words, any channel that you get through an HD antenna you would get with this cable.
How to Get Basic Cable?
Getting it is very simple. Most cable tv providers can give you a basic cable tv bundle. All you have to do is ask. They would skip the premium bundles and offer you basic networks only.
It is observed that most providers don't advertise these deals. So don't think that just because their bundles don't say it, they aren't offering it either. You just have to ask and they are willing to compensate. The state-approved LFAs are legally obligated to offer low-priced cable tiers to customers. So, you are fully covered, my friend.
Where to Get It?
Optimum and Cox are two of the popular cable TV providers offering basic tv cable tiers. Let's have a look at what channels these providers have for their customers:
Optimum
Optimum has basic cable and extended cable. Its basic package includes up to 40 channels, which is a treat for any avid cable lover. The provider's coverage area includes New Jersey, New York, and Connecticut. If more channels appeal to you, here is what Optimum has got:
| | |
| --- | --- |
| WMBC | PBS |
| WLNY | Optimum Channel Guide |
| WLIW World | Optimum Channel |
| Univisión | NYC Life |
| UniMás | News 12 Traffic & Weather |
| Trinity Broadcasting Network | News 12 |
| This TV | NBC |
| Thirteen (PBS) | My9 |
| Telemundo | MOVIES! |
| QVC | Local Programming |
| Public Access | Live Well |
| Estrella TV | Leased Access |
| Educational Access | Kids Thirteen |
| CW | Jewelry Television |
| C-SPAN 2 | ION |
| C-SPAN | HSN |
| Cozi | Government Access |
| CBS | FOX HD |
| Antenna TV | ExitosTV |
| EVINE Live | – |
If you like what you see, then give 1-866-200-9596 a ring to find out more about their plans and their availability in your region.
Cox
Like most cable TV providers, Cox does not advertise its basic plan either. But if you are interested in subscribing, here are the options in their basic channels:
| | |
| --- | --- |
| Univision | EWTN |
| Telemundo | EVINE Live |
| TBN | Daystar |
| QVC | CW |
| PBS | C-SPAN 3 |
| NBC | C-SPAN 2 |
| MeTV | C-SPAN |
| Jewelry TV | CBS |
| ION | HSN |
| FOX | – |
Their basic plan costs $35 per month. In case you would like more channels, then they have the Cox Contour TV package with 140+ channels. This plan costs more, of course. It suits those who prefer some customization when it comes to TV. Call 1-855-850-5975 to inquire what local channels are available in your region.
How Much Is Basic Cable?
The good news is this type of cable does not break your bank. Anyone can afford it. Most of the basic able tiers run between $25 and $40 per month. Remember, these plans are not advertised on the provider's site. You will have to call to inquire and you won't be disappointed.
Apart from this monthly fee, there is always a service and installation fee so don't forget to factor that in. Some providers have low introductory prices for a year and then standard prices kick in. Do complete price analysis before signing up for it because even if it's basic, it could exceed your budget.
Suggested Read: Cord Cutting Right For You?
The Alternatives to Basic Cable
Like there are alternatives to premium cable, there are alternatives to basic packages as well. These include:
TV Antenna
It gives the small channels as basic packages but it's not available in all regions. It's mostly available where basic tv cable services are non-existent.
Streaming Services
Another popular alternative is streaming service providers like Hulu and Netflix. They have basic plans that include some of the local networks or shows from these networks. Since there's no installation involved, streaming services are affordable as compared to any type of cable plan. The variety is limited though.
Conclusion
Basic cable is the basic and the most affordable cable package that includes local networks. All cable providers offer this. Each provider has its own cable TV guide so the networks you get may slightly differ. It's an affordable way to watch TV which many households still search for.
FAQs
Have a look at the frequently asked questions:
How does cable TV work?
The cable TV sends signals via a coaxial cable to the cable box installed at the customer's house. The box decodes the TV signals so that you may watch TV on your TV set.
What channels are on basic cable?
These are local affiliate channels such as NBC, PBS, ABC, FOX, The CW, and many others. Premium channels are excluded though.
Is basic cable TV free?
No, it's not free. The service costs anywhere between $25 and $40 per month.
Disclaimer: To our knowledge, we have made all the required efforts towards obtaining owner/publisher approval for the use of images in VISIONECLICK.COM blog posts. However, if you find violations of any sorts regarding any image, please feel free to contact us. Prices and packages mentioned may vary with time and the specific locations.