Which Version of The Great Gatsby Movie is More Realistic?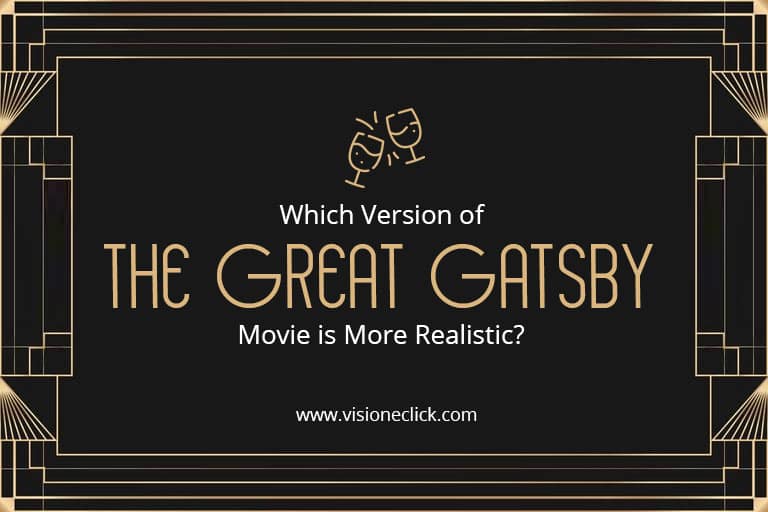 One needs to be Francis Scott Fitzgerald, so he can say big and important things in a few words. The plot of the novel takes place in the 1920s – in the age of jazz – as the author calls it and is a depiction of the disappointment of the urban population in the American dream. On the lavish stages of the city that never sleeps and Gatsby's villas, rich newcomers, starlets, empty characters of the then elite change, while the main character, aware of his origin and the moment in which he lives, unhappy in love, remains the only sincere witness of the epoch.
Aware that due to his wealth he gained a social position and the affection of a jet-set, Gatsby realizes that what we care about cannot be bought with money. The book is a unique portrait of a time that elegantly and cynically depicts it in which we can still recognize ourselves today. The literary masterpiece inspired filmmakers to come with different releases and we will depict you some of the most famous. Certainly, any version you choose is worth your while.
Suggested Read: Why Is My Internet So Slow?
The Gatsby Film by Baz Luhrmann
We will start from the more recent release and version starring Leonardo DiCaprio. The fourth adaptation of The Great Gatsby topics must not be seen as a film that should beat previous versions. Of course, there is no question of winning the book itself. The main question that divided the critics and left the audience cold is the following – did director Luhrmann manage to convey the atmosphere of the jazz era, draw a portrait of the madness of the protagonist and tell a tragic story?
The main principle in the 2013 version is maximalism. Confetti, sequins, and kitsch try at every turn to convince viewers of Gatsby's brilliance and power. While DiCaprio's eyes are enough to portray the false glow his character has in front of unimportant people, the director adds crystal chandeliers, naked dancers, and bright fireworks to show all of Gatsby's emptiness. Exaggeration does not achieve the desired effect in any case, and it experiences a complete collapse, especially when it comes to the choice of music.
Read Suggestion:Easy And Intuitive Ways To Make a Website for Free
The cast is interesting when the unconvincing Tobey Maguire has left aside. Instead of an objective narrator who evokes empathy and affection for the protagonist, Maguire as Nick Carraway is unconvincingly melodramatic. Joel Edgerton is a real antagonist and looks great as the opposite. Carey Mulligan is compelling, but she certainly had more brilliant roles, such as the one in "An Education" (Lone Scherfig, 2009). Yet, DiCaprio is unsurpassed as Jay Gatsby.
Gatsby's determination, passion, obsession, timidity, and boundless hope of love are evoked in every DiCaprio movement. The scene depicting his encounter with Daisy after five full years of dreaming, hoping, and sacrificing to get closer to her is one of the most wonderful in the film. The actor for who knows how many times confirms the statement of director Martin Scorsese why he is returning to filming with him forever. "Leo is acting with his eyes." It's a shame that even the great Leo failed to save Luhrmann's adaptation from mediocrity.
The Award-Winning 1974 Version
Despite the modest budget, which cannot be compared with the 2013 movie, this one came out quite bright and equally lyrical. The movie starring Robert Redford, who played it superbly, was directed by Jack Clayton and remarkably turned out to be an Oscar winner – the film received two Academy Awards (for costumes and music). For some reason, all adaptations of the famous writer's books receive gold statuettes in secondary nominations, and for half a century this "tradition" has not been broken.
The film received mixed reviews since it was praised for its interpretation and fidelity to the novel but criticized for its lack of any true emotion or feeling towards the jazz era. Based on 36 reviews compiled by Rotten Tomatoes, it has an overall approval rating of 39% with an average rating of 5/10. 
Suggested Read: Guide to Online Safety: Scams, Fraud Prevention & Phishing
The poor portrayal of the jazz era is an important element of the film, as this is the setting that actually creates the atmosphere of the novel. A truly great movie should impress the viewer, and the perfectly depicted setting is one of the main elements here. This relates to all the genres, whether it's drama, or action, horror, etc. One can sometimes wonder: "Can horror films affect our mental health or do historical dramas teach important lessons of the past?" The main thing is that the movie should impress the one who watches it. This is what makes it great. 
Now, back on track where the critical consensus was that even a pair of extremely talented actors are not always enough to guarantee a successful adaptation of classic literary source material. Despite this, this was a financial success, earning $26,533,200 on a budget of $7 million.
Moreover, Robert Redford is superb in the title role, a mysterious gentleman of modest background and bootlegging connections … Script by Francis Ford Coppola and director Jack Clayton paint a wildly noble portrait of a high-class Gen. He deserved what he got around 1929 and later. Other main characters were also praised including Mia Farrow as Daisy Buchanan and Sam Waterston. Bruce Dem as Tom Buchanan was quite convincing too.
Suggested Read:ESPN User Not Authorized Error On Cox
More Versions to Expect?
From now on, we will most likely see even more such adaptations and movies, because the novel's copyright expired earlier this year, allowing anyone to adopt it without the endowment's permission. Calls for Muppets adaptation may not be so fruitful (but never say never), but a high-budget television mini-series is already underway, while author Min Jin Lee and cultural critic Wesley Morris are writing fresh introductions for new releases.
Finally, when talking about realism, leaving obvious soundtrack-related issues with both movies, a slight advantage goes to the older one – for costumes, at least, if for nothing else.
Disclaimer: To our knowledge, we have made all the required efforts towards obtaining owner/publisher approval for the use of images in VISIONECLICK.COM blog posts. However, if you find violations of any sorts regarding any image, please feel free to contact us. Prices and packages mentioned may vary with time and the specific locations.