Wi-Fi 6E: What Is It, and How Is It Different From Wi-Fi 6?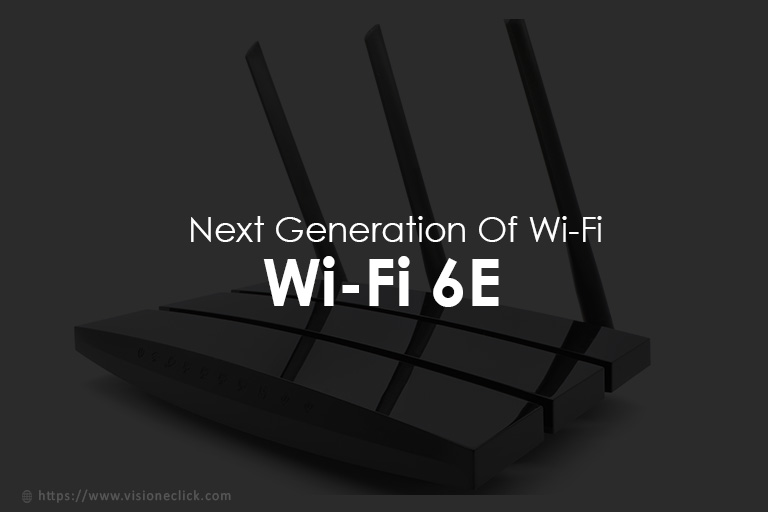 The various kinds of Internet technologies are advancing at a rapid rate. Lately, Wi-Fi 6 and its hardware have entered the market. People, however, have already started talking about Wi-Fi 6E. It has become available in the USA and would reach to reach other countries by early 2020. This newest version of Wi-Fi promises to deliver blazing fast speeds with fewer chances of congestion.
Wi-Fi 6E and Its Features
The older versions of Wi-Fi were only able to operate on '2.4 GHz' and '5 GHz' bands. Wi-Fi 6E takes things further by allowing the devices to operate even on the '6 GHz' band. The 6 GHz band is quite similar to 5 GHz one in terms of functioning. But it provides a greater number of distinct channels to the customers. The number of channels and their frequencies is:
14 extra channels with 80 MHz
7 extra channels with 160 MHz
So, even if several routers and modems are operating in a congested area, the channels won't interfere with one another. So, it is an ideal choice for those areas where several networks are operating at a time. The devices that will be able to operate on the 6 GHz band will be the devices with Wi-Fi 6. Older devices won't be able to operate on these standards. Since the language used by all the Wi-Fi 6 devices will be the same, all of them will be able to combat network congestion at the same time. So, Wi-Fi 6E is an upgraded version of Wi-Fi 6 that is able to operate on the 6 GHz spectrum.
Wi-Fi 6E Availability
You might be thinking if the 6 GHz band is this useful and efficient, how come it wasn't introduced earlier? This is because the regulatory agencies previously did not permit the ISPs and Internet developers to use this band. The authorities used it for security purposes.
It was only in 2018 that the 'USA Federal Communications Commission' put forward the proposition to offer 6 GHz band for unlicensed uses like Wi-Fi. However, this step didn't take shape immediately. Then in April 2020, the Federal Communications Commission announced that the 6 GHz spectrum will be available for Wi-Fi usage in the US from now on. So, ISPs across the US can now offer Internet deals and hardware that can support Wi-Fi 6E.
In other countries, however, the 6 GHz situation is not so favorable. Other countries still have regulatory barriers in place by the governments. The Wi-Fi Alliance also announced this before CES 2020 that this 6GHz spectrum may get offered all over the world by the regulators. However, the governments still haven't given a green signal to the ISPs.
Amazing Bandwidth
Wi-Fi 6E offers amazing benefits to the users in terms of the bandwidth. The 2.4 GHz only has a frequency range of 70MHz. So, only a limited amount of data can travel over it. The 5 GHz band offers a frequency range of 500MHz. It can transmit a bigger amount of data than the 2.4 GHz but it can't transmit it over a large distance.
Wi-Fi 6E, on the other hand, has a frequency range of 1200MHz. It also operates on a totally different band. So, if you have a small distance from the source, you can transmit and share huge amounts of data with this technology. So, in congested environments like sports areas, business complexes, apartments, and transportation arenas, this technology is the perfect fit. The data can travel over a short-range and will not interfere with the same channels on the other networks.
With its amazing speeds and capacities, you'll be able to stream your favorite content, share messages with friends, and find out about nearby locations quite easily.
Wi-Fi 6E Usability
With Wi-Fi 6E, people will be able to use Augmented Reality and Virtual Reality devices easily. Since these devices and sets require high bandwidth, Wi-Fi 6 is an ideal choice to operate them. You'll also be able to enjoy gaming like never before with Wi-Fi 6E's amazing speeds.
Getting a Wi-Fi 6 device would automatically imply cleaner bandwidth. This is because the older versions of Wi-Fi are not able to operate on the previously inaccessible band. Soon, several wireless Internet service providers will start offering Wi-Fi 6E compatible modems. These modems will not have any older versions. So, a completely new system will be in place.
Hardware for Wi-Fi 6E
Since the 6Ghz band has already gotten approval for unlicensed usage, you'll be witnessing the introduction of many new devices in the market. All of the devices with Wi-Fi 6E will have new software that will be able to support the 6 GHz band.
It has only been a while since 6 GHz band approval. But the industry has been planning about the Wi-Fi 6E infrastructure and products for a long time. For-example Broadcom previously announced that it will be introducing many products that use chips. Device manufacturers can buy these products to create access points for Wi-Fi 6E. Intel has already declared that it will prepare Wi-Fi 6E chips by January 2021. So, you can expect the introduction of this technology by late 2021. Major providers and companies will have successfully incorporated this technology by 2022.
While circumstances in the US seem favorable, the technology will not get used everywhere. Since there are regulatory restrictions in several countries, hence there is no definite release date for this technology.
The Requirement of New Devices
The devices with Wi-Fi 6E will be compatible with the previous Wi-Fi versions and standards. However, if you want to take full advantage of channels with 6 GHz frequency, then you'll have to buy devices that can support this band. So, to use Wi-Fi 6E effectively, you'll need to connect your compatible device and an access point with Wi-Fi 6E support.
No doubt, the Wi-Fi 6E router makes Internet faster than ever. But just purchasing a router that can support Wi-Fi 6E won't be enough for you. You'll also need to purchase Wi-Fi 6E devices if you want them to communicate with your router. Otherwise, the devices will simply keep using this technology on the 2.4 and 5 GHz bands.
Why You Shouldn't Wait for This Technology?
Wi-Fi 6 compatible routers and modems are already available in the market for sale. Their numbers are only expected to increase in 2020. Both Wi-Fi 6 and 6E technologies have comparable speeds. But Wi-Fi 6E offers better performance in congested areas or during peak hours. Not only that, but it can also improve the battery life of your devices.
However, Wi-Fi 6 technology is not fully available yet. The regulatory authorities outside the USA have not announced any release dates for the availability of the 6GHz band. Also, the industry hasn't announced the launch of Wi-Fi 6E products. Moreover, this technology is quite expensive. It only promises improvement in terms of network congestion. So, if you want to enjoy lightning-fast speeds and network congestion is not a concern for you, you should buy the Wi-Fi 6 devices instead.
Why You Shouldn't Buy Wi-Fi 6 Just Yet?
But this doesn't imply that you should buy the Wi-Fi 6 compatible devices immediately. Many newer models of the biggest players are quite expensive. For-example, only iPhone 11 can use Wi-Fi 6. The older models of Apple are not able to do so. Similarly, Samsung is the only Android provider with this technology.  So, it is too early to buy even Wi-Fi 6 compatible devices.
Soon, several new Wi-Fi 6 and 6E devices will enter the market. These will be quite cheaper than the currently available ones. So, it might be a good idea to wait a few years to enjoy Wi-Fi 6E easily.
Disclaimer: To our knowledge, we have made all the required efforts towards obtaining owner/publisher approval for the use of images in VISIONECLICK.COM blog posts. However, if you find violations of any sorts regarding any image, please feel free to contact us. Prices and packages mentioned may vary with time and the specific locations.