Xfinity vs Spectrum – Promotional Deals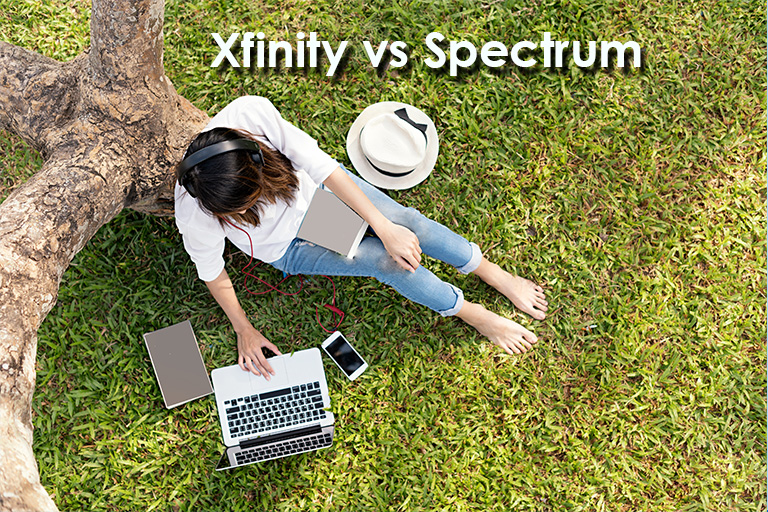 Choosing the right Internet Service Provider is one crucial decision. You have to carefully analyze and thoroughly scrutinize all the features, packages, and plans. Their monthly pricing schedules and service coverage areas. you should keep a close check at the times of the year when they are offered and compare between Xfinity vs Spectrum. If you want to avail of the offers and promotions. Failing to choose the right ISP makes you end up in frustration. So, keep paying ever-escalating monthly bills. And never getting what you were promised through the well-orchestrated sales traps. To serve as a cherry on the cake, canceling the subscription means paying yet another heavy amount as compensation.
Hence, you should make a wise decision in the choice of ISP and closely analyze each and every minute detail of the package that you are going to subscribe to. Said that, let's have a little critical review of XFINITY vs Spectrum, to help you choose the best ISP as per your need and nature of internet use.
Comcast / Xfinity vs Spectrum – A Little Introduction to Both
First established in 2010, Comcast Cable Communications owns the brand Xfinity and it's now been used as the new name for Comcast. Actually, both of them are one and the same thing. It one of the biggest Digital Services providers in the world, and is credited for delivering excellence in all three services of Cable TV, Internet, and Home Phone. According to a source, Xfinity improved from a revenue of $23.7 billion, back in 2007 to a whopping $50.04 billion in the previous year (2016). The brand has successfully emerged as one of the biggest ISPs in the United States.
XFINITY has provided its consumers with a good number of customized packages and plans to choose from (Comcast package for existing customers), in all three services individually as well as Xfinity double play and Xfinity triple-play offerings. Their Service coverage area is massive, including all the contiguous states of the United States. They have also earned good fame when it comes to quality, performance, and diligence of customer care service. Hence, they have maintained a good reputation.
As for Spectrum, it has purchased Time Warner Cable and Bright House in a mega-merger, and hence become a big name. It is also a known and renowned ISP in the United States but XFINITY takes the lead when it comes to how huge the company is. Again, the service coverage area is massive, customer care service is good but they don't offer much variety in Spectrum plans. They have a few packages to offer and as for the Internet. The speeds that Spectrum offers are only 60 Mbps. That's is the only speed that they offer, while XFINITY offers a range of 10 Mbps to a 2000 Mbps. So, in the Comcast vs Spectrum analysis, XFINITY takes the lead in many fields.
Xfinity vs Spectrum / Charter – Promotional Deals
If we talk about both these ISPs, again Xfinity takes the lead regarding the promotional deals that they offer. When it is the time of the year when there are holidays there are a lot of promotions and offers, but Xfinity also offers promotional deals pretty often, almost around the year. Also, authorized retailers' sites of these vendors also offer a lot of promotions and offer that consumers can benefit from. As a matter of fact, authorized retailers offer more promotional deals than the official sites do, but that doesn't make a difference because they are as legit and authentic as something on the official website.
You can easily search the aforementioned provides' promotional deals on the internet on one of the popular authorized retailer sites when the holidays are approaching. At times of the year like New Year, Christmas, Black Friday, and the likes, there are massive sales due to offers and promotions that are offered.
Internet – The Essential Amenity of The Digital Age
The reason why we are discussing so much about the ISPs is that it has become almost impossible to survive without the Internet. We need it every hour of every day for one reason or another. From staying connected with our loved ones on social media forums like Facebook and Instagram to texting and calling via Apps like WhatsApp and FaceTime, to educational research ventures and professional use, the internet has unlimited utilities. Not to forget how we rely on the internet for our rejuvenating entertainment sprees after long, tiring days through online streaming on YouTube and similar sites.
Choose the best internet provider for yourself and your family because you deserve the best!
Disclaimer: To our knowledge, we have made all the required efforts towards obtaining owner/publisher approval for the use of images in VISIONECLICK.COM blog posts. However, if you find violations of any sorts regarding any image, please feel free to contact us. Prices and packages mentioned may vary with time and the specific locations.