How To Change Wi-Fi On Vizio SmartCast TV?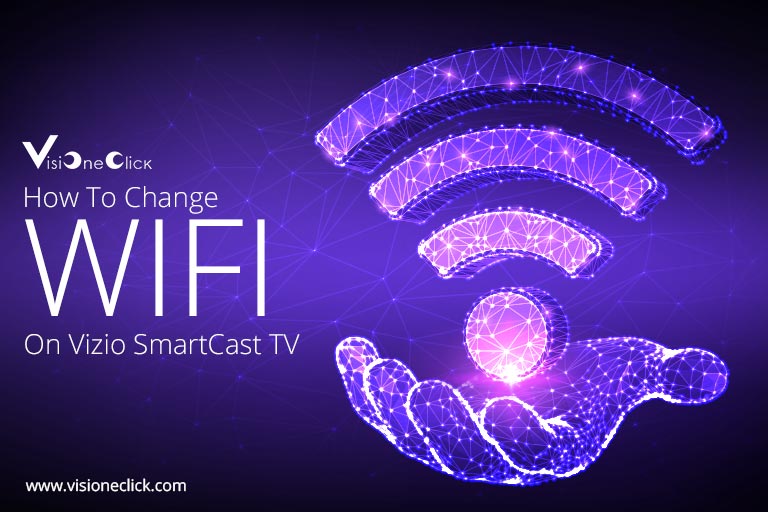 Vizio is a household name in the consumer electronics industry. It sells soundbars and televisions in addition to providing data and advertising services. Vizio smart TV comes with a wide range of features that lets you stream your favorite movies and TV shows.  
However, it should be noted that no one television has "all the features". Some are available at competitive pricing points. Others have awesome picture quality and functionalities. It is advisable to shop around to find the best possible product for your viewing requirements.  
What Is a Smart TV?  
A smart TV uses your local Wi-Fi network to connect to the internet. Smart television sets can function without TV antennas or cable services. These devices allow users to stream movies, TV shows, and music at any time. Smart TVs are also known as connected TVs. Think of a smart TV as a device with the capabilities of televisions, digital media players, and computers.  
What Are the Benefits of Having a Smart TV?
There's no denying that smart TVs have completely changed the game for millions of viewers around the globe. These devices are designed to provide an awesome multimedia experience. Smart TVs offer all the benefits of traditional TV, multimedia devices, and the internet. That said, here are several reasons why you should buy a smart TV:  
They Offer the Ultimate Convenience
Perhaps the biggest benefit of owning a smart TV is convenience. Smart TVs allow users to access their favorite content with the need to connect to an antenna or a cable service. You can watch Optimum TV channels, listen to your favorite music, and even play games on your smart TV. Another great thing about smart TVs is that they let users access content from one general home screen.  
They Are Compatible with Smartphones
Traditional TV sets could not function without remote controllers. Smart TV, on the other hand, can be controlled using both remote controllers and smartphones. These television sets come with built-in technology that allows them to respond to the commands triggered through smartphones.  
They Are Easy to Set Up
Another great thing about smart TVs is that they are easy to set up. You don't need to bring in a technician to guide you through the installation process. Just put the TV on your wall or stand, plug in all the wires, and turn on the device. You'll be amazed by the results you see.  
They Are Reliable
Smart TVs are compatible with dozens of smart devices such as smartphones, tablets, smart speakers, etc. These devices connect to your local Wi-Fi network via wireless signals or an Ethernet cable. They are reliable and offer an overall great entertainment experience. You can watch YouTube videos, live programs, stream movies on Netflix using your smart TV.  
How to Set Up Wi-Fi Connection on Vizio SmartCast TV?
Set up your Vizio SmartCast TV with the help of instructions on the user manual. Make sure to read the manual carefully before setting up the device. Many users do not go through the instructions carefully and end up facing difficulties. After you're done with the installation process, turn on your smart TV.  
The next step is to connect your TV to an active internet connection. Make sure you have an active and reliable internet connection for your smart TV. You can use either an Ethernet cable or wireless signals to connect to the internet. Using an Ethernet cable is a better alternative to wireless signals.  
Ethernet cables do not require any configuration. Moreover, they offer great internet speeds. To connect to the internet, simply plug in the Ethernet cable to your smart TV. Make sure that the other end is attached to your router or modem device. If you want to go wireless, just search for your home Wi-Fi on your smart TV.  
Changing Wi-Fi on Vizio SmartCast TV
You can also change your Wi-Fi connection on Vizio SmartCast TV. The process is as easy as setting up a Spectrum cable box. Just go to the Wi-Fi option on your smart TV settings. Select the Wi-Fi network you want to connect your device to and have a great experience. You can choose between your existing network or a new network. Make sure that you have an active internet connection.  
The process is pretty straightforward. Even casual viewers can change Wi-Fi networks on their Vizio SmartCast television sets. If you are having trouble changing the Wi-Fi, simply forget the existing network. Go to your Wi-Fi settings, select the network your device is connected to, and select the Forget option.  
Selecting the forget option will terminate the internet connection on your smart TV. This way you'll be able to connect to the network of your choice. However, if you still cannot find the preferred network, perhaps the problem lies with your internet equipment.  
How to Fix Wi-Fi Signal Issue?
You can improve your Wi-Fi signal strength using these methods. For starters, make sure that all the wires are properly attached to your router. Also, do not place your router in dead spaces. Make sure to change the placement of your router if you cannot get good signal strength. Put the device atop a cupboard or a shelf and your signal quality will improve.  
Another tip is to place the router next to your smart TV. You can also switch between channels to improve bandwidth frequency on your router device. You can always go for a new internet service provider to get better services. Broadband solutions powered by Cox TV packages and the like, offer great speeds and are available at affordable rates.  
These were some of the best ways to fix your Wi-Fi signal issues. You can also reboot your internet device and wait for several seconds before turning it on again. 
Disclaimer: To our knowledge, we have made all the required efforts towards obtaining owner/publisher approval for the use of images in VISIONECLICK.COM blog posts. However, if you find violations of any sorts regarding any image, please feel free to contact us. Prices and packages mentioned may vary with time and the specific locations.