How To Connect Apple TV to WIFI Without Remote?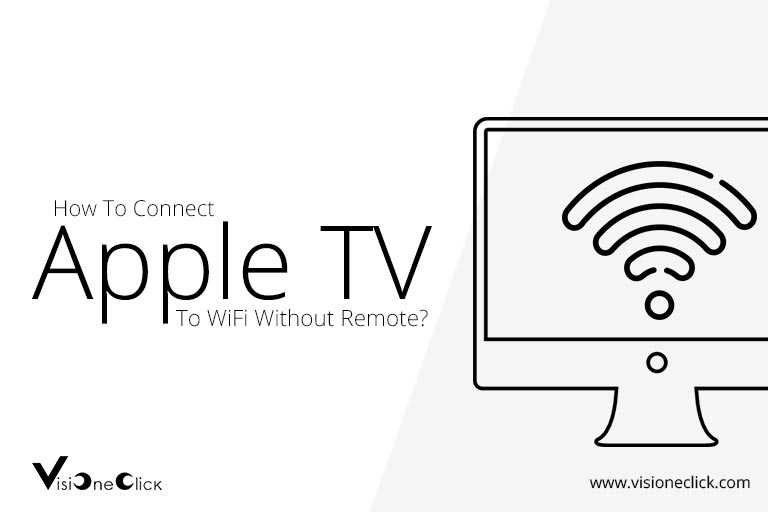 In today's technologically advanced world, mediums of entertainment are evolving and developing rapidly. In fact, a large number of corporations have launched streaming or TV services as their latest feat. Amazon, Netflix, and Hulu are just a few of these examples. Similarly, Apple also came out with a television network a few years ago. Since the launch of Apple TV, it has gained a significant number of users and its popularity keeps increasing today.
However, Apple's new service can also be challenging to use. It doesn't function without its unique remote. And remotes have a reputation of getting lost frequently. But don't worry. This guide will help you connect your Apple TV to a WIFI without the remote. Here's how.  
Password Sharing from a Different iOS Device
If you've lost your Apple TV remote or don't have access to it, don't worry. You can still connect your Apple TV to a wireless connection. However, this can get a little tricky. This device uses its own unique remote to enable and disable essential functions. But there are still ways around this. If you don't have an Apple remote at hand, you can make use of another iOS device.  
If you have a recent version of the iOS software, you will be able to relay the WIFI network, Apple ID, and even your password to the Apple TV. In order to do this, you need to first ensure that you have both your Bluetooth and WIFI enabled on your Apple tool.  
When you turn the Apple TV on, you'll see the Start-up screen. When it appears, link your iOS device to your TV box. After you've done this, you'll get on-screen instructions on what to do next. Follow these instructions and you'll successfully be able to connect your Apple TV to the internet.  
Using a Standard TV Remote as an Alternative to the Original 
Today, a large number of top streaming TV providers have remotes that are unique to their devices. Thus, your standard TV remote doesn't have too much use in this age. However, it can prove to be a great alternative to the Apple TV remote if you can't find the original. In order to use the standard remote to control your Apple TV, first, find a suitable remote.  
This should have directional buttons to make the process easier for you. After this, connect your Apple TV to the Ethernet cable. Once it's connected, go to the Settings tab on your Apple TV. Then click General and then Remotes. To do this, you'll need to use the remote feature available on your iPhone's control center.  
Following this, select the Learn Remote option and follow the instructions to allow Apple TV to associate with the standard TV remote. After the process has been completed, unplug the ethernet cable and turn the WIFI on for your Apple TV. Do this by going to General settings using your standard remote. One of the best parts about using this is that it allows you to keep using the standard TV remote for other functions too.  
Using Your iPhone as a Remote 
Smartphones can be used for a variety of functions now. With greater access to TV deals like Optimum TV packages, many people are using their phones to watch television too. If you can't find access to your Apple TV remote, you can simply use your smartphone as a remote for your Apple TV. In order to do this, you'll need to go to the control center's remote feature.  
If you have the latest update like iOS 12 in your iPhone, controls for the Apple TV can get activated automatically. This means that you don't even need to connect it manually. Once you've connected it, wait for it to self-detect.  However, if you can't find access to the remote icon, you will need to manually carry out this task. For this, simply go to the control center. After this, click on the customize control bar. This will show you a plus sign right next to Apple TV. Click it to activate your connection. 
 When you've done this, open the control center menu and choose the remote icon to open Apple TV Remote. Following this, switch your Apple TV on and use an ethernet cable to connect it to the WIFI. Now, you have the option of configuring your internet connection by choosing the Settings tab and selecting your own network. If you keep up with the instructions given to you, you'll be able to complete the process through a PIN number.  
Making Use of a Bluetooth Keyboard 
With greater access to cost-effective packages like Cox bundle deals, people are becoming frequent users of TV, internet, and phone services. Additionally, Bluetooth keyboards are also used by a large number of people today. Thus, there's a good chance that you'll have this lying around you. If you do, this can be used to connect your Apple TV to the WIFI without the use of an Apple TV remote. With this tool, you can simply configure your Apple TV. In order to do this, you will first need to keep your iPhone close to the TV box.  
This will speed up the process of and WIFI configuration. Once you've switched your Apple TV on, it's important to keep your Bluetooth keyboard in its vicinity. Once you've set it close, enable the pairing mode. Following this, you'll get a code on your TV screen. Type whatever you see on the keyboard. During this entire process, you can use keys like the Arrow and Return key to make navigation easier.
Disclaimer: To our knowledge, we have made all the required efforts towards obtaining owner/publisher approval for the use of images in VISIONECLICK.COM blog posts. However, if you find violations of any sorts regarding any image, please feel free to contact us. Prices and packages mentioned may vary with time and the specific locations.