How To Spot Red Flags When Choosing an Internet Provider?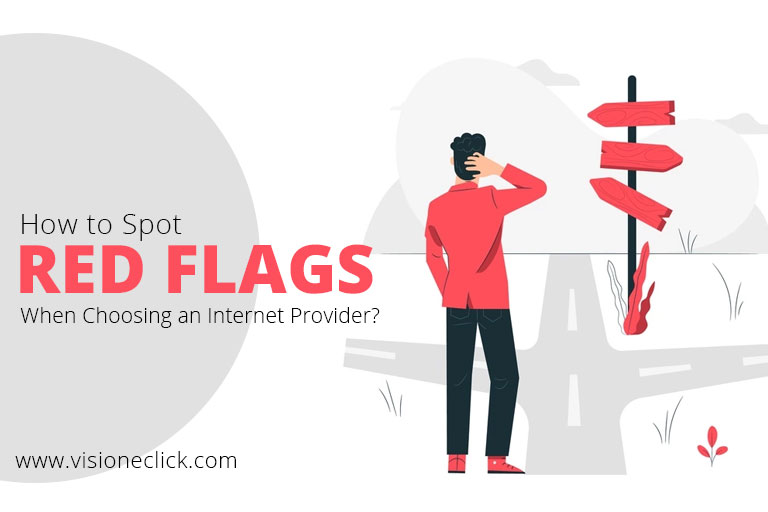 Shoddy internet companies often leave hints of their conduct, which novice customers end up ignoring. If you end up tying in a contract with one of the shady ISPs this could be a frustrating experience. Furthermore, early termination always comes with a hefty penalty.
Learning to spot the red flags early on can save you the annual subscription-free. It also helps to differentiate between unreliable and reliable wireless internet service providers. So, to save your precious time here's a rundown of the biggest warning signs to watch out for before signing up.
Too Good to Be Unlimited Data
For any customer, unlimited data is a dream come true! Who wouldn't want to use the internet carelessly, right? Wait, unlimited data doesn't literally mean you can get as many Mbps as you want in a month.
Because they don't impose an overage fee, some ISPs will pretend to offer unlimited data. In many circumstances, internet companies impose a "soft" data limitation, which means that if your monthly data limit exceeds, you won't be charged an overage fee, but your speeds will slow down for the remainder of the month. This trick is known as data throttling and even the best providers do it. Hence, at the time of signing up for Optimum internet plans or any other, always check what unlimited data means.
There is no harm in asking how much your potential ISP throttles speeds. Remember that most will try to sell you on the idea that they don't charge overage fees. Acknowledge that and let them know you still want to know about speed throttling.
Unexpected Price Hikes
It's very common for internet service providers to increase the prices of their internet plans after the introductory period is over (which is one year). Providers are vocal about it at the time of selling the services.  
Expect an increase of $10 to $20 in your monthly bill. You can always ask the agent how many spikes in the bill to expect. Some providers doge this question whereas others are upfront. Make sure you note down the figure (if you're able to get the exact number).
To receive the right answer, you need the internet company, you'll have to be persistent. Instead of asking when your first price rise will be and how much it will be, ask when the first feasible price increase will be and what the maximum price increase will be. Even if the price rise isn't established, explain that you're trying to budget and want to prepare for what's coming. They will have to give you some kind of answer!
Hidden Fees
Let's be real, every internet company has some sort of hidden fee that you must uncover before entering the contract.
Your first will is going to include a few unnecessary one-time charges. For instance, at the time of signing up for Cox internet plans, the installation fee is going to be a part of your bill. The provider may or may not tell you that there is a way to avoid it by opting for the self-installation kit. The kit includes cables and an instruction manual which is pretty clear to follow. Another charge that will reflect on your monthly statement is the equipment fee, which you can also avoid by BYOD.
When you receive your first internet bill, you'll want to double-check to be sure nothing extra has been added. If you see something unusual, you should bring it up right away. Call the provider and threaten to leave (if you must). It's best to ask explicitly what else you may expect to pay apart from the usual charges.
Contradicting Download and Upload Speeds
Make sure you check that the provider delivers the download and upload speeds they are promising. It's important to understand how much speeds can deviate from the speed plan. If you see that your speeds are lower than what they promised, you may be able to negotiate a better bargain or have your speed plan raised for free.
If your internet company is upfront that the speed might vary, this means they are being honest with you.
Poor Customer Support
In an ideal world, you'd never have to contact your internet company after the services are installed. But, that's not the case.
Whether you have Cox billing queries, service issues, technical support needs, want to move services, upgrade a plan, or cancel services, you will have to contact your ISP's customer support team at some time. Before you sign up, find out how good the company's customer service is.
Excellent customer service is crucial! you can usually get a sense of their customer service as you speak to the representative at the time of signing up for the services. You can also read customer reviews or ask friends who are already the ISP's customers. This will give you a good idea of their customer service.
To save their customers the frustration of calling and waiting in the queue, most internet service providers now have come up with apps that let you manage your account. In other words, from the app, you can do a live chat with a representative, request services, learn about service outages, get technical help, pay your bill, and more.
Summing Up
You may find the right internet service provider with a little research into these red flags. If the agent continuously dodges all your questions and all you have vague information about their service, don't sign the deal. Look for another provider who actually cares to answer your questions.
Consider exploring internet plans by trusted names like Altice One, Cox, Spectrum, or Optimum. Once you have a clear idea about what you're getting yourself into, only then sign the contract. It's best to choose a provider that doesn't bind you in a contract. This way, you can leave in case you don't like the services.
Disclaimer: To our knowledge, we have made all the required efforts towards obtaining owner/publisher approval for the use of images in VISIONECLICK.COM blog posts. However, if you find violations of any sorts regarding any image, please feel free to contact us. Prices and packages mentioned may vary with time and the specific locations.