A Complete Guide on PS4 Streaming Services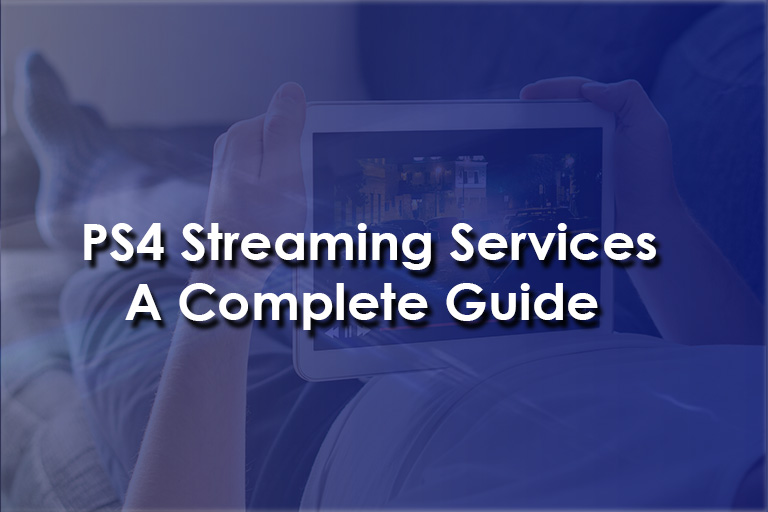 Online gaming is all the rage today. People from various parts of the world are engaging in virtual competitions, battles, and tournaments. In fact, a large number of these gamers are also pursuing this as a profession. In this context, gaming consoles such as the PlayStation, are growing increasingly relevant. Today, they offer a wide variety of other features too. PS4 streaming services enable users to access a great number of shows, apps, and more. Thus, you can now use your PlayStation for activities other than gaming. Here's all you need to know about this streaming service.  
What Are PS4 Streaming Services? 
Your PlayStation offers a host of features other than gaming. This means that it also doubles as an entertainment center. With this device, you can access several streaming apps and channels. As a result, you don't require a separate platform for TV. You can use your PlayStation as an all-in-one tool. This leads to greater convenience and efficiency. With PS4 streaming services, you can get popular apps like Netflix, Amazon Prime, and Disney Plus. Before jumping in, it is important to first check what works with your gaming console.  
What Streaming Services Are Compatible with Your PS4? 
If you want to watch TV shows, movies, and documentaries with your PlayStation, you need to first figure out which streaming service works with your console. This largely depends on where you are living. Different parts of the world have different services accessible to them. However, if you want to both stream and play games without interruptions and lag, make sure you have the best internet for gaming. If this isn't the case, you will experience slow speed and frequent irregularities. Once you have a stable internet connection, you can move on to available streaming services.  
If you're a US resident, these are all the streaming services available to you. Most of the apps included are free but some may require you to pay a fee.  
Disney Plus 

Apple TV Plus 

Netflix 

Paramount Plus 

HBO Max 

Pluto TV 

WWE Network 

YouTube 

NBC Sports 

Hulu 
How to Download Streaming Apps?
Once you've discovered the list of applications available to you, it's time to download your favorites. But before you get to this, make sure you have a stable network. If you're somebody who travels frequently, get the best mobile hotspot for gaming. This will improve both your gaming and downloading experience. Once you have a strong connection, you can easily download whatever you want. In order to get started, go to the home screen and click the TV and Video section. Once you're here, you'll see a wide variety of content from several apps. If you want to see the programs you already have, go to the App Library.  
Understanding the Downloading Process
In order to download an app, navigate to the Discover option from the Tv and Video section on your Home Screen. Now, press See All on the Featured Apps section. Now, you'll be navigated to the PlayStation store. You'll see a large number of apps available to you. You can select any that you like. Once you've made your choice, select Download. Now the installation process will begin. If this takes too long, you may have connection issues related to speed or bill payment. If it's the latter, you can pay your bill instantly with services like Cox bill pay. This will also help your internet speed get back to normal.  
Once the installation process is complete, you can now Launch the applications you chose. However, you won't be able to see your downloaded programs on the home screen. In order to view them, you have to go to the TV and Video section.  
What Else Can You Do with Your Console?
Gaming consoles such as PlayStations allow users access to a wide variety of features. While using this device, it's also important to enable WMM for gaming for an enhanced experience. But apart from both gaming and streaming, you can also stream music with your PS4. So, while you're gaming, just switch to Spotify and play any song you want from your library. This device supports Spotify along with other popular music apps.  
What Is the Broadcast Feature? 
The PS4 has a broadcast feature that allows users to avail multiple streaming services. As a result, streaming your gameplay becomes more fun and convenient. You can automatically do this to both YouTube and Twitch. However, console streaming is not always the most effective. This is because it sometimes requires users to have extensive resources that can support their activities. There are also limited controls in the context of quality. But regardless of this, the broadcast feature is both easy and convenient for online gamers.
With this gaming console's streaming services, you can download apps like Netflix, Hulu, and Amazon Prime. In addition to this, you can even stream music and broadcast your gameplay.
Disclaimer: To our knowledge, we have made all the required efforts towards obtaining owner/publisher approval for the use of images in VISIONECLICK.COM blog posts. However, if you find violations of any sorts regarding any image, please feel free to contact us. Prices and packages mentioned may vary with time and the specific locations.